Hui Wei Restaurant
221 Glossop Road
City Centre
Sheffield
S10 2GW
Telephone: 0114 2013482
Website: http://www.huiwei.co.uk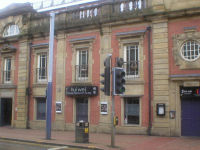 Reviews of Hui Wei Restaurant
Type(s) of Food Served
Chinese
Description
Hui Wei is a sophisticated city-centre restaurant, housed in a historic, listed building, which has served as a popular meeting place for over a century.

While the restaurant is distinguished by its modern decor, the menu remains faithful to its traditional Chinese heritage.

Both the Executive Chef and the Sous Chef hail from China and Hui Wei also has a Cantonese chef, guaranteeing a full range of authentic dishes for the discerning customer.

Enjoy your meal in privacy whilst still enjoying our restaurant's original ambience.

For extra special occasions or business meetings there is a separate function room available. The function room is free of charge when customers book their meal.
Food Service Times
Monday - Thursday: 11:30AM - 2PM and 5PM - 10:30PM
Friday: 11:30AM - 2PM and 5PM - 11PM
Saturday: 5PM - 11PM
Sunday: 5PM - 10:30PM
Special Offers
There are no special offers that we are aware of.
Amenities & Facilities
Credit/debit cards accepted?



Average main course price?
Special diets catered for?
Rachel -
Rating:
Been on several occasions. Food is fabulous and great service.
Jenny -
Rating:
This is the best Chinese food I've ever had. It's fresh and cooked to order. It's true the service can be slow but get a starter! The lettuce wrap starter for 2 is just gorgeous.

My husband and I have been twice this week. My favourite dish is the tofu and beef dish. Mah-poh... or Mah-toh... something like that (sorry!).

I'm not a big meat eater because I don't like the chewy and tough texture it can have in restaurants and the meat here is perfectly tender. Had beef last time and pork this time.

Cannot wait to go again!
Nicki Burrow -
Rating:
This is our favourite restaurant - would recommend it to everyone. First-class food, great atmosphere. Service can be a little slow sometimes but it's well worth the wait.
Elizabeth Clark -
Hui Wei has a lovely atmosphere with mood-lighting and gentle jazz music, and attentive service. The food was amazing - the chicken pieces melted in my mouth - and it's quite reasonably priced if you go for the set menus. Everything tasted fresh and authentic, a far cry from fatty, oily, takeaway Chinese food and all-you-can-eat buffets.
Eaten at Hui Wei? Write a review!
Anonymous reviews, reviews using nicknames or reviews sent from invalid email addresses will not be published.