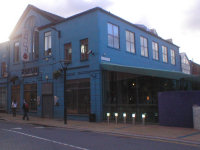 Reviews of Forum Restaurant
Type(s) of Food Served
English / Pub Restaurant
Description
Forum restaurant is located at 127-129 Devonshire Street in Sheffield city centre.
Food Service Times
10AM - 10PM

(The bar is open longer.)
Special Offers
There are no special offers that we are aware of.
Amenities & Facilities
Credit/debit cards accepted?



Average main course price?
Special diets catered for?
Barnaby Knowles -
Rating:
Having eaten here a few times before and enjoyed a couple of different burgers, I gave the pastrami sourdough toastie a try.

Priced at £7.75 I was expecting something special, as this is almost as costly as a burger and fries. Sadly this was not the case. It was tiny and the pastrami was full of fat. I'd paid an extra £1.25 for a side order of fries, otherwise I would have been left feeling hungry as well as ripped-off.

Decent selection of drinks, though.
Cliff Shaw -
Rating:
I enjoyed a stir fry, very tasty. My partner ordered a burger, again very tasty and massive.

The service was friendly but a little slow.

All in all a good experience. Would recommend and will go back again for sure.
Eaten at Forum? Write a review!
Anonymous reviews, reviews using nicknames or reviews sent from invalid email addresses will not be published.