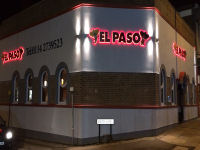 Reviews of El Paso Restaurant
Type(s) of Food Served
Italian / Mexican
Description
Welcome to El Paso, a newly refurbished Italian/Mexican restaurant in the heart of Sheffield, offering freshly prepared top-quality food with an ambience to match. We also cater for work functions and large parties in our function room/disco.
Food Service Times
Sunday - Thursday: 5PM - 12AM
Friday & Saturday: 5PM - 1AM

Last seating: close of service.
Special Offers
There are no special offers that we are aware of.
Amenities & Facilities
Credit/debit cards accepted?



Average starter price?
£3.50
Average main course price?
£7.50
Average dessert price?
£3.00
Special diets catered for?
Bill Miles -
Rating:
Went in on spec, having searched for Mexican restaurants.

Can't vouch for the authenticity, having never been to Mexico, but the food was very tasty, portions were large. Service was a bit slow, but as the food appeared freshly made, I was more than happy to wait. Staff friendly but not "in your face".

I would certainly go back.
Mikey Dolman -
Rating:
We heard about this little restaurant by chance and when we arrived we were made very welcome straight away, even though we hadn't booked.

We were there for our 20th wedding anniversary and the meal was awesome, the wine fantastic (litre bottles) and the service second-to-none. So if you enjoy Mexican food and you're in Sheffield then El Paso is a must.
Robert & Joanne -
Rating:
I Googled "Mexican food Sheffield" and found El Paso, what a result!

The food is excellent in value, quality, taste, and presentation. The portion size is more than ample and there is a good selection on the menu. The restaurant is clean modern and has a great atmosphere too, staff are very friendly and can't do enough for you. I will be going back, thanks for a fabulous night.
Alison -
Rating:
A lovely place. Relaxed yet prompt service, a wide-ranging menu, delicious food for a very reasonable price.

We had 3 courses, 2 bottles of wine and 2 lagers and it came to £70 which, considering we had the most expensive course, was a very good price.

We shall definitely be going again.
Karen -
Rating:
Tasty food, great service, fun atmosphere. I was recently there with a party aged from 15 to over 50 and we all had a great time.
B Wilcox -
Rating:
Very friendly and helpful staff, the food was lovely, and fresh ingredients used, very reasonable prices, will definitely visit again.
Bill Paton -
Rating:
I've been going to this restaurant for many years and thought it's about time I told other people how good it is.

The most important thing to know about El Paso is that everything is full of flavour. No bland dishes here. From the steak diane to the fantastic starters, it's all good. The pizzas take some beating, too.

I love the atmosphere and the friendly staff and all at very reasonable prices. They do great birthday parties, too. You must try this place out. You won't be disappointed.
Keef Wright -
All the food was excellent. They made one mistake with the food but quickly rectified it. The music was a little loud but soon got used to it with a couple of Peronis in me.

3 starters and mains came to £57. It doesn't look much from the outside, but is very nice inside, and the food is what it's about for me.
Jenny -
My boyfriend and I went on a Wednesday evening, we were the first to arrive at approximately 7:30PM. 2 tables arrived shortly after us. The place isn't very big with its 28 places, but that makes it feel very cosy.

The music was authentic and uplifting, the service very personable and friendly. I asked the server (who I believe is the owner) to choose for me, as everything on the menu looked great. He chose the chicken chimichangua, which happens to be his favourite. Great choice. My boyfriend chose the trout. It was fantastic. The veggies and fish were cooked to perfection. The food was hot and very tasty. He recommended the homemade tiramisu for dessert. Fabulously finished the meal.

I'm a professional chef of 12 years and I was very impressed. We will be returning soon and often. I highly recommend this place to anyone.

P.S. the prices are very good as well. Loved it.
Marian Duggan -
I chose this place directly as a result of reading such great things about it on this website, and it certainly didn't disappoint!

The place itself is lovely; so cosy and with plenty to look at. Whilst it was empty when we sat down, even the arrival of a couple of large parties and more customers could not disrupt the feeling of privacy we felt at our table.

The food was delicious, plentiful and piping hot. The sangria was yummy and to top it all off, we got complimentary shots of Sambuca to finish up with (or to finish us off?!).

The staff were very friendly and accommodated my vegan requirements without making me feel like a social pariah. The bathrooms were also very clean and well stocked.

All in all, a great place and one I'll definitely be returning to soon.
Frank Collins -
We visited El Paso restaurant this evening to celebrate my wife's birthday.

We have been to both Italy and Mexico so can compare the quality of the food with the real thing. It was our first visit to El Paso and we really were pleasantly
surprised!

We found the prices to be very reasonable and the wines were definitely not overpriced.

Although most tables in the restaurant were full by 8:30PM, the service was impeccable, the food (especially the fajitas), was out of this world.

The timing of the service was ideal, leaving a pleasant break between courses.

We were treated to complimentary sambucas by the manager in honour of the birthday visit.

It was our first visit to El Paso but it will certainly not be our last!
Rose & James -
We visited El Paso on Saturday 19th September for our anniversary after reading all the good reviews on this website.

When my husband had booked the table he'd mentioned that it was our anniversary but to be honest I think the staff had forgotten this fact and we were too shy to mention it again.

When we arrived, we were shown to our table. It was around ten minutes before we were asked what we would like to drink (I'd discovered the drinks list on a table positioned next to us) and given a menu each.

The slight delay was fine by us, as we overheard that there was a Chilean party going on upstairs so the staff were quite busy directing guests etc... That said the service was still as attentive as it needed to be throughout the meal.

To begin with, my husband had Meatballs 'El Paso' and I had the Funghi Ripieni, which was mushrooms filled with tuna, garlic, parsley and mozzarella cheese. Both dishes were lovely and served piping hot, which was impressive considering a group of about 8 who had not booked beforehand placed their order at the same time!

For our main course we had carbonara (plus a side order of garlic bread with cheese) and Halibut Palta with vegetables and potatoes. My husband said his carbonara was nice but he had tasted better, however, he said the garlic bread was lovely. My halibut was delicious, as the fish meat just slipped off the bone. The vegetables were also cooked to perfection.

To finish, although we were quite full, I decided to have the profiteroles with a hot chocolate sauce - absolute heaven! My husband had a chocolate ice cream-based dessert (neither of us can remember the name of it now), which he said was really enjoyable.

The staff are very attentive and my wine glass was never empty, much to my regret the next morning! We were even invited to attend the Chilean party upstairs by one of the waiters but we politely declined, as we had had a long day. Very nice thought though. The waiters seem to love their jobs and one particular waiter (light skinned and tall) kept singing along to the music coming from upstairs, which made me giggle!

Overall a lovely night out but we couldn't help wondering how much nicer it would have been if they'd remembered it was our special night. Oh well, we'll just have to go back next year... if not before!
Rebecca Sanderson -
I stumbled passed El Paso by accident one day after work but what a pleasant accident it turned out to be. We decided to book El Paso for my birthday. Everything absolutely faultless, food out of this world and we were all made to feel so special - the waiter even sang to me (very embarrassing) and the staff were some of the friendliest I have come across. Received complimentary sambucas with the bill. If you fancy a real treat I suggest checking this place out. 10/10
Claire Goodchild -
Me and my partner went here on Friday 31st July. The waiter was so lovely and very cheery. He was polite and extremely welcoming.

I had 2 glasses of sangria and my partner had a few San Miguels. The food was excellent. Cooked to perfection and full of flavour.

I had king prawns in garlic to start and my partner had chilli hot shot. I was amazed at the size of the prawns... they really were king size!

For main course I had paella and my partner had burritos. The portions were a very good size and again full of flavour. There was so much chicken and seafood in the paella, it was amazing!

For dessert we had chocolate pancake and pina colada ice cream. Again huge portions and great flavour. I also had a Tia Maria coffee.

When they brought the bill we got a complementary shot! In total the bill was just under £50. This is the best meal I have had in a long time. I will definitely be returning.

The food was so fresh and full of flavour and there was plenty of it. There is a huge choice of food on the menu! A+ 10/10. Can't say anything bad about this restaurant!
Lesley Stone -
My husband, daughter and I travelled to Sheffield from High Wycombe in Buckinghamshire this weekend to visit Sheffield University open day. We knew we were going to stay the night in Sheffield on Saturday so we looked at this website to see if we could find a nice restaurant.

The reviews we read for El Paso were so good that we rang the restaurant and booked a table. When we called to book, it was nice to hear such a friendly and welcoming voice on the telephone and we weren't disappointed when we arrived at the restaurant. We had a wonderful time - we were a long way from home and received a very warm welcome, had a really relaxing evening and the food was fantastic. All the staff were very friendly and extremely attentive and if we were ever to visit Sheffield again, we wouldn't think of going anywhere else. If you live in Sheffield and haven't been to El Paso, then you're missing out!
Paul Jenkins -
In order to celebrate my girlfriend's 21st birthday I wanted a restaurant that was atmospheric and most of all, served amazing food. Last night I discovered such a place.

A friend recommended El Paso and I booked it immediately. I then read the reviews on this site, which were all great reviews.

The food was wonderful. We both shared a dish of fresh mussels choritos with some brushcetta, which was delicious, just the way they should be. Service was not rushed, nor annoyingly slow and after a short-ish interval, our mains arrived. We both had chicken dishes. The bill came to just below £40 (including a bottle of Italian red wine). The food is amazing.

Would I go again? Try and stop me. Should you? Highly recommended.
Stephanie Jenkins -
Amazing Latin American food and I loved the atmosphere. I've been to El Paso on numerous occasions and it really is a great experience and have to say that I agree with all the reviews posted here. It is a fantastic establishment.

All of the food we ate was simply fantastic. But I have to say personally that the fajitas were to die for. I work not too far away and have recommended this place to so many people, not only at work - but also locally to where I live, and they have also been there, and it is safe to say that they are all of the same opinion. Great food, great service. Definitely worth a visit!
Laura Jameson -
I came to Sheffield for Valentine's Day with my boyfriend for the weekend. On the first night we were looking for somewhere to eat. El Paso looked inviting from the website and the extensive menu was very appealing so we decided to book.

The restaurant's atmosphere was cosy and romantic and it is the ideal place in which to share an intimate meal with a partner or indeed with a group of friends/family.

Staff were extremely attentive and efficient and the food was amazing. I have never eaten a steak cooked more perfectly in my life. We loved our evening there so much that we knew no other restaurant could compete with it...so the next night we returned and had another fabulous meal. Excellent.
Brett -
Complete rubbish, and we didn't even manage to get any food!

We made a booking over the phone a week in advance, turned up and it was shut! It was supposed to be open and we received nothing to say there would be any problem with our booking, so I advise anyone against going there, because even if you do make a booking, you may end up making a wasted journey!
Sarah Johns -
Great food, good atmosphere, but not ideal if you're looking for a romantic meal for 2. Much better if there's a few of you.
Kate Wright -
We visited El Paso for our annual Christmas party and we all agreed it was one of the best nights out we had in a long time.

The music was great and of a good mix. The food was amazing. You just have to go again. The upstairs disco provided the perfect finish to our meal.

Highly recommended for these reasons, food was well cooked and presented. Waiting staff were extremely efficient and attentive but not annoyingly so, ambience perfect - was so glad we tried and will definitely return.

Enjoy!
Tom and Bridget Holmes -
If you like Mexican food then El Paso is one restaurant not to miss. The owner and the chef personally ensure that the food and service is first class. Special mention should be given to the waiters for making every customer feel special. We have been customers here for 2 years and have never had a bad meal or bad service. We normally join in on the disco and learn some new salsa moves after our meal. This is by far our favourite restaurant.
Mark Woodthorpe -
For my girlfriend's birthday I was keen to take out for a nice meal and spoil her. I chose El Paso, as it was highly rated on this website. It turned out to be the perfect choice.

The atmosphere was fantastic, we had great service and most of all the food was probably the best food that I have eaten in Sheffield in the 6years that I have been here.

10/10 in every area and without fail. A fantastic restaurant, I will be returning... soon!
Samantha Burgess -
This was our first visit to El Paso and it won't be our last. There were so many interesting things on the menu that we want to return soon so that we can try more of them.

The menu was very extensive and exciting. Everything is authentic and they even make their own dough for the garlic bread. The staff were very friendly, polite and professional and made us feel very welcome. The food was gorgeous and I would definitely recommend this restaurant. There was a disco in the function room for everyone after their meal.

Lovely atmosphere, friendly staff, entertaining menu! No bad points.
Jane Spencer -
My friends took me here for my birthday party after reading several good reviews and it was really good! We all had a great time. The food tasted authentic, as were the cocktails. Definitely worth a visit. I actually thought it was good value for money as well.

They also embarrassed me greatly after the meal with a birthday song and I had to drink a flaming sambuca. We had a disco in the function room afterwards.

We will be back again.
Sarah Broomfield -
What a great find!

My boyfriend and I were really looking forward to going to this place, as when we'd passed by it previously, it looked like a fun place with good food.

The starter nachos was a good way to kick-off, and I'd suggest that one portion is definitely enough for two. The main course was highly exceptional, a real treat. The chicken fajitas were the best I've ever tasted. The tender chicken was accompanied by fantastic sizzling onions and peppers and delicious guacamole, salsa, chopped vegetables and bean sauce. My advice is to include a little bit of everything in your fajita bread. My partner chose chimichanga and we both remarked at the excellent quality. The quantity is ideal.

I recommend you go in starving and you'll stand a good chance of finishing!

There was a disco on upstairs but as there were only two of us so we gave it a miss.
Melanie Burns -
I went to El Paso for the first time for my 30th birthday after being told about it by my workmates and had a great night out.

The food and service was great and the food tasted beautiful. We really enjoyed our meal and then we went upstairs into the function room for the disco.

The music was a mix of Spanish/English and everyone enjoyed it. All my friends were amazed with the level of service provided and all said they will be going back.
Stephanie Kirk -
We went to El Paso after reading several good reviews and being recommended by our friends.

The food and service was brilliant and we all enjoyed it very much. We had the disco afterwards and we ended up staying there all night.

I got a free cocktail and they played happy birthday for me, which made my night.

There was also a hen party there. We shared the disco with them. Will be recommending El Paso and your website to my friends.
Neil & Lisa Pywell -
Rating:
It was our first visit to El Paso, and we were very impressed.

When we visit restaurants we play a game where we rate out of ten several parts of the "experience".

A. Service:- this has to be 10 out of 10 the staff were very helpful and attentive without being overpowering. We were even offered a free tequila at the end of the meal.

B. Quality:- this has to be 9.5 out of ten. Lisa had the cheesy garlic bread starter and I the hotshots, both were excellent and very generous portions.

The mains were sirlion naturale for the wife and beef burritos for me. These were both superb and cannot be faulted in any way. The portion size is unbelievable and left us both completely stuffed with no room for even a sniff of a dessert.

C. Value:- again 10 out of 10 with a total bill of £35 including drinks, this left us both gob smacked.

We left the restaurant discussing when to return and that is always a good sign.

We can honestly say we have only one criticism, the cutlery could be of a better shape! They kept spinning around in our hands while using them. We will definitely be returning and recommending El Paso to our friends. A fantastic dining experience not to be missed!
Vicky Dickenson -
We booked our Christmas party at El Paso. The place was full. We were sat upstairs in the function room, which turned into the disco after we finished our meal.

Other parties joined us in the disco and we had a great night. The music was a mix of Spanish and English, which suited us all. The food was beautiful and everyone said it was one of the best meals that they had eaten. We will definitely be back there.
Laura Stephenson -
I visited El Paso this week and was very impressed with the place.

The food is outstanding. I had a chimichanga, which was delicious, and my girlfriend, a vegetarian, thoroughly enjoyed her enchiladas.

The service is good and the staff are very friendly. It is a thoroughly enjoyable place to visit.

We joined in with the rest of the parties to share the disco after the meal and stayed there instead of going to a bar. Highly recommended.
Sally Cunningham -
Each time I visit El Paso it gets better. The food and the service are excellent and it has a brilliant atmosphere. We had the disco room after the meal, which was free. Had a great night.
Christina Proctor -
Found this restaurant from your website, so a big thank you first. Booked my birthday party for 20 of us there and have to say that we all had an absolutely brilliant time.

The food and service was fantastic. My friend who was with me has booked her birthday party there as well. Highly recommended.
Debbie Mason -
El Paso is a real gem of a restaurant. We went there for a meal with friends who were celebrating their wedding anniversary.

The staff were friendly and helpful and the food was great. They do the best garlic bread cheese I've ever tasted and the paella was great as well.

As there were 15 of us they opened the upstairs disco for us. The music was a mix of salsa and English.

We had a great time and really recommend El Paso.
Amanda Rogers -
I first visited El Paso with my husband to celebrate our wedding anniversary. I had never even noticed El Paso before although I go past it every day. We decided to go as friends had recommended it to us and there were plenty of good reviews on your website.

Great food and atmosphere. The staff were really friendly, and the food was wonderful and the portions were large and I would say value for money.

The whole visit was wonderful. There was a disco after the meal, which was really busy. Told my friend about it and she's booking her hen night there. Will definitely be back there again.
Katie Robertson -
I visited El Paso for a friend's birthday party and have to say that we had a great time and the food was excellent. The place was full. We shared the upstairs disco with another hen party. We will be going back again
Kathryn Norton -
What an excellent restaurant. We have been as a couple and in a party, and each time the atmosphere was great and the staff were wonderful and friendly.

El Paso is a real gem of a restaurant. They do the best garlic bread cheese and chimichanga I've ever tasted. The upstairs disco was great after our meal and we danced away 'till late.
Linda Plunkett -
We will definitely be back to El Paso! We booked a party of 20 and arrived at the restaurant and were greeted by very friendly staff who showed us our table.

The food was excellent and well presented and served in a timely manner considering the restaurant was full.

Everyone thoroughly enjoyed the evening. We finished off in the upstairs disco. I would definitely be back here again in the near future!
Tracey Gardener -
My partner and I booked a table after not being able to get a table the week before. We were told about El Paso by a friend who had gone there after reading a review on your site.

The food was really tasty and well presented. The place was very busy and the upstairs room had a disco, on which the staff said we could join in with the other parties. It looked good fun but we said no as there was only two of us.

The staff were very friendly and helpful. I did book my birthday party there though so we shall be returning for the disco next time.
Tom Williamson -
Went to El Paso after reading the reviews on this site. The place is very small and cramped. We arrived at 9:30PM on a Friday night, so we weren't expecting an intimate meal. We were placed next to the door so we got a nice blast of cold air whenever it was opened. The night was made less pleasant by the large number of middle-aged women screaming at each other.

We should have been worried by the food when we read the style "Italian/Mexican", two styles that should have nothing to do with each other. Why not "French/Chinese" or "Japanese/Spanish"?

We ordered a salad and some nachos as a starter. The nachos were OK, nice and crisp with freshly made guacamole, salsa and soured cream, although there was far too much cheap cheese. The salad was very bland.

For main courses, we had a burrito and enchiladas. Both were coated in the aforementioned cheap cheese, and the sauce for the enchilada had a nice salt skin. The mince in both was of very low quality, and everything was far too greasy.

Service was fine, if a little slow at times. All staff were very courteous.

In summary, this would probably be a good place to go if were out in a large party group, as the room upstairs sounded like fun. However, the food is generally of low quality, with some redeeming features.
Laura Fellows -
We were looking for a restaurant on the Internet, as we were coming to Sheffield for my friend's hen night. After reading several reviews on your website we decided to book our table at El Paso.

The food was wonderful and the service was with a smile. I have been to many restaurants and it is hard to find a good mix of both. Whenever we visit Sheffield we will be back there. Try the chimichanga.
Sarah Becket -
We went to El Paso recently for my friend's 21st birthday and were very impressed. The quality of the food and the service were both excellent. I have visited many Italian / Mexican restaurants in Sheffield but have to say that this one was one of my best experiences. There was a party room where we had a disco after the meal. We shared that with other customers and the staff joined in as well. We all enjoyed the night and will definitely be back. El Paso is definitely worth a try.
Rebecca Davies -
We went to El Paso after being told about it by a friend who had read a review. I was looking for a place to party, as it was my hen night and can say that I was not disappointed at all.

The food and the service were brilliant and everyone enjoyed it. The party room meant that we could carry on upstairs and we danced away the rest of night. We will definitely be back.
Elle Spencer -
We went to El Paso after reading a review on this page. We went out on a works party for Christmas. It was very busy and we were sat in the function room upstairs. We all had a wonderful time and were amazed with the service and the quality of food produced. We continued in the disco afterwards and other parties joined in. We will definitely be going back again.
Andrea Riszko -
I booked a party at El Paso after reading a review on this website.

The staff were very welcoming and courteous. The food was amazing and the atmosphere was terrific. El Paso also organised live entertainment for us. And the best part was when I got the bill, it was an amazing price. A true example of value for money.

I thanked the staff individually after the meal. Oh one thing I forgot to mention is that there is also a car park behind.
Katie Dunn -
After reading the good reviews on this page I booked my hen night for 30 of us. I can say that I had a brilliant time and that the food and service were exceptional. We continued the party in the upstairs function room and danced salsa. They even put some Abba on for us. Service was very friendly and always with a smile.
David Holler -
Went to El Paso for my 30th birthday after reading the review on this page and can say that we truly had a great time and the party seemed to never end. We will definitely be going back. The upstairs disco makes up the rest of the night, as there was no need for us to go anywhere else. Service was always with a smile.
Sally Thompson -
What a atmosphere! I went here for my 21st and had a truly great time. Great food and great sevice. The Mexican specials are highy recommended.

After the meal, we went upstairs to the private function room and danced salsa untill early morning. The waiters even took time out to teach us how to dance.

There were 30 of us and we all thought this was one of the best restaurants we had been to. Not one complaint from anyone.

Highly reccommended for parties that want to have a wild time.
Eaten at El Paso? Write a review!
Anonymous reviews, reviews using nicknames or reviews sent from invalid email addresses will not be published.