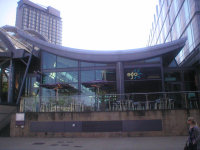 Reviews of Ego Restaurant
Type(s) of Food Served
Mediterranean
Description
Influences from Italy, Spain, Greece and Morocco ensure this has something for everyone in the interior design and more importantly on the menu. The food is excellent quality without the high price tag
Food Service Times
12PM - 10:30PM

Last seating: 10:30PM
Special Offers
Yes - many special offers. See their website for details.
Amenities & Facilities
Credit/debit cards accepted?



Average starter price?
£4.95
Average main course price?
£9.00
Average dessert price?
£4.25
Special diets catered for?
Child facilities?
Children's menu
Baby changing
Sheila Boardman -
Rating:
Very enjoyable evening. Chicken souvlaki [kebab] salad, pitta and dips were very good. My friend had chicken supreme - also great. Both starters and sweets were very tasty. The service was excellent and I have booked again for July.

After trying many restaurants in Sheffield and on the outskirts this is one of the best.
Richard Jones -
Rating:
After a recent disappointing visit to Ego, I felt compelled to write a review.

I went with my parents and brothers on a Monday afternoon and I started with the Gambas al Pil-Pil - black tiger prawns, garlic, chilli, tomato-rubbed bread. I can only assume that these were overcooked, as they were shrivelled, quite tough and served in an overly spicy sauce. I like hot food but this seemed over the top for the type of dish.

For my main course I had the Moroccan Chicken Tajine - couscous, Moroccan vegetables & tzatziki. The chicken was tough, and grilled quite aggressively, leaving burnt edges. The tajine sauce and vegetables were OK, but overall bland with no taste to it. However, that could have been because I hadn't recovered from the starter.

The consensus from everyone else was that it was OK but nothing special. Service was good. Decor was nice. However, the next evening my dad got enteritis and as he isn't very mobile, this had unfortunate consequences for our decor. Of course it can't be proven that his meal was to blame. However, he only had a main course, which was the Tuscan Meatballs from the lunch menu.

Based on a previous review, I would say that they perhaps haven't improved in the last year.

So as I said at the start... disappointing.
Lou Pearson -
Rating:
I just love Ego, it's the best restaurant in Sheffield. Great food, excellent service and I could live there the decor is so good.

If you've not been please go there now, you won't regret it. You might even see someone famous there. So far I've seen Lynda Bellingham, David Pollard and Debbie Dingle from Emmerdale!
Cathryn Boyle -
Rating:
We first went to Ego for lunch last year for a friend's birthday. Their Tuscan meatballs were delicious.

We returned a few weeks later and I decided to have them again. Less tasty, and it was clear that less care had been taken in making the dish. However, my partner asked to try them and liked them so next time we visited he ordered them.

This time they were truly terrible. The pasta had been pre-cooked and revived in unsalted water and was dreadful. The meatballs were hard and small and nasty and the sauce had been made from little more than cheap tinned tomatoes. Ugh!

We won't be going back - they are clearly trying to save money and think that nobody will notice after a couple of drinks.
Craig Chisell -
Rating:
Dined 20/11/2010

Great place, good ambience, food good, busy, no problems with service.
Mark Fitzpatrick -
Beautiful restaurant, good ambience, menu looks appetising.

However food and service average. Especially avoid Bouillabaise, insipid sauce. Despite complaint only thing that arrived promptly was the bill.
Eaten at Ego? Write a review!
Anonymous reviews, reviews using nicknames or reviews sent from invalid email addresses will not be published.