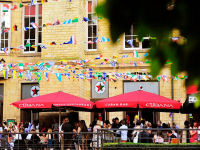 Reviews of Cubana Restaurant
Type(s) of Food Served
Portuguese / Spanish / Tapas
Description
Cubana it has to be said is one of the most respected restaurants in Sheffield.

Famed nationally for their original tapas recipes, their extensive menu combines classic Spanish-style dishes with South American flare and flavour. Since opening in 2000, this lively tapas restaurant has continued to draw the crowds.

Walking in on a buzzing weekend night with the party in full swing really is like being in Havana. Home to some of the finest tapas in the city and top live Latin musicians, there really is something for everyone...
Food Service Times
Monday & Tuesday : closed
Wednesday & Thursday: 4PM -11:30PM
Friday & Saturday: 12PM - 12AM
Sunday: 12PM - 11:30PM

Available for private parties every Sunday.

Last seating: Wednesday & Thursday: 9:45PM, Friday & Saturday: 10:30PM, Sunday: 9PM
Special Offers
Yes - Happy Drinks available until 5:30PM Sunday to Friday:

All classic & signature cocktails for only £5. Also discounted bottle Beers and house wines.

Happy Tapas available until 5:30PM every day:

Any 2 tapas dishes for £9.50 or £5 off any of our tapas set menus (applies to all tables seated before or at 5:30PM).
Amenities & Facilities
Credit/debit cards accepted?



Average starter price?
£4.00
Average main course price?
£4.00
Average dessert price?
£4.00
Special diets catered for?
Rachel and Carl -
Rating:
What a fantastic find, a hidden gem in Leopold Square.

The best gluten-free menu we could find, wonderful courtyard location. Friendly staff, super food, amazing value, such a shame we don't live in Sheffield. as it would be our regular.

Looking forward to our next trip to Sheffield and bringing friends.
Jess Wilson -
Rating:
Amazing atmosphere, good value, great food.
Jane -
Rating:
I've been to Cubana before, so thought it a good place for a birthday night out with an old friend, and it did not disappoint!

The food is so good, we couldn't decide what to have, so went for the set menu. The restaurant was busy and the table wasn't ready on our arrival, but hey, who wants to leave a good party? Our food arrived very quickly though, and the service was impeccable. The bar was busy and the lively music created a lovely atmosphere to round off a memorable evening.
Kelly Hawley -
Rating:
Let me firstly start off this review by saying WOW. I do not use this term loosely, either. I shall explain why momentarily.

Let me get my only criticism out of the way first though. Myself and two friends arranged to meet inside the restaurant. One of my friends arrived at the restaurant before us and had to enter and wait in the restaurant alone. The bar area is to the back of the restaurant and my friend had to walk through a very busy restaurant to get to it. Although the bar staff acknowledged that she was on her own and tried to engage in conversation, they were very busy dealing with the first sitting of business.

My friend therefore found herself standing at a high table with another person (who was also alone). The problem was that her drinks table was extremely close to a table of diners and she told me that she felt very exposed standing there... her actual words were "I felt like my butt was in someone's face". Obviously we found this amusing but, the actual point is that the restaurant is not really set out to deal with people only wanting a drink or who are waiting to be seated.

Now to the good bit and the WOW statement...

When we finally arrived, the bar staff acknowledged us and seemed genuinely happy for our custom. We stood at the said table for about 45 minutes (we actually arrived about an hour early) before we were seated.

We had already decided that we wanted to order from the set tapas menu but found that the prices were based on two people sharing so were a little put out by this... but not for long. Our waitress, Monica, was our saviour. Not only was she probably one of the most lovely, energetic waitresses we had ever met, but her product knowledge was unbelievable.

Monica made it her business to suggest dishes and to advise how much to order and we felt very safe in her hands. She also stayed to have a brief chat (even though the restaurant was very busy) and we again felt like valued customers. Monica also seemed to have little chats with all the other customers and regularly checked in with us to see if everything was OK.

So... the food... well, what can I say apart from WOW. Every dish was beautifully presented, piping hot and the taste was exquisite. Even when the food was starting to get cooler, it was still beautiful. I would also feel very confident that no matter what dishes were ordered, the experience would be exactly the same. The menu itself seemed to cater for everyone so, on the food alone, I would recommend this restaurant.

Let me just warn you... if you are looking for a quiet night out, do not come here. Even before the salsa dancing kicked in, the restaurant was loud and vibrant... everywhere was packed!

Having decided to go to Cubana, as we were requiring a night out, I'm not exactly sure what I was expecting in terms of how the restaurant was going to change into a night venue but within minutes. The restaurant changed from an extremely busy restaurant, packed with diners, into a salsa dancing rhythm room. The bar queue also doubled, too, as people started arriving to the restaurant, ready to hit the dance floor.

There were people who were quite clearly salsa dancers, to people like us who had never salsa danced in our lives. People danced in groups and everyone seemed genuinely happy to get involved in dancing with others, too. The music also included well known chart songs with a slight salsa twist. Both friends commented that they genuinely felt like they could be in Spain... apart from the cold weather outside.

From the start of the night to the end, I can honestly say that we loved it. This restaurant can easily boast one of the best nights in Sheffield, coupled with boasting about their amazing (and very well priced) tapas dishes and excellent customer service.

If you have not tried this restaurant yet then can I politely suggest you make a reservation?!
Becky Tubb -
Rating:
Everything about this place is fab. The food, the atmosphere and the cocktails!

Yum, yum. We had a fantastic night at this great restaurant/bar.
Mauricio Sirvent-Contreras -
Rating:
A large group of friends and I had a superb evening in Cubana. Our waitress was great, really friendly and helpful. She recommended a wide range of tasty dishes and my favourite was definitely the Calamres y Chorizo dish and a fantastic Spanish paella, but there was also plenty on offer for my vegetarian friend.

The atmosphere was lively and fun and we had a great night. Will definitely be going back and will recommend to other friends.
Claire and David Simmonite -
Rating:
We went on a Thursday, which was their Jazz and Swing night. Both the food and service were outstanding.

We had a mixture of meat and veggie dishes - the 'recommended' selection is great value for money and a good way to try new things. They do a 'happy hour', which we used as an an excuse to sample several Latino beers and the extensive cocktail menu!

All in all, a top night out.
Peter McDermott -
Rating:
I have visited Cubana on a number of occasions in recent years and always enjoyed it, so I hired the venue for my 50th birthday party. 80+ people attended and we had an amazing night, the atmosphere, the food (deluxe buffet) and the music (50/50 split between salsa and commercial) were first-class.

Free salsa lessons were thrown in by DJ Nicolai. Everyone (aged 16-60) danced until 1AM and commented it was the best party they had been to in years. The staff were very helpful and nothing was too much trouble.

Would I recommend Cubana... YES 100%, a great venue for a party, whatever your age.
Vincent Dalton -
Rating:
Cubana is our favourite tapas restaurant! The food is delicious and the variety and value makes us go back week after week (especially the meatballs!).

We also love the live music and often have a boogie, the atmosphere is lively but also very chilled. We would definitely recommend this restaurant for lovely food, very friendly staff and a great night out!
Rachel -
I decided to look at the other reviews of Cubana and was utterly shocked!

I was taken there as a surprise on Valentine's Day and was totally impressed. The service was warm and friendly, we were frequently asked if we were OK or wanted drinks and everything was brought quickly.

The food was a set Tapas menu and we thought it was great, very flavoursome and plentiful.

The atmosphere was particularly good! We ate late so they were finishing service, the tables were all moved aside to create a dance floor. The music was traditional and everyone seemed to be having a great time.

I was looking forward to going again but I'm less sure now. Maybe I'll just leave my opinion of my amazing evening untainted and enjoy the memories
Ian Gilroy -
Saturday the 9th of August 2008 was the second time I had been to the Tapas restaurant, Cubana. We arrived at about quarter past six and asked for a table for three, which was met with a furrowed brow from our waiter as we did not have a reservation.

Fair enough, I thought as I'd imagine most people would make reservations around the seven o'clock mark. He said would be okay but he would need the table back in an hour. Again, I thought that's fair enough as we would be finished by then and thought no more of it.

We ordered the set menus, which were on an early bird deal until 6:30PM at a reasonable price with a good variety of dishes. The food arrived at a steady pace with plates soon flooding the table, eyes bright like a childhood Christmas morning with Transformers following Scalextrics.

The set menu provided a good mix of dishes as I mentioned consisting of mainly safe bets like the giant meatballs, Chorizo, a nice omelette/frittata and a delicious chicken and sweet potato dish in a creamy white wine sauce. Personally, I would have liked to have seen some more seafood as we only had the prawns in the filo pastry but that's the set menu I suppose.

We drank San Miguel on draught with a good amount of bread and tapenade to accompany the meal to give your taste buds natural breaks between each little meal. Towards the end of the feast, we noticed our Patatas Bravas had not arrived. We chased these up with the waitress and received them promptly.

Feeling full but not overly so, (a great achievement considering the amount of food consumed) we decided against a desert and asked for the bill. Finishing our drinks, I wondered how we were doing time wise with the gentleman wanting his table back. The waitress collected our payment and we sat waiting for our change to arrive.

We sat and waited for around ten minutes. During this time, the gentleman who showed us to our table buzzed around frequently, shouting across us to the waitress in Spanish and gesticulating, not in the most subtle way possible, at our table.

After this happened a few times, we felt quite uncomfortable and told the gentleman that actually, we were waiting on them for our change. The waitress half apologised for the "mix-up", coming back quickly with our change which must have been sat around doing nothing.

This was at a time when the restaurant was about 3/4 full with quite a few people like ourselves about ready to leave, not exactly peak time. We quickly debated about a tip when I let my manners get the better of me and left 10%, which on reflection I probably regret.

On the whole, great food with a good menu but a few things that would be pretty easy for the restaurant (i.e. service issues/good manners) to sort out quite soured the experience for me, which is a real shame. I'd probably think twice about going again as there is a lot of choice for Tapas places.
Gavin -
I went here for a friend's birthday, the initial welcome is OK but a little rushed (in fact I felt loomed over the whole time I was eating).

The food, well I won't spend long describing this. Too much garlic to disguise the fact it was bland and over expensive. The wrong things were delivered to our table. The bill was wrong and the waitresses were rude. There was absolutely no table service for dinks once you are eating, and the food took forever to come.

The worst eating experience of my life.
Ben Foulds -
This restaurant came highly recommended to me from various people, and not wanting to miss out, I decided it was time to sample the taste of Spain at this ideally placed restaurant just on the edge of the city centre.

The initial welcome was warm and the layout inviting. The service was initially very good, however, once the food came it was down hill from there. We had a Tapas set menu as recommended which came in stages, which I can understand as it was lots of small portions. I was quite surprised that the rice accompaniment came just as we were finishing our meal though.

Once finished we waited just under half an hour for our table to be cleared, and even then she did it in two stages with a fifteen minute gap. It then took a further fifteen minutes to order some drinks which we eventually went up to the bar to order as our waitress seemed intent on spending the rest of the evening speaking to some regulars who were frequenting the area near the bar.

As our long awaited drinks finally arrived, to top the evening off, the tea had lipstick marks around the rim. These were quite clear despite the waitress deciding to hold it up to the light and look puzzled upon our request to take it away and not bother with a replacement.

Notice how the previous review did not mention the food, this is maybe because it was bland, uninteresting and in some cases just plain bad. I wish this was a better experience for us as it's nice to know restaurants that are just that bit different and exciting, but unfortunately this was far from an exciting evening. If you want good food and something a bit different, steer clear of here and get to WasabiSabi.
Stuart H -
Norman Douglas once asked "All culinary tasks should be performed with reverential love, don't you think so?", and in doing so he set a standard by which all restaurants should be judged. But then in Sheffield it's different. This season's chain with this season's menu and this season's food fad, topped and a garnish of we should be grateful just to be there. Restaurants immediately start with a one point advantage simply because any food cooked by someone else tastes better than having cooked it yourself (sample free-range eggs and skinny fries at HA HA). They get another point because they invariably ensure the diner has indulged in at least one taste bud deadening glass of house wine before the food arrives and the third point comes from our refusal to accept that there is anything other than an artist in the kitchen who honestly cares about the food that leaves his atelier.

And then, quite innocently while abroad, we sample honest well flavoured victuals prepared with enthusiasm and care and we realise that dining out isn't a stressful, rushed, pot luck affair but a simply joy. And we come home and search for the same. "Good food for everybody!" he trumpeted, and how we wished he cooked for us.

Enter without preconceptions, without the tapas encyclopaedia to question authenticity, without a back complaint due to the upright chairs and without an alarm call set for first thing the next morning and at Cubana you will find people and food that have no hidden agenda, just a desire to please and a welcome that will make you believe you must have been there before. That's as far as my expectations extend when dining in Sheffield, and Cubana excels. I almost forget what I ate simply because I enjoyed the atmosphere, company and music - not to mention the smile of the waitress who brought our food, who had an honest expression on her face when she asked "is everything okay". Had I not fallen instantly in love with the husky Spanish accent and the casual demeanour I felt I could have told her if it wasn't and she would have somehow made amends.

I didn't need to though. And I'm not going to tell you about the food. Try it for yourself and see if you remember the next morning.
Eaten at Cubana? Write a review!
Anonymous reviews, reviews using nicknames or reviews sent from invalid email addresses will not be published.