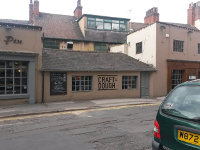 Reviews of Craft & Dough Restaurant
Type(s) of Food Served
Pizzeria
Description
Welcome to Craft & Dough, creators of luscious & innovative pizzas, all served along side only the finest craft beers available.
Food Service Times
10AM - 11PM
Special Offers
There are no special offers that we are aware of.
Amenities & Facilities
Credit/debit cards accepted?



Average starter price?
£4.00
Average main course price?
£8.00
Average dessert price?
£5.50
Special diets catered for?
Gluten-free
Vegan
David -
Rating:
Should have turned on our heels on entering today. Accosted by a smell of must and damp - however a 9-year-old (not to mention me) were hungry.

Tacky tables and (were they table mats?) of the menus covered in the last occupant's grease marks further led to unease.

There was only one other table occupied when we went in but the floor was covered in food mess, and the piece de resistance were the 3 fruit flies buzzing around us whilst seated.

Pizzas were okay.

I know the premise is on beers but the wine list was very limited and the £17 merlot was very ropy. Would have been better sticking a £5 bottle from the supermarket on the list than some unknown plonk.

There are much better places to get pizzas in Sheffield. Give this place a wide berth.
Eaten at Craft & Dough? Write a review!
Anonymous reviews, reviews using nicknames or reviews sent from invalid email addresses will not be published.