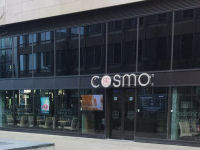 Reviews of Cosmo Restaurant
Type(s) of Food Served
Chinese / English / Indian / Italian / Thai
Description
Our chefs cook over 150 freshly-prepared dishes from 8 Pan-Asian countries and with our Global Kitchen as well as Live Cooking Stations it's a dining experience like no other. Exceptional food with exceptional value for money in stunning restaurants... This is the pinnacle of casual dining. This is COSMO.
Food Service Times
Monday - Friday: 12PM - 3PM and 5:30PM - 10:30PM
Saturday: 12PM - 4PM and 5PM - 11PM
Sunday: 12PM - 10PM

Last seating: 30 minutes before closing time.
Special Offers
There are no special offers that we are aware of.
Amenities & Facilities
Credit/debit cards accepted?



Average main course price?
£14.00
Special diets catered for?
Ian Scott -
Rating:
Where in the world does anyone charge for under-twos to eat... Cosmo Sheffield.
Tilley -
Rating:
Poor service... Clearly had a table booked for 12 people, showed them the booking and proof of the reservation and they denied any knowledge of having this booking. They refused to give us a table despite the booking confirmation. Ruined our whole plans for the day!
Jin -
Rating:
The manager has very bad attitudes. No apologies & manager skills at all. Hope his boss knows how bad he is.
Zak -
Rating:
Never again. Visited the Sheffield branch for a second time on 30th May after a year. Nothing changed. With the exception of the Tepenyaki, the rest of the food was bland. An egg sandwich from the local supermarket had more taste. Pretty peed off. 10pm and they started closing. Went back for some Tepenyaki and they had closed it already. Would have been courtesy to make it clear before being seated.

Ice creams were melted or refrozen. Desserts were hacked, messy and not replenished. Staff could at least make a little effort to be on top of presentation.

Would have been better off going to Pizza Express next door. Appreciate that's not to everyone's preference / budget and option, but at least you can be certain of good quality food.
Hannah -
Rating:
The quality has gone down hill a lot. You feel like a battery chicken rammed in with the seating. You get people's bums in your face whilst you eat. Unless you go as a bigger group than two, then you get slightly more space.

Derby Cosmo's food is a lot nicer.

Both cleanliness has gone down hill, with sticky floors in bathrooms and not as well looked after.

I will keep going for lunchtime, as I think it is a good price if you love Chinese, but I wouldn't spend double for the evenings any more.
Dylan Carter -
Rating:
Awesome place. When I am in Sheffield, I eat here with friends, always look forward in going back!
Nic -
Rating:
Went last night and the staff behaviour was disgusting. I had to leave early from a friend's birthday due to my son becoming ill. I tried to pay the bill before leaving. The woman told me I could not pay my bill 'til I had gone back to the table and get the number. I said I can't do that, I need to just pay the bill and go, as I need to get my son to hospital (which she could clearly see he was distressed). She refused to take the money, so I asked the man next to her, who was a manger, and I got the same attitude from him.

I work in the same line of work and in that given situation I would have told the person to hold on a minute whilst I check it for them whilst the other person sorted out what needs taking of the bill. Anyway, as they didn't want to take my money or help in any way I said it didn't matter I'll put the money in my fiend's account and she will pay before she leaves, and proceeded to walk off to go take my child to hospital. The woman and man followed me through the restaurant making a sense in front of all the customers. Then I told them how many times and how many different members of staff I had transferred the money in the account and my friend will pay the bill when she leaves. Just to add, the bill was all together on one anyway. So I carried on, left the building. Before I left the manger told me he was going to call the police and not to come back again. Then after this they go over to my friend whose party it was and started harassing them for the money whilst they were still eating. He had to tell them how many times he got the money and will pay it with his bill at end.

I think the customer service at this place is vile and the staff need to be trained a lot better or replaced. To be honest I am that disgusted with the behaviour of the staff I think I am definitely going to take the matter further.
Mrs R Bate -
Rating:
I cannot even rate this place, I am disgusted as how we have been treated. On the 19th January we booked Cosmo to celebrate my son's birthday. There was five adults and three children, two aged twelve and a four-year-old. My granddaughter is twelve and was asked to stand against a wall to be measured. We were told she measured over the line and would have to pay full price of £16.00. She was so upset at the embarrassment and humiliation having to stand up in front all those people.

I was so upset, this ruined her daddy's birthday. We paid the bill and I asked to see the manager, who was a complete waste of time. I also noticed on the reviews that other people have had the same experience. In my opinion you are being discriminatory to tall children and not small and overweight children. My granddaughter might be tall but she is skinny.

It states in your policy that under 16s must be accompanied by an adult. She is twelve years old and still a child. I am going to challenge your policy through appropriate channels.

This is totally unacceptable, you are giving children an inferiority complex of their size.
Richard -
Rating:
We have been visitors to Cosmo a couple of times a year pretty much since it opened in Sheffield and we have always raved about it.

The previous time we visited we noticed a certain drop in quality in some of the dishes, but everyone can have an off day, can't they? However, this time we were very disappointed with many of the dishes. Not all though, the meat in the lamb rogan josh was very nice, as was the chicken tikka masala.

But the meat in many of the Chinese dishes was tough and/or fatty, giving the impression of cheap quality. Some other ingredients felt bland.

There were some very nice looking desserts, but on inspection turned out to be well-dressed with 80% canned whipped cream.

I must, though, compliment the staff on being polite and attentive.

Overall I will stop recommending it to my friends and sadly will not be going back in the foreseeable future.
Danielle Beattie -
Rating:
The men's toilet was covered in faeces. Toilet bowl and flush button. Urine all over the floor. Marks for cleanliness 0 out of 10. Makes you wonder what is in the food.
Paul Brough -
Rating:
We went here last night. Food was nice and the staff were so nice as well.
Kirsty -
Rating:
Came here for my sister's 18th birthday. Booked a table, only to be told to wait when we arrived. Went to the bar for a drink and got ignored. Was told after 15 minutes that our table was ready. They sat us down I had an 8-month-old they never asked if I needed a highchair. Then to be told halfway through that we weren't able to keep my pram there. It was a nightmare to get out, having to get people out of their seats because the spaces between the chairs was so tight.

As we were eating the staff by passed the adults to the younger children to tell them they had to go and measure themselves against a line on a sign the same size as an A4 sheet of paper because if they were taller they would have to pay adult price. My son is 13 and so was my niece. Then when it was the end they charged adult prices. This is wrong, it does not state this on their website, as I was told it did. I cant see it anywhere. Then they told us it was on the same size A4 that it stated it at reception. I also didn't see that. They are having people left an right with this "a child is under the age of 16".

Also the staff seemed to be watching every move, making you feel uneasy. The food was OK but not arranged right. A lot was really salty and some was really sugary. We asked to speak to a manager three times, to be told that she was a supervisor. In the end my uncle asked. She went to get him. He was lovely and listened to what we had to say and put the two children's meals for adults half price after a long discussion, pointing out that this should be told to people before seated.
Carla Cooper -
Rating:
Took my 11-year-old son for a meal, only to be told that we had to pay for two adults because he was taller than the silly white line. The website states that children under 16 have to be accompanied by an adult. If this is the case then my 11-year-old is definitely a child, so why does he have to pay adult prices?

Was also told I couldn't order a pint of Coke. Pint glasses behind the bar, Coke on draught, but can't order a pint. Why the hell not? I won't be returning to Cosmo again on principal - it's a joke.
Joseph Weatherfield -
Rating:
The good was great. However, the morning after, not so great.
Jan Guy -
Rating:
Don't go here if you need to eat gluten-free! Despite ringing beforehand there is very little to eat. I ended up with salad and plain rice, followed by chocolate ice cream, rubbish.

Had to rate 1 star to send review but would have rated zero.
Roger Dungworth -
Rating:
Good quality food. The Thai selection would be my first stop, as it is truly excellent to the taste. Very good value at £15 per head.

Not recommended if you want a quiet meal, as when I visited there was lots of kiddies, but I was in early at first opening 5:30PM.

All in all recommended family eatery that will not break the bank for a 3-course meal.

P.S. very clean.
Mick -
Rating:
The place had a nice entrance bar where you could get a drink while you waited to be seated. We had to wait 20 minutes, but we didn't make a reservation beforehand, so we didn't mind.

There was very little choice for vegetarians and no thought had been put into the arrangement of the food. Instead of putting the vegetarian dishes together, they were randomly set out with the meat dishes. There were no labels to indicate which dishes were meat-free and the people I asked barely spoke English. The veggie pizza was in the middle of the meat ones and there was only one serving tool. This place is a vegetarian's worst nightmare!

I planned what I was having before I arrived by looking at the online menu. I was really looking forward to the Saag-Aloe, so I was very disappointed that they didn't have it.

Summary:
Great for meat eaters, a minefield for vegetarians and the food was average quality at best. The place reminded me of school dinners, probably why the kids seemed to love it!
Misa Ueno -
Rating:
I went to there at night on ordinary days. Our group is 6 people.

I could enter in soon. I didn't have to stand in a line.

Cosmo's form is buffet, so they have many dishes. Any of the food are good and just so so.

A clerk is friendly.

A grill service so good and exciting.

I could choose food, beef, squid, scallop and so on.

I had enjoyed it.

I think that I want to go lunch time next.
Tomoko Iwata -
Rating:
I went there on Friday night, so I thought there would be many people and clerks were so busy. Actually, it was true, however, we didn't wait at all, and service was very smooth and quick.

It was very great. There were a lot of cuisines, such as Japanese, Chinese, Korean, Italian and so on. All were so delicious! Especially, I think Japanese cuisine were very good. Because the tastes were very similar with them in Japan. I thought sushi in UK was not so delicious. But it wasn't! I am Japanese.

Visited August 2014.
Katie Gascoyne -
Rating:
A booking for a Thursday evening was made through Cosmo's website and there were no problems, they were expecting us when we arrived.

Even for a Thursday night the place was absolutely packed, and there was a short wait before we were shown to our table. Our friendly waitress took our drinks orders and explained that we could go straight to the buffet counters whilst our drinks were on their way.

We ordered a couple of bottles of wine and our waitress explained that the cola was a "bottomless" glass, which we were to fetch and refill ourselves. The cola was not a well-known UK brand (not Coca Cola or Pepsi) but was just as nice. We asked for some tap water and received five glasses that we were to fill from the soft drinks station.

There was a great selection of foods from around the world. off the top of my head I recall English roasts, Italian pastas and pizzas, Spanish risotto, sushi, and lots of different Indian, Chinese and Thai dishes. There is also a "live cooking" station but we didn't want to queue for it.

The quality of the food was impressive for an all-you-can-eat buffet. Unlike other buffets, all the foods were covered and stayed hot. We never saw anyone replenish any of the dishes, and there were a few that laid empty. But that's not to say that there wasn't plenty of choice to go around.

The desserts were small, which we enjoyed because it was possible to try a few different things. We commented that everyone seemed to have 6 or more desserts on their plates!

At £13.99 per person we all agreed that it was good value for money and the quality of the food was adequate.

Comparing it with other all-you-can-eat buffets it would have got a 5-star review except for the fact that we did find the food quite greasy (OK you do expect this to some extent) and the BBQ ribs were more gristle than meat.

Overall we would recommend Cosmo and would go back again.
Kelly Hawley -
Rating:
Last night I visited Cosmo in Sheffield for the first time. I have to say that I was a little reluctant to visit an "all you can eat" buffet-style restaurant who have quite bold philosophy statements. Cosmo claim to make their customers feel valued, to exceed expectations with their banquet of freshly-prepared food, to entertain on their live cooking stations, and to be the best casual dining experience, whilst still retaining a best value for money experience.

I have experienced eating at a lot of restaurants in my time and I have to say that not only do Cosmo live up to their philosophy statements and possibly exceed them, Cosmo is officially Sheffield's new "Food Mecca".

I should not have liked this restaurant, as I tend to find that buffet-style restaurant food is usually cold unless you manage to be lucky and get the food as soon as it is served. At each food station all of the food is perfectly stored and is kept piping hot. Each cuisine type has a decent range on offer, too.

Imagine as a child watching Willy Wonka and the Chocolate Factory and how your eyes lit up when they went into the Chocolate Room... this was me looking at the dessert station. Each dessert individually presented like little sweet gifts.

The whole restaurant is beautifully presented, with a cool and contemporary feel but yet still feels comfortable. This is the perfect place for after work food and drinks with friends and family. Possibly not recommended if you are wanting a romantic evening with your partner... unless you are serious foodies!

A price of £13.99 is a fair price considering the fact that you would easily eat a three course meal there.

The staff are also attentive and will clear your plates quickly. All very friendly too.

Brilliant experience.
Eaten at Cosmo? Write a review!
Anonymous reviews, reviews using nicknames or reviews sent from invalid email addresses will not be published.