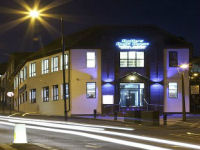 Reviews of Butlers Balti House Restaurant
Type(s) of Food Served
Balti / Indian
Description
Newly refurbished restaurant, probably the best looking Indian restaurant in Sheffield. High standard and quality food served with a bar and waiting area. Food delivery service available within a 3-4 mile radius.
Food Service Times
Sunday - Thursday: 5PM - 12AM
Friday & Saturday: 5PM - 1AM

Last seating: 15 minutes before close.
Special Offers
There are no special offers that we are aware of.
Amenities & Facilities
Credit/debit cards accepted?



Average starter price?
£2.50
Average main course price?
£5.75
Average dessert price?
£2.95
Special diets catered for?
Nut-free
Wheat/gluten-free
Dairy-free
Child facilities?
High chairs
Brad -
Rating:
Been going here for years. All of a sudden they cut your chicken up for you. Always had about 7 pieces of chicken. Now you get about 2 cut in strips for you. What a rip off. Done.
Adrian Webster -
Rating:
Had a party with family tonight. Must say amazing service and amazing food. 10/10 what an atmosphere. Amazing will be back soon. Our new favourite hidden gem.
Adrian Webster -
Rating:
What a great Indian restaurant. Was thinking about it after reading the reviews but some friend went in and told us it was amazing so had to try for myself. Had a great time and food was amazing. Booked in for my birthday party now. Thank-you Butlers for great food and service.
David Rowntre -
Rating:
Poor service - power cut meant we had to eat in the dark. These things happen, however the meal was nowhere near usual standard. The waiter seemed to think the lack of meat (5-6 pieces at best) in my dish a result of the poor lighting. The meal returned, after my complaint, with the comment "is that alright for you".

When it came to payment we were sent up the road to the Co-Op to get cash. Despite knowing that the card machine wasn't working when we arrived, they forgot to mention this.

Think we'll try somewhere different next time.
Ranjit Singh -
Rating:
I'm embarrassed to call this an Indian restaurant. I help to manage one of my parents' Bangladeshi restaurants in the West Midlands and couldn't believe the low standards that Butlers let things run at. Butlers served cold, sub-standard food and staff weren't friendly. Complete disappointment!
Peter Stelzer -
Rating:
Just left most of a delivered takeaway. Paid £34 for three dishes plus rice.

Chicken Malaya clearly thrown together from prepacked cheap soggy chicken junks, King Prawn Saj was mouth-burningly hot in non-liquid. Only the lamb dish was really edible. Pilau rice clogged and dark brown. Never again!
Brett Sinclair -
Rating:
Only put 1 star, as no facility for 0 stars.

Bad experience from start to finish.

Overpriced for portion size.

Just putting 2 chillies on top of a bland curry sauce does not make it a vindaloo, no matter what spin the waiter feeds you.

Sorry but I'm not impressed. It's about flavour and infusion of spices, not just heat.
Steve -
Rating:
The whole thing was rushed. Drinks were watered down, not much meat in the dishes, and over-priced. First and last time for me. I will be warning others.
Julie Johnson -
Rating:
The food was very nice but the whole thing was too rushed, shame really.
Mark Jago -
Rating:
Went to the restaurant today after looking at reviews and was not disappointed. The staff were very helpful and suggested some dishes for us, which were all lovely. We were a party of 6 up for the weekend from near London. My favourite food is curry and this is one of the best we have been to. I highly recommend it.
Ali -
Rating:
The best Indian I have eaten in a very long time!

The chicken saag balti special was so tasty, the chicken succulent & tender.

Excellent, friendly service and very good value!

I will definitely be back.
David Bell -
Rating:
Another great night at Butlers. Good food, good service at reasonable prices. Will be back again!
Tracey Peace -
Rating:
Always a good meal and very welcoming. Very good value for money. Excellent.
Michael Cutts -
We go to Butler's Balti House quite often, the food is always brilliant and the service and friendliness of the staff is great. We would recommend Butler's to everyone.
Priya -
A good restaurant with delicious food, friendly service & a relaxing atmosphere. Try Aloo sagg in vegetables, it is very delicious and was one of the suggestions from the staff. The price is also reasonable, so enjoy!
Julie -
I have never tasted such fresh food before. Not probably, but definitely the best place in Sheffield. Well modernised and air conditioned as well.
Eaten at Butlers Balti House? Write a review!
Anonymous reviews, reviews using nicknames or reviews sent from invalid email addresses will not be published.