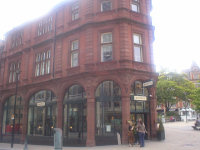 Reviews of Browns Restaurant
Type(s) of Food Served
English / European / Modern British
Description
Browns Sheffield occupies one of the most tranquil spots imaginable, given its city centre location; overlooking the award winning Peace Gardens. The bar and restaurant are set in what used to be city's Army & General Stores, and are set in the heart of Sheffield's theatre district.
Food Service Times
Sunday - Friday: 12PM - 9:30PM
Saturday: 12PM - 10PM
Special Offers
There are no special offers that we are aware of.
Amenities & Facilities
Credit/debit cards accepted?



Average main course price?
Special diets catered for?
K Booth -
Rating:
Would love to review the food but after a 30 minutes wait we were served our starters, after a further wait of 45 minutes for main courses we got up and left.

We were not the only ones. As we were seated a party of 4 left complaining about the wait. Other parties were vocal about the wait.

If the kitchen cannot cope with a busy lunchtime then the management should not be taking bookings.
Sam -
Rating:
Wonderful service, and great range of cocktails and gluten-free options.
James P -
Rating:
Great breakfast. Good selection of food, smoothies and hot drinks. Ambience is pleasant, service friendly and attentive. Food hot and well presented. Would recommend and will visit again.
Richard -
Rating:
Great place, great location. My table of 3 had a great table overlooking the Peace Gardens. We came on a Sunday for lunch. The beef was cooked to perfection. The service was great - there when you needed them but not too intrusive. Would highly recommend this place and will be going again in the future.
Jason -
Rating:
Nice atmosphere and food always reliable. The service is always good. A nice venue for drinks after work or at the weekend.
J Cameron -
Rating:
Lovely venue just next to City Hall in a Grade II listed building. We stopped in before a show to try the two-course offer. The food was tasty and great value. The service was warm and efficient. We would recommend to anyone looking for a quick bite before a show.
J Davidson -
Rating:
Visited Browns, Sheffield, having heard great feedback from friends for a birthday celebration. The building is beautiful, overlooking the Peace Gardens. The service was brilliant and the food really tasty. Would highly recommend.
Darren -
Rating:
We came for our 6th wedding anniversary, very disappointed. The food was over-priced and we didn't get what was on the menu.

Had beef brisket (£7.95) which was 3 meatball things with brown sauce croquettes. Half roast chicken. This was 2 chicken legs. So in all, 1 starter, 2 mains, 2 drinks each, no deserts. All together £55. Still hungry, going to KFC next time. Lovely food over-priced. Toilets disgusting. Service great.

Won't be coming next anniversary, rather have a take away.
James -
Rating:
Visited this place for tea and coffee - the service was poor, the tables were dirty and, rather than make any attempt to clean our table when my wife pointed out it was dirty, we then had to listen to a sarcastic monologue about how hard the staff worked and how busy they were. There are many places to eat and drink in that area which offer far better service and hygiene.
Cawthorne -
Rating:
Visited Browns for our wedding anniversary, we had afternoon tea. My husband had booked for the occasion. Disappointed with the service and food. Staff were unorganised and vacant, no one did the courtesy check back to see if everything was OK. It was a quiet Sunday afternoon.

The pots of tea would have been lovely if the water was hot, and when we mentioned this it was topped up with the same lukewarm water. The afternoon tea was OK, but lacked taste. I expected better, especially for the price. A few items tasted as if they'd been left to air in a fridge, and not as they should have.

I really wish it had been better food, service and atmosphere!
J Jackson -
Rating:
The staff were lovely. Very friendly and helpful. However, the food is... well I can only describe it as overpriced s***e. I have never encountered such bad value for money. Will never go back.
Susan Smith -
Rating:
Nice food, shame about the service.

When visiting Sheffield we arranged to meet friends for afternoon tea at Browns. Since there would be 5 adults and 3 young children I made sure I booked a table for 4PM.

We arrived on time but then waited at the front desk for 10 minutes before someone noticed us and came to seat us. Pots of tea came quickly, but food didn't turn up until 5PM. It was only sandwiches, scones and cake so it wasn't as if they needed to cook it!

Trying to get the bill was almost impossible. The waiter who was supposedly looking after our table did not look in our direction once in the 20 minutes I was trying to catch his eye. We eventually got the bill by asking a different waiter who then went and got our waiter to do it. Once we had the bill we spent a further 15 minutes trying to get the waiter to come back so we could pay it. In the end we gave up and went and sat the babies on the bar until someone there allowed us to pay.

All in all pretty disappointing.
Shaun Greenwood -
Rating:
Food overpriced, no atmosphere.

Friday night about 9 o'clock it was not particularly busy but people were walking out because bar service was taking too long. And to add insult to injury the guy behind the bar "forgot" to give me my change!

All in all, rubbish. It was a lot better when it was Ha Ha Bar!
Lauren Walsh -
Rating:
After hearing that Ha Ha Bar & Canteen had closed down and been replaced by Browns, we decided to try them for lunch. There is a menu on display outside and we could see that it was a little expensive but hoped that the food would justify the prices.

The interior of Browns is minimalist and attractive. There were plenty of diners downstairs but we easily found a table upstairs, which was almost empty. Shortly after sitting down a waiter brought menus and gave us details of the dishes on the specials board.

We both decided to go for the Browns burger, which at £9.95 has got to be at the top of the price range for a burger! The burger is advertised as coming with "celeriac coleslaw, pickle, red onion, tomato and crisp seasoned chips".

The food arrived quickly and was hot. The portion sizes were average at best - you don't get a lot for your £9.95. They definitely didn't live up to our expectations. We both had hard chips, which left us asking whether they were frozen. The tomato was a single slice and the celeriac coleslaw was little more than a spoonful. The burger, although nice enough, was nothing special, either.

The bill for 2 burgers and bottles of Leffe Blonde came to a little under £28. Although we couldn't fault the service and decor, the food was overpriced for what we got. We both thought that we could have had the same elsewhere for about half the price.
Eaten at Browns? Write a review!
Anonymous reviews, reviews using nicknames or reviews sent from invalid email addresses will not be published.