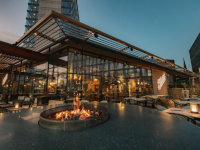 Reviews of Botanist Restaurant
Type(s) of Food Served
American / European / Modern British
Description
A world-famous selection of botanical cocktails, craft beers and ales, Champagne and wine. Food inspired by the deli, rotisserie and BBQ.
Food Service Times
Sorry, we do not have the restaurant's opening times yet.
Special Offers
There are no special offers that we are aware of.
Amenities & Facilities
Credit/debit cards accepted?



Average main course price?
Special diets catered for?
Sandy -
Rating:
I dined here yesterday with my son's partner. Excellent choice of starter and main course (too full for a dessert). Staff were very helpful and friendly. Alcohol-free drinks were very good. The "all greens" (I think that's what it was called) was very refreshing, mint, kiwi and a bit of fizz. Would definitely visit again.
Eaten at Botanist? Write a review!
Anonymous reviews, reviews using nicknames or reviews sent from invalid email addresses will not be published.