Blue Moon Cafe Restaurant
2 St James Street
City Centre
Sheffield
S1 2EW
Telephone: 0114 2763443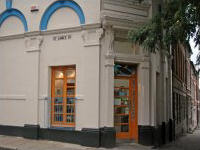 Reviews of Blue Moon Cafe Restaurant
Type(s) of Food Served
Vegetarian / Vegan
Description
Counter service vegetarian and vegan cafe with a blackboard menu.
Food Service Times
8AM - 8PM

Last seating: 7:30-7:45PM
Special Offers
There are no special offers that we are aware of.
Amenities & Facilities
Credit/debit cards accepted?




Average starter price?
£3.00
Average main course price?
£5.90
Average dessert price?
£2.00
Special diets catered for?
Child facilities?
High chairs
Baby changing
Lizzy -
Rating:
Great food. Amazing desserts. It's worth visiting just to read the notice board.
Alison Roffey -
Rating:
After years of not being in Sheffield, made a effort to go to the cafe at 5:45PM.

Very disappointed in the quality of the food, which was lukewarm even after the microwave. The unfriendly, quite rude staff (looked like they did not want to be there or around people) and the atmosphere was uncomfortable and just couldn't wait to get out.
Georgette -
Rating:
Have eaten here several times. The food was always very good, with ample portions. Large selection of desserts, too, many of them vegan. The atmosphere is very informal and relaxed, with a '60s vibe. Nice location, beautiful building. I always enjoy eating at the Blue Moon.
Mandy Kingston -
Rating:
Excellent lunch on 18/10/2014. Not even a vegetarian but had a lovely aubergine dish with a selection of salad, a frothy coffee, and I thoroughly enjoyed it.
Perda -
Rating:
Fantastic green pepper and butternut squash curry. Amazing portion. Fantastic value for money. Where else could you go and get such a plateful of wonderful food for under seven pounds? The flavours in the curry were delicious and in the accompanying dal. Excellent.

Only my third visit, as I am not local, however will return when I next visit Sheffield.
J Thorpe, K Parker, L Owen, P Sharma -
Rating:
A ladies-that-lunch Tuesday lunch break, 3 of us strictly meat eaters but 1 colleague vegetarian. We entered the bright, airy building with trepidation, what could we find to eat that would tempt and tantalise our palettes?

The cafe was buzzing, barely a table spare. At the food counter a wonderful array of foods unheard of. Not to worry, the friendly staff were helpful and descriptive of the choices available. We chose homity pie with a generous helping of salad, cauliflower cheese with rice and salad and a bean wrap.

The food was hot, tasty and well-seasoned. Licensed with a good choice of drinks. We all cleared our plates we enjoyed it so much, and would certainly make a return visit.
Elaine Burke -
Rating:
Really lovely welcoming cafe. The food is something else, the fruit scones and homemade jams are amazing.

Spoilt for choice at lunchtime. Highly recommended cafe.
Janet Morris -
Rating:
First visited at lunchtime a couple of weeks ago and was impressed, so visited for a hot meal after shopping in Sheffield on 11/12/10 about 4:30PM.

There was not much to choose from, no rice or jacket potatoes available and we were still charged full price. Food was also only luke warm.

Overall a disappointing meal and we wished we had gone somewhere else.
Sam -
Rating:
Amazing food, a little pricy but worth every penny for a plate full of yummy food. I go there every opportunity I get. I love my food, Blue Mood Cafe is simply the best in Sheffield. The staff are polite and very friendly.
Eaten at Blue Moon Cafe? Write a review!
Anonymous reviews, reviews using nicknames or reviews sent from invalid email addresses will not be published.