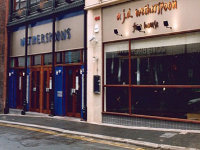 Reviews of Benjamin Huntsman Restaurant
Type(s) of Food Served
Pub Restaurant
Description
This Wetherspoon pub takes its name from the inventor of the famous crucible steel-making process, which made Sheffield famous.
Food Service Times
Sorry, we do not have the restaurant's opening times yet.
Special Offers
There are no special offers that we are aware of.
Amenities & Facilities
Credit/debit cards accepted?



Average main course price?
Special diets catered for?
Barnaby Knowles -
Rating:
I have eaten here a few times and never had any reason to complain. It's a standard Wetherspoon's pub so there's a large food menu with your standard burgers, steaks, chicken, salads etc... As you'd expect from Wetherspoon's it's all reasonably priced and the bar has a large range of drinks including many real ales.
Eaten at Benjamin Huntsman? Write a review!
Anonymous reviews, reviews using nicknames or reviews sent from invalid email addresses will not be published.