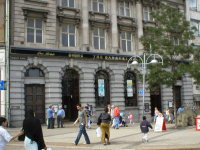 Reviews of Bankers Draft Restaurant
Type(s) of Food Served
English / Pub Restaurant
Description
The Banker's Draft gets its name from its previous use as a bank. The building was designed and built in 1904 for the York & County. It became the Midland Bank in 1918, which it remained until it relocated in 1989.

It originally featured an Aberdeen granite facade, a pair of large bronze gates and extensive use of Italian marble throughout the banking hall.
Food Service Times
Sorry, we do not have the restaurant's opening times yet.
Special Offers
There are no special offers that we are aware of.
Amenities & Facilities
Credit/debit cards accepted?
Average main course price?
Special diets catered for?
Charlie Keable -
Rating:
Our experience here was no more than appalling.

Shortly after arriving the members of our party who were under age but not drinking, and those who didn't purchase anything were treated like criminals and juvenile delinquents. Apparently the restaurant is "metaphorical" and the pub doesn't accept anyone under the age of 18. So even those of us who were paying customers and under 18 were talked to in a threatening manner by the manager and forced to leave under the risk of them calling the police for crimes that no-one committed.

Our completely normal and quite drink was ruined by staff members using their non-existent powers to remove people who were apparently subject of their prejudice against youths. Extremely disappointing.
Eaten at Bankers Draft? Write a review!
Anonymous reviews, reviews using nicknames or reviews sent from invalid email addresses will not be published.