Baan Thai Restaurant
1 Ecclesall Road
City Centre
Sheffield
S11 8HY
Telephone: 0114 2754800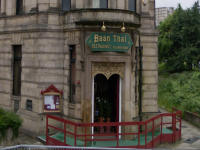 Reviews of Baan Thai Restaurant
Type(s) of Food Served
Thai
Description
Baan Thai restaurant is located at 1 Ecclesall Road in Sheffield city centre.
Food Service Times
Sorry, we do not have the restaurant's opening times yet.
Special Offers
There are no special offers that we are aware of.
Amenities & Facilities
Credit/debit cards accepted?
Average main course price?
Special diets catered for?
Scott North -
Rating:
Baan Thai tonight. The food was amazing. Lovely, polite staff. Friendly atmosphere. Going again on New Year's Eve.
Chawalit -
Rating:
Great food, excellent service, and charming atmosphere.
Sohel Azam -
Rating:
Probably one of the best Thai restaurants. The ambience is a bit archaic but the food is great. Very polite staff, prompt and good service, highly recommended.
Eric Davidson -
Rating:
Yet another restaurant I had walked past several times and not spotted it, which considering its location is a bit surprising.

However, having found it I will definitely be going back.

The restaurant looks like it was an old bank, spacious, but not too big. A few Thai things around made a good presentation.

The food - well - as with a lot of Thai, it was beautifully presented and served. I had crispy fish in their own sweet and sour sauce with rice (100 on the menu). The fish came with a good amount of vegetables, beautifully cooked. The fish was crisp, lightly battered, and tasty. As the quantities were reasonable I tried a sweet as well, warmed bananas in coconut milk, very nice, but a little too much for me.

The service was attentive, but not overbearing - superb.

And to cap it all, a fairly reasonable price
Ian Bulcock -
Rating:
I visit this restaurant regularly and it never fails to impress. The service and setting is excellent, the menu choice is massive with lots of vegetarian options and it is reasonably priced.

It is advisable to book at weekends though as its popularity seems to have caught on!
Sarah Brisco -
Rating:
We went there on Saturday evening for the very first time. As with anywhere good, booking is essential. There are 100 seats in a very beautifully decorated restaurant. The food and the service were fantastic. We were both spoilt for choice and it was very good value for money.

However there was one downfall: we booked for 9:30PM and when we were walking up to the restaurant we could see a large number of people outside. I assumed the fire alarm had gone off. It turned out that the 30 or so people outside were queuing to get in, as they too had booked for 9:30PM. It took 45 minutes for us to be seated. It was 11:45 when we left the restaurant and therefore we had to flag a taxi down to get home as the buses had stopped running. Made the night out unduly expensive. We will go again but try an earlier time.
Eaten at Baan Thai? Write a review!
Anonymous reviews, reviews using nicknames or reviews sent from invalid email addresses will not be published.