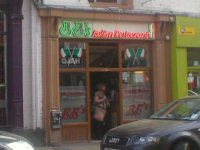 Reviews of BB's Restaurant
Type(s) of Food Served
Italian
Description
With authentic Italian decoration, BB's is a great restaurant to go to. The service is of a high standard and the food is lovely. The restaurant is near the popular Forum and the stylish Devonshire Quarter.
Food Service Times
Monday - Saturday: 5:30PM - 10:30PM
Sunday: Closed
Special Offers
There are no special offers that we are aware of.
Amenities & Facilities
Credit/debit cards accepted?



Bring Your Own Drinks?
Restrictions (e.g. wine only) and a corkage fee may apply. Please enquire for details.
Average starter price?
£4.00
Average main course price?
£10.00
Special diets catered for?
Kate Bramhall -
Rating:
I eat here around 4 times a year! It is my favourite restaurant. My favourite dishes are the carbonara and the fillet steak.

The service is amazing and the food is very good value.

I love that you can bring your own wine, too!
Susan -
Rating:
A party of us went there to eat and I was very disappointed.

I ordered the swordfish and was expecting a juicy, well-presented, fresh piece of fish. What I actually got was a paltry offering, which looked like it had been cooked from frozen. I was speechless. The side of veg was also uninspiring. The dish cost £16.25! Had to wait an hour for the food as well! I feel robbed!

On the upside, the atmosphere was good and pleasant service.

Sorry BB's but I will not be eating at your restaurant again.
Lilli Cook -
Rating:
BB's is without doubt the best Italian restaurant in Sheffield. In fact it's the best one we've ever eaten in. The food and service is excellent, and very reasonable prices. You won't get friendlier staff anywhere. Lovely restaurant, our favourite.
Katie Gascoyne -
Rating:
We have eaten here on a number of occasions, more recently in September 2015 as a party of four.

The restaurant still offers a bring-your-own wine policy with no corkage fee, which brings the bill right down. Staff were friendly and helpful, offering to bring flutes for our cava.

Everything on the large menu is home-made and we have enjoyed a variety of different dishes over the years. I really enjoyed my Pollo Thermidor. My partner opted for Pollo Al Malibu - chicken breast fried in butter, a touch of Malibu, cream and spinach. Sadly the Malibu completely overpowered the other flavours and the sauce was sickly sweet, tasting like white chocolate. That was a shame because everything else was perfect.
Andrew Robson -
Rating:
Excellent food and atmosphere. Never had any problems with service. Have been a few times.
Peter Wright -
Rating:
Was advised to go to BB's by a friend but will never go again.

Food was ordinary and service was terrible.

If you want a nice evening don't go to BB's.
Jeremy Hunt -
Rating:
Went there for a work's do recently. We were seated upstairs. I heard it was crowded up there but what I saw was ridiculous - 32 people in 3 separate groups were herded in to a tiny room about the size of my living room and kitchen!

The service was OK but the food was terrible. I have had much better Italian food just around the corner from BB's. Was disappointed after hearing good reports about it.

Will not be going again!
Michelle -
Rating:
We go to BB's regularly and always receive the same excellent service and food. The menu offers a lot of variety and the specials are always excellent.

They are fantastic with children, too! Brilliant food, staff and atmosphere.
Mark Wright -
I have been to BB's many times before but this was the first visit in a while. I was reminded of what I had been missing.

The food and service was excellent, and you can take your own wine if you wish (although the restaurant does serve alcohol).

The atmosphere was a little on the loud side, but this is to be expected on a Saturday night. The overall experience was excellent.

I had fillet steak (Filetto Al Pepe) and it was the best steak I've had for as long as I can remember.
Eaten at BB's? Write a review!
Anonymous reviews, reviews using nicknames or reviews sent from invalid email addresses will not be published.