Akbar's Restaurant
Unit 10, The Plaza, 8 Fitzwilliam Street
City Centre
Sheffield
S1 4JB
Telephone: 0114 2727222
Website: http://www.akbars.co.uk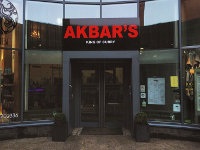 Reviews of Akbar's Restaurant
Type(s) of Food Served
Indian / Tandoori
Description
Akbar's restaurant is located at Unit 10, The Plaza, 8 Fitzwilliam Street in Sheffield city centre.
Food Service Times
Monday - Saturday: 5PM - Midnight
Sunday: 5PM - 11:30PM
Special Offers
There are no special offers that we are aware of.
Amenities & Facilities
Credit/debit cards accepted?



Average main course price?
Special diets catered for?
Khaled Girgirah -
Rating:
Nice food and atmosphere.
Sandy -
Rating:
The starters were delicious, we ordered poppadoms and the pickle tray had 4 items but no onion mix (my favourite).

My companion ordered the balti with a rice and chips. I asked if I could have a mixed biryani, as the menu just listed biryani. The waiter said chicken and lamb, or chicken and prawns. I asked again for mixed, he repeated previous choices, so I said chicken and prawn. We also ordered a large (very impressive) garlic nan. The nan was plain, not garlic, and I received a balti not a biryani. We didn't complain, it was nice enough, and maybe he repeated balti and I just didn't hear him right.

I like ice cream to finish. I asked for a scoop of vanilla and a scoop of coconut, they didn't have the coconut so I said 2 scoops of vanilla will be fine. It came topped with whipped cream, which I don't like, and chocolate sauce, which I also don't like. My companion ate it and they did bring me 2 scoops of vanilla.

We asked for the bill and were informed that the vanilla ice cream was not charged for. Pretty dark in there but the bill looked like £44.95 but definitely £44 something. I put £50 on the tray and would have left the change, as tip as the staff were very pleasant, but was not given the option, as they didn't bring me any change.
Eaten at Akbar's? Write a review!
Anonymous reviews, reviews using nicknames or reviews sent from invalid email addresses will not be published.