ASK Italian Restaurant
Unit 8-10 Cambridge Street
City Centre
Sheffield
S1 4HP
Telephone: 0114 2730073
Website: http://www.askitalian.co.uk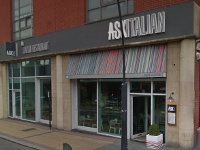 Reviews of ASK Italian Restaurant
Type(s) of Food Served
Pizzeria / Italian
Description
Contemporary Italian-themed restaurant serving pizza, pasta, antipasti and salads. By day, this restaurant is bright and airy; by night it becomes a candlelit room.
Food Service Times
Monday - Saturday: 11:30AM - 11PM
Sunday: 11:30AM - 10PM
Special Offers
There are no special offers that we are aware of.
Amenities & Facilities
Credit/debit cards accepted?



Average main course price?
Special diets catered for?
Child facilities?
Baby changing
Roger and Heather Atterton -
Rating:
My wife and I had meal at ASK, Cambridge Street, on 29 Oct 2020.

The meal and wine was exceptionally good and the service provided by Michelle and Daniel was great.
Hope -
Rating:
We ordered via Uber Eats expecting proper Italian-style pizza. We were all so let down by the quality. All 4 pizzas were bland, dry, and the cheese was very rubbery. I don't think we would bother again unfortunately.
Angela North -
Rating:
Just been for my (birthday) lunch. We had Tesco vouchers to use. Myself and my husband ordered the same from the lunch time menu.

Bruschetta starter was cold hard bread with freezing cold tinned tomatoes on top, very bland. The main was bland white sauce and pasta. We left most of it. The waitress advised the manager, who had nothing to say or do. She never came over and was not interested.

I wasn't going to complain until I was told we couldn't use our vouchers because we had ordered off the lunchtime menu. Paying the full price went through me.

I won't go back to use the vouchers and would never recommend going. I can make both much nicer myself at home.
Andrea Southern -
Rating:
This is the first time I have been in this restaurant and it is the last. I would have complained but we were in a hurry and I just wanted to get out. The first thing that disappointed was we were shown to a table with no choice where to sit. I hate that, I'm paying so I want to choose where I sit. The server stuck us right by the kitchen area so we were constantly passed by servers, not a relaxing time. It was very noisy.

Next was the disappointing food... we ordered two pizzas but neither would have covered a small tea plate, the topping was in the middle, the tomato sauce was only shown to the pizzas, if the chef used more than a teaspoon of tomato sauce between both pizzas then I would be surprised. Three little squares of mozzarella cheese on top plus a couple of mushrooms. The pizzas came with a small salad.

The staff were friendly enough but that is no compensation for indifferent expensive food. Each pizza was £11.50, rather too much for a small child-size pizza.
M Casson -
Rating:
I booked a table for 24, and on the day I checked that all was OK. Upon arrival only one waiter was serving, and a waitress sat and had a meal ignoring us.

It took twenty minutes to get a drink, the food arrived on cold plates, and some people had not had a starter when others were being asked what they wanted for desert... total chaos.

We finally gave up and left. I complained and was offered six free mains on my next visit. There will not be a next visit. I also wrote to head office and received no reply. Avoid, avoid, avoid.
Susan Sykes -
Rating:
We went to Ask to celebrate 2 birthdays. We had to wait to be seated even though we had booked and could see our table was empty.

Although the food was good when we got it we had to wait ages and then they forgot one of the main courses. The same happened with the desserts, we almost gave up on them.

Overall the food was good but the service was so slow we will not be going back.
James Burkinshaw -
Went to Ask at the weekend, the service was good and so was the food. The problems started after the meal.

My daughter likes to do her number twos in private (she's 2 years old) so she went under the table to do the deed in her nappy. After a minute or so we checked on her and found a mass of chewing gum on the underside of the table.

I couldn't find any changing facilities for my daughter so I changed her in the men's toilets, where the chef left a cubicle and didn't wash his hands, just went straight out, followed by a waiter using the urinal and not washing his hands, either.

I was told by the manager that the chef has his own washing facilities - the sink in the open kitchen! And we only have his word for that.

Don't think I will be going back.
S Gould -
On the 2nd night of our stay we plumped for Ask Pizza & Pasta. We had eaten at La Gondola the night before which was quite good.

In short, service was slow, but the food was OK. What topped it off was when we left a tip within the cheque we used to pay for the meal. The Waitress came and told us that if we were going to dine there again, do not put the tip on the cheque, make it out for the amount on the bill.

So, guess what? We will not be eating there again and in truth it spoilt the night!
Lydia Thompson -
A group of us went to ASK Pizza & Pasta for my hen party, and we had a really great time. The food was excellent, no complaints from any of us fussy eaters! The lighting also made for a really nice atmosphere, and on top of all that it was very reasonably priced!
Eaten at ASK Italian? Write a review!
Anonymous reviews, reviews using nicknames or reviews sent from invalid email addresses will not be published.