Crown & Cushion Restaurant
1 Chapel Road
Chapeltown
Sheffield
S35 1SS
Telephone: 0114 2468600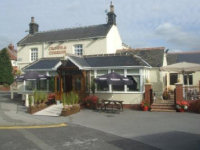 Reviews of Crown & Cushion Restaurant
Type(s) of Food Served
Pub Restaurant
Description
Crown & Cushion restaurant is located at 1 Chapel Road in Chapeltown.
Food Service Times
Monday - Saturday: 11:30AM - 9:30PM
Sunday: 12PM - 6PM
Special Offers
There are no special offers that we are aware of.
Amenities & Facilities
Credit/debit cards accepted?
Average main course price?
Special diets catered for?
Hazel -
Rating:
We visited the Crown & Cushion for the over 60s lunch on Wednesday, which we both enjoyed so much so we will be returning next week. I had a delicious prawn cocktail and my husband had the garlic mushrooms and we both had the liver & bacon on creamy mash, which was delicious. Looking forward to trying different options on our next visit.
M Bedford -
Rating:
Went for Sunday lunch; was very disappointed. The beef was awful, potatoes were cold. Wouldn't order lunch there again. Was looking forward to it as well.
Mark Mason -
Rating:
Always wondered why the garden of this place is empty, today found out why!

They can serve you a sandwich in the garden but if you want anything else then the dictatorial (about to go bust) landlord, insists you sit inside. Clearly not computing (not that it's difficult) that it's no more effort to carry a sandwich plate or any other plate to the same table outside. This idiot insist that you sit crowded together in an indoor setting to vastly increase you risk of catching Covid!

As other reviews have said, give this place a miss! Before being told that only sandwiches are allowed in the garden we looked at the menu, scampi was £13.99. Off we went to Wetherspoons down the hill. Excellent service, loads of room, incredibly simple to order and pay from the app, FRIENDLY service (you are treated like a customer not an inconvenience), food half the price and a free drink.

Crown & Cushion deserves to go bust, which will hopefully be soon, but not soon enough!
Irene Reynolds -
Rating:
A group of us went last Monday for lunch, it was so good we went back again today. Every meal we had was superb and I can be a fussy eater. Both times I had the fish and chips, which were lovely. The steak pie was full of chunks meat. The roasts were excellent. The ladies who served us were friendly, helpful and nothing was too much trouble for them. Thank you.
Trev -
Rating:
Mid summer's night out. Eaten here a good few times, but it seems to have had its day.

Sat in the beer garden and wanted food. We were told we hadn't booked so no food. Finally we did get some but it was very mediocre, and at £32 for a few burgers, that didn't even have really good chips, it was a let down.

Luckily the sun was out and the beer is good, pretty average, pretty poor.
Mrs Hallam -
Rating:
Been today, Mother's Day, with my family. Booked for 2:30pm. Had to wait, as they said we were not booked in. Then the waitress said she would go and ask the table if they would finish there sweets, as they needed the table.

To add to disappointment it was a set menu no kids menu, so my grandchildren did not have anything to eat, as there was nothing they liked. We did ask but we were told that is the menu today.

When we did get our starter we had waited half hour and then a further half hour for the main, and they had run out of the turkey, so we had to have chicken. We had to ask for our vegetables, and when they came that were hard.

We have been going to The Crown and Cushion at Chapletown for years now and food and service has always been very good. Don't know what happened today but it spoilt my Mother's Day.
Kathy -
Rating:
Often travel to this area to visit family. Always good food and service.

Today was no exception. We chose from the over 60s menu. The prawn and crayfish salad, served with fresh baked rolls, and the pate and soup were excellent.

Two had the fish of the day, one liver, and one homemade pie.

Even though the portions were good, three of us managed a desert. Very tasty sponge and custard, and cheesecake. Very well presented. 3 courses for £10.95.

Excellent. Will see you soon.
Mavis Green -
Rating:
Another lovely meal at The Crown and Cushion, as always, with our friends. The waitresses were lovely it was a very enjoyable night.
Hayley -
Rating:
Not even one star... We literally called in for a quick drink tonight on our way home from having a meal elsewhere when we spotted a group of friends. So after purchasing drinks we went to sit with them, when we got approached by a member of staff who was very rude. She basically asked why we had sat down, that she believed we were in the way, as there was a couple sat opposite eating, and said because we were a large group, the couple must have found us intimidating whilst they were eating. (They insisted to us that we weren't & that they had finished.)

We weren't loud or over powering, we were simply just chatting. To say I was shocked is an understatement, it was totally uncalled for and after speaking to the manager he was just as rude. He said we were sat in an "eating" area, might I add our friends hadn't eaten and been sat there for two hours and it was 10 o'clock at night, and there were people sat everywhere!

The tables that were around were dirty, my glass wasn't clean and the toilets are disgusting. I certainly wouldn't eat there. Honestly go to the Acorn pub up the road - less pricey, much better staff and excellent food.

Avoid this place... really, really disappointing. They should be ashamed!
Janet Askham -
Rating:
Just been to the Crown & Cushion for lunch with some members of my family. I had a two courses from the 60s and over menu (unfortunately I qualify!). I had the duck and orange pate for starter, which was very tasty, and for the main I had the battered cod, chips, and mushy peas.

What a treat to eat home-cooked chips instead of the frozen rubbish. They were delicious and reminded me of my mum's.

My daughter had the gammon, which was so large she couldn't finish it, and my sister-in-law had the liver, which again she couldn't finish.

I expected the place to be very busy, so surprisingly it was fairly quiet so there was a nice comfortable atmosphere.

I have been several times and have yet to have a bad meal. Keep up the good work Crown and Cush!
Miss Jones -
Rating:
Well where do I begin? We were introduced to The Crown and Cushion after my daughter moved to the area, we never had a bad meal and I did highly recommend this place to family and friends. We were impressed so much with the food and service that on New Year's Day 2016 we went to The Crown and Cushion for a meal and decided to book for Christmas dinner. We were advised by a member of staff that the Christmas dinners were a 3-course meal for £60 per head, we were not asked to pay any deposit at this point. We booked for 5 of us, we were contacted in November and asked to go in any pay the deposit, which we did.

We went for Christmas dinner, we would not normally eat out on Christmas day but thought we would give it a try this year. Well what a huge disappointment it was, so much so that I do not think I could eat at the Crown and Cushion again. My son-in-law wanted to order the venison and a member of staff informed him that it was very bloody, so he asked for this to be cooked longer than normal. My partner and son also ordered the venison, but they were happy to have this bloody. I ordered a prawn cocktail for my starter. There was barely any sauce so I had to ask for more sauce.

When the main meal came to our table the venison was not bloody, as the member of staff had advised, so my son-in-law was left eating a tough piece of meat because he was told it was very bloody and this was not the case.

I ordered the turkey dinner, which was very cold. I was also somewhat surprised to find an unwanted hair on my plate, which as you can imagine made me gip and I ended up leaving the Christmas dinner.

I did not want to complain at this point because it was Christmas day and I knew that if I said anything this would have put the rest of my family off their meal. So instead I left my meal and told my family I felt full with the starter. I then had to take my desert home with me, as I felt too sick to eat this, I just could not face anything else.

We then asked for the bill and I was shocked to see that they had charged us £69.95 per meal so I went to the tills to challenge the bill. I was told that after we had booked in January 2016, although we were told it was £60 per person, the price had actually gone up but no one had had the courtesy to contact us. They had all our contact details to inform us of this. I challenged the bill and they did end up allowing us to pay £60. I regret now not complaining about my meal, but did not at the time because I quite simply did not want to ruin my family's day.

I am just wondering how many other people who ate yesterday at the Crown and Cushion were charged £69.95 yet booked at £60 and also whether any other people found a hair on their food. I am extremely disappointed about this and it did actually ruin my Christmas day so just wanted to warn other people. I am not sure if the chefs wear hairnets but even so the staff fetching meals to the table do not and finding a hair on my food is a huge pet hate of mine and should never ever be allowed to happen.
B Johnson -
Rating:
Just been treated to lunch for my birthday. Extensive menu and the staff were really friendly. Would highly recommend!
Margaret -
Rating:
My sister and I go to the Crown and Cushion for girly lunches and we have never been disappointed with the food served.

The crab cakes starter are really yummy. Try them, you will love them. That said, all the starters and mains are wonderful, fresh, well cooked and presented. No diet day when we go there! Love it.
Mike Osborne -
Rating:
This is the first time my wife & myself have had a meal here & we certainly were not disappointed. The service was excellent with very friendly & helpful staff. And the food was very good, well presented and good value for money.

Must make a special note of the chips, which were probably the best tasting chips I have ever eaten!

It certainly won't be our last visit.
Eaten at Crown & Cushion? Write a review!
Anonymous reviews, reviews using nicknames or reviews sent from invalid email addresses will not be published.