Mangla Restaurant
145 Spital Hill
Burngreave
Sheffield
S4 7LF
Telephone: 0114 2758374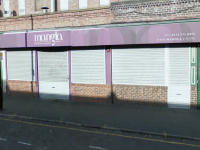 Reviews of Mangla Restaurant
Type(s) of Food Served
Indian / Balti
Description
Mangla restaurant is located at 145 Spital Hill in Burngreave.
Food Service Times
Sunday - Thursday: 6PM - 2AM
Friday & Saturday: 6PM - 3AM
Special Offers
There are no special offers that we are aware of.
Amenities & Facilities
Credit/debit cards accepted?



Bring Your Own?
Restrictions (e.g. wine only) and a corkage fee may apply. Please enquire for details.
Average main course price?
Special diets catered for?
Maxine Kerry -
Rating:
I've been going to this restaurant over 20 years. Tonight 16/01/21 at 6:30 I ordered a takeaway, which they said would be here by 7:33. At 8:10 I rang for them to say it's done we're just waiting for a delivery driver. OK 8:40 I rang again for them to tell me they're still waiting for a delivery driver but not to worry, my order has been done and waiting since 8:02.

Finally at 9:14 my order was here, which was freezing cold. To be fair the salad was warmer.

Very disappointed. After 20 years of custom I will definitely not be returning to this place never again.
Corinne -
Rating:
One of the best curry places I've ever been too. The food is divine.
Matt Wood -
Despite it being a post-Christmas Tuesday evening (6PM), I was surprised and somewhat encouraged by the number of diners. The welcome was warm and the service was swift, although I was slightly perturbed by drinks served in cans (yes really) and the only beverage being of the non-alcoholic variety. 'Bring your own' is an option, and one that I would definitely exercise next time.

The food was served in double quick time, almost too quickly, although I suspect it was in anticipation of the late night herd. The servings were generous too, hot (as in cooked) and perfectly amenable to a well honed Indian palette.

Whilst I can't wax lyrical about the food, the resultant bill helps explain why this is worthy of recommendation. I accept there is more than a hint of 'takeaway' about the whole experience, but that is exactly this place is about, a restaurant serving good takeaway food.

If you are expecting top service and carefully prepared Indian cuisine then this is not the place for you. On the other hand, if you are expecting excellent value and good, honest Indian food then you won't be disappointed. I wasn't. That said, there is room for improvement in service and presentation. The restaurant still feels a bit like a dining room and a license for serving alcohol wouldn't go amiss, either.

Not great in terms of dining experience but excellent value for money. Whilst the food is nothing to write home about, the price and value more than makes up for it.
Jayne Wilkinson -
Couldn't disagree more with the previous reviewer! Overpriced, average servings? The restaurant is ALWAYS full with so many different kinds of people! The food is always of good standard & very tasty. The waiters are helpful and polite but BUSY. I'm not saying Mangla is Nirmals, but neither is the price! Don't let the previous reviewer put you off!

Overall: good food reasonably priced.
Linda Rapinet -
We'd been told this restaurant was fantastic value for money, as well as being excellent food. My husband and I went with our four children early Saturday evening and were very disappointed.

The food was mediocre, the serving sizes average and the service appalling. It was also more expensive than our local Indian.

One of my children waited the whole meal to get a drink of orange juice, despite going to the counter several times. We took wine, but had to drink it out of tumblers. The waiters avoided eye contact in case you asked them for something.

I would however recommend the mango lassi, which we'd never come across before and was delicious.
Glyn Barker -
Top Indian, one of the best I've been to, and believe me I've been to quite a few. Mangla restaurant & takeaway is very friendly and gives A1 service.
Eaten at Mangla? Write a review!
Anonymous reviews, reviews using nicknames or reviews sent from invalid email addresses will not be published.