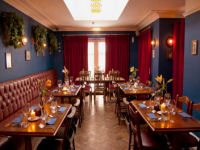 Reviews of York Restaurant
Type(s) of Food Served
English / Modern British / Pub Restaurant
Description
At the York we believe that care and passion are the key to a successful menu. We source only the finest ingredients from within a 15-mile radius and try to use seasonal produce as much as possible. We lovingly make our own chutneys, sauces, pickles and breads. The smoke house allows for us to smoke our meats and cheeses. Our foods reflect traditional dishes that have been adapted to make them more modern.
Food Service Times
10AM - 10PM

Last seating: 9:50PM

(Food service times only. Bar opens later.)
Special Offers
There are no special offers that we are aware of.
Amenities & Facilities
Credit/debit cards accepted?



Average starter price?
£4.50
Average main course price?
£8.00
Average dessert price?
£4.00
Special diets catered for?
Child facilities?
High chairs
Children's menu
Baby changing
Samantha Marshall -
Rating:
An awful experience. A bunch of drunken louts in the dining area making fun out of people with disabilities. When I complained to 3 members of staff nothing was done, apart from they were asked to move tables, where they continued to be disrespectful just loud enough for me to hear.

Do not come here. They'd rather have idiot students drink themselves stupid for customers than decent people wanting to have food.
Georgia -
Rating:
Great atmosphere and staff were very friendly. Food was fast, piping hot and delicious! Will definitely be returning.
April Curtin -
Rating:
The York is the best!

10/10 food
10/10 atmosphere
10/10 drinks

Definitely will be going again!
Paula Townsend -
Rating:
We were looking forward to a great lunch on a cold Monday. But we spent £20 and it was mostly inedible.

My partner's battered fish was slimy and greasy, the 'twice cooked' chips were hard inside (some were raw), even the peas were undercooked. My burger was raw in the middle and the extra cheese (at £1.50) barely discernible. The tartare sauce, cucumber relish and chipotle sauce were bland.

As we struggled we heard the chef, loud and swearing (not the wussy kind of swearing, either) on his mobile, saying he was unable to make it to help with a 'cook off' on Saturday. Some people may be relieved to hear that.

After 20mins, when the waitress finally became unglued from her own mobile and noticed us, we were offered a free coffee. We just wanted to leave.

Nice barman, lovely pint and good wine, and they've scrubbed the place up OK. Shame about the food and food service. We will not go there to eat again.
Eaten at York? Write a review!
Anonymous reviews, reviews using nicknames or reviews sent from invalid email addresses will not be published.