Thyme Cafe Restaurant
490-492 Glossop Road
Broomhill
Sheffield
S10 2QA
Telephone: 0114 2670735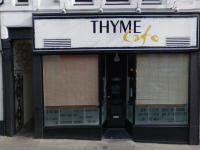 Reviews of Thyme Cafe Restaurant
Type(s) of Food Served
English
Description
Thyme Cafe restaurant is located at 490-492 Glossop Road in Broomhill.
Food Service Times
Sorry, we do not have the restaurant's opening times yet.
Special Offers
There are no special offers that we are aware of.
Amenities & Facilities
Credit/debit cards accepted?
Average main course price?
Special diets catered for?
Patricia Waistnidge -
As a treat my son took my two grandchildren and my to Thyme Cafe for lunch. The board displayed lots of lovely dishes but not very much for the two children aged 8 and 10. They are familiar with eating out and have a good taste in food, but the dish that was most appealing to them was good old burger and chips.

The children don't eat much cheese but when the burgers arrived they were covered in cheese, although they were ordered as plain burgers. The burgers were taken away, 20 minutes later two more burgers were brought. These consisted of ciabatta bread bun and a ball of pink mincemeat in the middle. At this point our meal was ruined, the kids were just about in tears, and my son was angry as his treat had turned into a fiasco.

My lunch was a vegetable lasagne, which consisted of one piece of red pepper, one piece of green pepper, a piece of very tough aubergine, underneath one piece of lasagne and a very mediocre sauce.

I have emailed Thyme on several occasions and contacted Martin Dawes of the Star, Martin has replied but Thyme have just ignored this complaint.

I must add that my daughter and son-in-law went to Artisan another of the Thyme chain on the Friday before our lunch and had a wonderful meal.

I would just love someone from Thyme to get in touch and just explain away my complaint. Thanks for listening.
Tim Hamer -
We have eaten at Thyme Cafe on numerous occasions and have never been disappointed... However, whether it was because it was a Monday and not a fresh fish day when we visited or just an off day, we can't say, either way, we were very disappointed.

Service as always was very relaxed and pleasant, the food however was very poor... not a great choice on the boards, including scampi and chips for £11! No fresh fish or mussels on the menu either. We opted for pate to share for our starter, the pate was tasteless and tomato chutney accompaniment lacking in depth of flavour and tasted like it was cooked for around half an hour at most.

Not feeling like eating rump steak, which was the only other thing that looked appealing, I opted for toad in the hole. When it arrived I was very sad to see a largish Yorkshire pudding with two sausages plonked inside albeit with a good onion gravy. The best part of my partner 's meal of duck was the braised red cabbage, the duck being tough and tasteless.

Worse was to come, desserts were ordered... 1 chocolate pot and 1 sticky toffee pudding. The chocolate pot instead of being dark, rich and with a hint of brandy was the tiniest amount of thick, gloopy milk chocolate sauce, for which we had to pay £5.50!

We don't complain much but made our feelings felt, paid the bill and left. We will certainly be voting with our feet in the future, which, I guess, will not be pointing this way again for some time.
Eaten at Thyme Cafe? Write a review!
Anonymous reviews, reviews using nicknames or reviews sent from invalid email addresses will not be published.