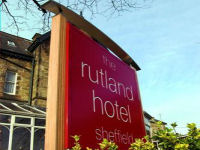 Reviews of Rutland Hotel Restaurant
Type(s) of Food Served
English / European / Modern British
Description
Indulge at The Rutland Hotel restaurant looking out over our landscaped gardens.

Tables are sleek and simple. All our food is freshly made by our talented kitchen team who use only local produce delivered daily from our network of renowned local high quality merchants. We also have a link with 'Deliciously Yorkshire' to promote local food and produce.
Food Service Times
Sorry, we do not have the restaurant's opening times yet.
Special Offers
There are no special offers that we are aware of.
Amenities & Facilities
Credit/debit cards accepted?
Average main course price?
Special diets catered for?
Barbara Leeson -
Rating:
Myself, sister and brother-in-law have just had Christmas Day lunch at the Rutland. To say we were disappointed is an understatement. At £70 per head we expected something amazing. Wrong! It was a disappointment from beginning to end.

The melon was OK, just a lack of it. The vegetables, including potatoes, left a lot to be desired. Yorkshire puddings and turkey were OK! Dessert wasn't too bad but not great! Cheese and biscuits... well 4 biscuits between 3 of us! Minuscule mince pies!

Needless to say we will NOT be repeating the experience.
Gaynor Pont -
Rating:
Where do I begin? My daughter Becky and son-in-law Wayne held their wedding at the Rutland Hotel, they promised us a great day but it was amazing beyond words.

Andy has the most outstanding memory and eye for detail. His team on that day were Callum, Nigel, David, Alex, and Sophie, all of them were friendly, helpful, and genuinely happy for us all.

The DJ deserves a mention too, he was brilliant.

The food is fresh, tasty, and beautifully served, everything was spot on. Andy you are the best.

One hiccup was meeting Verity, abrupt and unfriendly, making it pretty obvious she doesn't really like her customers.

You may be lucky enough not to have to deal with her, as Andy seems to be at hand all the time.

Thank you Rutland Hotel for a lifetime of happy memories.
Eaten at Rutland Hotel? Write a review!
Anonymous reviews, reviews using nicknames or reviews sent from invalid email addresses will not be published.