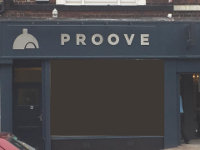 Reviews of Proove Restaurant
Type(s) of Food Served
Italian / Pizzeria
Description
Speciality pizzeria featuring a wood-fired oven.
Food Service Times
12PM - 11PM
Special Offers
There are no special offers that we are aware of.
Amenities & Facilities
Credit/debit cards accepted?



Average main course price?
Special diets catered for?
Nick Smith -
Rating:
If you like your pizzas to have a soggy bottom then you will not be disappointed. If, however, you like them thin and crispy (or even just chewy) then best go somewhere else. Considering that the only main course offered is pizza, this one-trick-pony failed at the first fence.
Edward Nauen -
Rating:
Superb. Definitely the best pizza I have ever eaten - high quality ingredients (they even use San Marzano tomatoes), great technique, and a real wood-fired oven all adds up to perfection.

Reasonably priced and child-friendly too - I also appreciated the way the child menu didn't baby the kids, giving them rocket with their starter, for example.

The antipasti was also special, with beautiful fennel-scented salami and an incredibly creamy mozzarella being the highlights for me.

Finally, the gelato was incredible. There was a spiced pumpkin gelato on as a special, which was an absolute delight, unusual and delicious.

Five stars without a doubt. A very welcome new addition to the local scene.
Lisa -
Rating:
The service was fantastic. Friendly, knowledgeable staff, on what was a very busy Saturday night. The pizzas were delicious. Mine possibly needed another 30 seconds in the oven, but I do like things well done! We Will be back. Thank you.
Philip Delamere -
Rating:
We were at the opening night of this brand new restaurant. There were a couple of minor teething problems but these did not detract from an otherwise five-star experience.

We ate the most authentic pizza we have had outside of Italy, and probably the best we have ever tasted. The staff were pleasant, helpful and knowledgeable. The wood-fired pizza oven was a work of art. Quality Italian wine was on offer alongside an amazing local real ale - "Moonshine" from the Abbeydale Brewery in Sheffield. Both the wine and the beer complemented the pizza beautifully - a match made in heaven.

We will certainly be making a return visit.
Eaten at Proove? Write a review!
Anonymous reviews, reviews using nicknames or reviews sent from invalid email addresses will not be published.