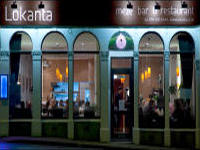 Reviews of Lokanta Restaurant
Type(s) of Food Served
Turkish
Description
Five-star chef from Turkey cooks genuine Turkish freshly prepared meze, main courses and desserts. Meze can be eaten tapas-style or as starters before a main meal. Escape from Sheffield to a warm Turkish atmosphere. Relaxed eating with friends or family. Lunchtime specials. Fully licensed.
Food Service Times
Monday: closed
Tuesday - Thursday: 5PM - 10:30PM
Friday & Saturday: 5PM - 11:30PM
Sunday: 12PM - 9:30PM

Last seating: 10PM
Special Offers
Yes - set lunch menus (see board for details).
Amenities & Facilities
Credit/debit cards accepted?



Average starter price?
£3.95
Average main course price?
£10.45
Average dessert price?
£3.95
Special diets catered for?
Child facilities?
High chairs
Child portions
Dr Saber Ali -
Rating:
I booked for a table to celebrate our friend's birthday with my wife and three children.

Our friend had come from France. The service from the manager in particular was cold and indifferent. Food was average at best, and the inconsistency in service staff warmth was palpable...

Very poor experience, especially since it was my friend's birthday... As host I was left embarrassed.
Jessica Zeun -
Rating:
Fantastic, upmarket Turkish food. Best way to do it is choose lots of options from the meze and share with friends.

As a vegetarian I really love this restaurant, as it offers just as many veggie options as meat ones, such a nice change from the usual two or three token offerings to pick from.

Lovely fresh food, nice atmosphere, and Turkish wine, too.
David Jellinek -
Rating:
Food slow, cold and tasteless.

Sat down at 8:20PM, served main course at 10:10PM. Barely warm. Returned to kitchen.

Rude waiter asked me if the food was now hot enough for me - I had demonstrated cold food with my finger in it.

Final offering frankly tasteless, as was my wife's.

Avoid.
Gillian Walker -
Rating:
Although my 4 friends enjoyed their meal, mine was awful. How chicken can be hard defeats me. And raw potatoes passed off as chips? Even the roast pepper was stringy.

Would not recommend.
Gill Pollard -
Rating:
We went to this restaurant following a recommendation. It more than lived up to expectations.

Service was excellent and the food superb. The mezzes were delicious, full of taste and very attractively presented and I would recommend the restaurant for these alone.

The main courses were equally impressive; one of us had salmon, another the lamb kebab and the other two the shared meat platter - all wonderful. The Turkish wine was a great complement to the food and I am looking forward to my next visit very soon.
Julie Shaw -
Rating:
This was our first visit to Lokanta but it will not be our last.

The food is excellent, as is the customer service. The waiter was very attentive and we did not wait for very long for anything. All the meat was extremely tender and cooked perfectly as was the rice, fish and vegetable dishes.

The portions were quite large, too, and so it was also good value for money. We even tried a bottle of Turkish wine, which was also very good.

I look forward to going again soon with some friends.
Lynne Bradey -
Rating:
We went to Lokanta on Saturday 29th January and had another truly excellent meal. We have been four times so far and have thoroughly enjoyed ourselves every time.

The atmosphere was vibrant but the service attentive despite the restaurant being full. We had a combination of meze and mixed grill, all of which was absolutely delicious. The flavours and quality were amazing and the presentation superb. The chilli prawns, Albanian-style lamb's liver and baked mushrooms with blue cheese were my personal favourites, but there was plenty of delicious choice for my other half, who prefers meaty dishes.

We particularly like the flexible menu choices, where you can have a meal with starter and main (and dessert but we are always full by then!), or a meze style dinner instead.

We will definitely be back!
Sinan Yilmaz -
What a fantastic surprise finding Lokanta in Sheffield. I totally enjoyed every minute of the Lokanta experience. Great Turkish hospitality, fabulous presentation, combined with magnificently delicious Turkish food.

Growing up with the taste of Turkish food, I am very pleased to say that Lokanta is doing a great job with their representation of Turkish cuisine.

I wish them all the success and very happy to recommend Lokanta to everyone who would like to taste the real Turkish food.
Jenny and Jim Rooney -
We went to Lokanta on 20th February 2010. As a party of four, two of us ordered two specials of lamb on a bed of aubergine. The order was misread by the chef, and we had to wait an extra 10 minutes for one of the dishes. The dish consisted of a white sloppy sauce with no taste of aubergine with small pieces of lamb in tomato sauce. As my partner said, it was like lasagne sauce without the pasta. When we told them how disappointed we were we expected some sort of response but were ignored.

As we paid and left we said again how poor the meal had been but we didn't receive even an acknowledgement of the fact we had had a poor, and overpriced, meal.

We think a restaurant can make the mistake of producing a dish that is not up to scratch. However, to refuse to acknowledge a complaint on several occasions shows a complete lack of service and, indeed, rudeness.
Eaten at Lokanta? Write a review!
Anonymous reviews, reviews using nicknames or reviews sent from invalid email addresses will not be published.