Balti King Restaurant
216 Fulwood Road
Broomhill
Sheffield
S10 3BB
Telephone: 0114 2666655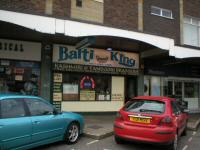 Reviews of Balti King Restaurant
Type(s) of Food Served
Indian / Balti
Description
Balti King restaurant is located at 216 Fulwood Road in Broomhill.
Food Service Times
Monday - Thursday: 12PM - 3AM
Friday & Saturday: 12PM - 4AM
Sunday: 12PM - 2AM
Special Offers
Yes - please check their website for the latest offers.
Amenities & Facilities
Credit/debit cards accepted?
Average main course price?
Special diets catered for?
Rob -
Rating:
We ordered onion bhajis and poppadoms for starters, then chicken tikka vindaloo and chicken tikka jalfrezi, pilau rice, and the biggest nan bread ever seen!

The food arrived promptly, very hot and tasty. Must be the all time top balti restaurant. Tony, the manager, is just the best host; very friendly and entertaining! Many famous people visit there, shows the standard of the food.

We cannot wait to visit again.
Jade Clarke -
Rating:
Boy am I glad to have found Balti King. The staff offer a very caring meal where nothing is too much trouble. You get great portion sizes, the food is high quality and the restaurant has a really nice atmosphere.

There are loads of vegan and vegetarian options on the menu, but it's best to check with the restaurant because the menu doesn't clearly state what is vegan. The Saag Handee is an awesome dish, jam packed with spinach, it's creamy and has a nice warmth. I often get a gobi side and it's always cooked perfectly and with loads of colour. The order comes with mango dip, mint and onion, tomato salsa as well as a nice salad, which you can ask for in a tub instead of single-use plastic.

Not only am I a huge fan of the food anyway, they currently have a 50% off deal when you collect your order. It's genuinely an absolute bargain for such amazing quality.

I eat there very regularly, they're open until late and I'm always a happy customer. Highly recommend.
Vicky Foster-Smith -
Rating:
Ordered through Just Eat - the food was great and plentiful, a full range of sauces were supplied at no extra cost - arrived very quickly. We will definitely order from there again.
David Hind -
Rating:
Wow wow wow!

Please support this restaurant in these hard times.

We normally use this restaurant but was told today they where only doing takeaways and deliveries, but as always a great meal. We where not disappointed. If you are looking for great food at a great price this is the place to go.
George -
Rating:
Class curry and the service is amazing. Boss man Tony is a great guy and really looks after you. Well worth a visit.
Ajay -
Rating:
Excellent food at very reasonable price. Very good service and very friendly owner. Would recommend to visit this restaurant.
Sue -
Rating:
Had a lovely meal here tonight. Tony, the owner, gave us a a friendly welcome.

The food was very generously served and so tasty. There was more food than we could eat!

Will certainly come again.
Sarah -
Rating:
I would give this 0 star if I could. Staff were extremely rude and argumentative over added "items" onto the bill. I believe they may have got the bill mixed up with another diner. However, when I mentioned I had only ordered two curries and one rice, not the 9 items that were on the receipt, they threatened to call the police if I wasn't willing to pay.
Tania Smith -
Rating:
Love the food. Tony always welcomes you. We've been going for years because the food is wonderful.
Sonia -
Rating:
Ordered on recommendation of a friend. Was highly astonished and amazed how nice the food was, best curry I've ever had. The naan was so fresh and tasty and lamb handee bursting with flavours, the spices were exceptional. Highly recommend. Will be back soon.
Ali -
Rating:
Ordered a few times from this place. Food has always been spot on and delivery always on time. Would highly recommend this place.
Michael -
Rating:
Sheffield's Balti King is a really nice restaurant. Friendly atmosphere and helpful staff. The food was delicious. Me and my family would definitely return.

They offered us 50% off our food order and are currently serving alcohol. Could not recommend this place enough. Would highly recommend.
Paula -
Rating:
Had a lovely meal tonight. The food was delicious and the staff were very warm and welcoming. Thank you Tony for being so friendly over the years and always so warm and friendly.
Agui -
Rating:
This is the worst delivery experience I have ever had. First they delivered the food to the wrong person, then I was informed they where making a new order to send to me. Turns out they never even bothered. I called the restaurant and they where extremely rude to me. All of this took me 2 hours and no food. My card was charged and now I have to wait 2-5 business days for a refund. Just horrible. Don't order from here!
Lil -
Rating:
Always friendly, good service and reliable.

Lovely Peshawari naan breads and sag aloo. Great value.
Stephen H -
Rating:
Good food, friendly staff, and you can get delivery until 3am.
William Huntley -
Rating:
Let's face it - many Indian restaurants are much of a muchness, with the same pleasant but unremarkable food, similar décor and music, and generally courteous but stiffly formal waiters. The Balti King, however, is different - uniquely so in my experience.

From the moment you step inside, you are welcomed with such warmth that you immediately feel at home - no sooner do you take your seat than poppadoms, pickles, and complementary salad appear on your table.

When my wife and I were there recently, we chose the tandoori chicken balti special. The chicken was beautifully cooked in a light covering of delicious sauce. As usual,we had onion bhajis as a side dish, which were, as always, superb - crisply cooked, delightfully textured and substantial in size.

There are other things I love about the restaurant apart from the food. There always seems to be a happy, friendly atmosphere, partly created by the staff, who move around the tables talking to the customers. Also, the décor is not typically Indian (no flock wallpaper), nor is the music - it's a fusion of modern Indian techno and traditional folk.

Yes, in my opinion, the Balti King is Sheffield's little gem.

William
William -
Rating:
Good authentic food at a good price. Classic Indian restaurant feel. I will be returning and/or ordering delivery from this curry house again!
Leah Beckett -
Rating:
Great restaurant, old-school charm, and friendly, attentive staff. The food is always lovely.
Sue -
Rating:
Just had a very good meal at Balti King. The food was generously served and full of flavour. With our meal we had peshwari naan bread, which was the best I've ever had. The service was prompt and Tony, the owner, was very attentive. A really good night out - we'll be back.
William Huntley -
Rating:
Whenever we're in Sheffield, my wife and I always make a point of visiting Broomhill's Balti King. The food is always of the highest quality, the staff are always cheerful and friendly, and the service is excellent. So much so that poppadoms, pickles and salad are brought to your table as soon as you sit down. From that point on, you know you are in a very special place where the customer's enjoyment is given top priority.

Let's face it. Many Indian restaurants are much of a muchness, with the same pleasant but unremarkable food, similar decor and music, and the same courteous but stiffly formal waiters. The Balti King, however, is different, uniquely so in my experience. From the minute you step inside, you're struck by an atmosphere of genuine warmth, and no sooner do you take your seats than the poppadoms, pickles and bowls of salad appear on your table.

As for wife and I tend to go for chicken tandoori - its flavour is unsurpassed. I can recommend the chicken tikka as an accompaniment, we always order roti and onion bhaji. Quite honestly, we've never tasted better anywhere else.

As you look around at the end of the meal you notice how much companionable conversation there is around you, and how the friendly waiters move around the tables, talking as they go. Listen to the music, and it hits you that the music is not traditional sitar (nothing wrong with that of course) but modern Indian pop music - a refreshing difference, as is the decor, which is decidedly not of the flock wallpaper variety.

What more can I say? Highly recommended.
Imran -
Rating:
Great service and fast delivery. The food was great. Will definitely recommend to eat from here.
Jeps -
Rating:
I'v been ordering from Balti King for 19 years but recently they have gone downhill. Last time I ordered it took 3 hours and was cold. Tonight they didn't send the garlic bread I ordered, and when I rang to ask where it was the woman was rude and off-hand. When she said "what do you want me to do" I asked that they send me the garlic bread. Well that was an hour ago and still no garlic bread.

Never going there again!
Barry Tyerman -
Rating:
No trip to Sheffield for me is complete without a trip to the Balti King - a fabulous curry house with great food at a price that won't hurt your wallet, very friendly staff who are genuinely pleased to see you and can't do enough for you. I would recommend a visit!
Nitanshu Garg -
Rating:
Me and my friends go there every weekend. It's really very nice and serves Indian food with authentic Indian taste. I'll strongly recommend to try Paneer curries there. Moreover, if you are vegetarian, it's the right place for you, as you'll get so many vegetarian options.

Service and behaviour of staff is good. Quite cheap and affordable.
Bob Wake -
Rating:
After having had a nice meal in the restaurant I thought I'd order a take-away. The delivery service was FREE and super fast so the food was still piping hot and no need to re-heat. This is my new favourite restaurant in Sheffield. I will definitely be ordering again... yum yum!
David -
Rating:
Great Indian food at an affordable price! What I liked most was how affable all the staff were - from the moment we walked through the door they made us feel at home. I would highly recommend this restaurant to anyone looking for great Indian food served with a smile.
Leo King -
Rating:
I first found this restaurant when I was looking for a venue to help me raise money for charity, by running a ticketed curry night event. I found Balti King, and I'm so glad I did. From the get-go, the manager, Tony, did everything he could to help me, to make sure the event went smoothly, even going so far as to lower meal prices significantly for my benefit. He's a fantastic manager with a kind soul, all of which he puts into his restaurant.

I did eat there as well, and the food was impressive, although I couldn't finish it all! So, all in all, great food, great atmosphere, great manager. Good job Balti King!
Julia Blackburn -
Rating:
Found this little beauty on Groupon. Never expected it to be any good to be honest... how wrong was I!

We try and come at least once a month now. Travel from Rotherham. Celebrated Christmas, new year, birthday and Easter. At Easter they even gave us both flowers. Tony is always there to personally greet everyone, and his team are all very attentive.

Massive range of food. I've tried lots of different dishes and never been disappointed in anything.

We will carry on driving past all the Rotherham curry houses to go to our favourite.

Thank you,

Julia and Chrystal
Lauren Sweeney -
Rating:
Balti King is a gem of a restaurant that Sheffield is very lucky to have. With a huge range of authentic curry dishes the service and staff are fantastic.

Highly recommended.
Sabeeh Qadri -
Rating:
I was looking for a good place to eat since the time I moved to Sheffield, and I'm sure there's no way I could have found any better place than Balti King restaurant.

I've tried tons of restaurants in Sheffield in search for a good place to eat where I can go regularly before I found Balti, and I must say it is one of the best restaurants in Sheffield in terms of taste as well as rates. It's been months since I've been going to this restaurant and I've loved the food every single time. Everyone there is so welcoming that you feel at home as soon as you step in.

Open from 12 noon to 3 in the morning I would say there's no better place in Sheffield than Balti King for Indian cuisine.
J Fowler -
Rating:
I have been a few times to the Balti King, and I have never been disappointed. Food is quality and tasty, great tasting Cobra lager, a great variety of food, and very friendly staff.
Keith and Christine -
Rating:
Excellent food at a great price. We travel from Barnsley, well worth the journey. Very friendly staff. Recommended.
Denise Arnold -
Rating:
My daughter and I went to Balti King on Saturday tea time, and had a delicious meal.

The waiting time for our food was non-existent, it came within minutes of ordering. The manager was really lovely and very attentive, nothing was too much trouble.

I would definitely be going back and would recommend this restaurant.
Ros Sutton -
Rating:
Visited on the 9th September 2013 to celebrate my daughter's birthday.

Welcoming and friendly staff. They really looked after us. Food was very good and the prices are reasonable. We really enjoyed it and will definitely be going again and recommend it.
Dianne Ronksley -
Rating:
As a regular visitor of Balti King, I took 9 of my work colleagues there last night for a meal. As usual the food was delicious and everyone enjoyed it. The staff are welcoming and pleasant. And last but not least great value for money!

Thanks Tony and team, will be seeing you soon.
Hasan Shah -
Rating:
As a student from the sub-continent I had a lot to miss from back home, and food was one of those things until I found Balti King!

Extremely delicious food as good as home, welcoming and friendly staff, traditional South Asian look, providing a lovely environment for diners.
Nadeem Bashir -
Rating:
Fantastic food, in fact the best balti hut I have visited. Staff are so friendly and I've never felt so at home with really authentic cooking.

I recommend the "chicken methi" and "chicken garlic".

5 stars from me.
Sven -
Rating:
I have to say the food was really good, but there was a couple of things that didn't really work out.

"No high-chair for the little one" was the slightly harsh reply from a rather English looking guy. Also, you should make sure that you don't need the loo while you're there. And be patient when explaining what you want to order.
Will & Annie -
Rating:
Visited last Friday, the 9th March. The restaurant was quite busy but we managed to get a table (will book next time).

Our food was quite simply delicious and lots of it. The service was again excellent. Thank you Abdul.

We have visited this restaurant before but not for a while. I have to say that the experience was simply wonderful - please keep it up Balti King. We will be back soon.
Bill -
Rating:
Visit to Balti King last night.

Great service, they will cook you anything you want even if it is not on the menu. Mind you their menu is very extensive. Great vegetarian options. You decide when you want your courses served, did not feel rushed at all.

Used their voucher, there is nowhere in Sheffield with this value-for-money food. Great night.
John Brown -
Rating:
I had my first Balti King meal this Saturday and must say it was the most sublime Indian, if not overall restaurant experience I have had in a very long time.

We had not booked and were rather worried by how busy the restaurant appeared when we entered. Nonetheless we were warmly greeted by several sharply-dressed waiters who, despite being clearly run off their feet, took the time to usher us to a well set and comfortable table within seconds of entering.

Our drinks order was taken promptly, menus were distributed and a plate of poppadoms and delicious sauces were laid on the table for us to snack on. The extensive menu, catering to literally any taste, took us a few moments to ponder over before we decided upon a madras for myself and a milder balti for my wife.

No doubt the restaurant was very busy, and it is by no means a large building, however both downstairs and upstairs are so eloquently decorated, the ambiance so relaxing and the staff so friendly and inviting we felt as though the whole night was catered around us.

The food was served in very reasonable time and I could, if I wanted, think of endless positive superlatives with which to describe it. The curry was a perfect balance of spice and flavour, taste and texture. It was clear that everything had been made fresh to order, the nan bread in particular I have no doubt had come straight out of the oven and onto the plate.

All in all Balti King ticked all the boxes for a brilliant night out, comprising first rate food, service, atmosphere and value. We will certainly be back again and I urge anyone else out there to give it a try!
Lauren Marsh -
Rating:
Balti King the only Indian in town with all its new and thrilling and exciting dishes it will have you floating away to a fantastical paradise, "India".

So pop along and let your taste buds go wild with their fantastical array of dishes, especially cooked for you.
Lisa -
Rating:
A great place to eat. Quick service even at busy times. Very friendly staff who always remember you.

There is a huge menu choice, and the food is very good. If you want your dish more or less spicy just let them know. Nothing is too much trouble.

Will be telling my friends and family that Balti King is the place to go for a great meal.
Ian -
Rating:
Used to come here all of the time, and then suddenly stopped, always too busy with work, etc...

However, I went this evening and was reminded of how fantastic it is! The staff are so friendly and welcoming, they always remember me and my friend. Great atmosphere, great food, we had the lamb tikka balti and the chicken korma - amazing.

I definitely won't be leaving it so long next time!
Terry Radley -
Rating:
Last night we had the most amazing curry I think we have ever had in Sheffield. The food was extremely fresh, a great choice of menu and very reasonably priced.

The staff and manager were extremely polite and friendly and we did not have to wait too long for the food.
Jigna Patel -
Rating:
Balti King is the "King of the Indian restaurant". I like its services and facilities provided by them and the food is very nice. So I like it so much.

The staff of Balti King is good and food delivery is fresh as well as at the time. It's a very nice restaurant.
Katherine Mitchell -
It way my birthday last week and wanted to try somewhere different so we opted for Balti King in Broomhill.

It was really busy when we got there and there were people waiting for tables, upstairs was busy too. Anyway after only a few minutes we were shown to our table. Our waiter immediately asked us for our drinks order and handed us the menu to look over. On bringing our drinks we were also given poppadoms and pickle tray to munch away on whilst deciding what to have.

The menu is huge, I have never seen so many dishes, and to be honest I think that the menu is a little overwhelming and unnecessary too many options. Anyway I decided to have a prawn puree to start and chicken Korma as a main (I'm a real coward when it comes to Indian food).

The food was served quickly although some tables of large groups we could hear had been waiting for a long time. The prawn puree was delicious, full of large tasty prawns and the sauce was the best I have ever tasted, it was lovely. My chicken Korma was also very tasty although a little watery for my taste but still delicious.

The downside was that the place was really too busy and the waiters seemed to not know what the other was doing, hence some larger groups walking out after waiting too long for food. All in all we all had a good night and it made for a lovely birthday, the food was nice and reasonably priced (got some money off vouchers delivered to work to make it even cheaper...bonus!!) and the staff were friendly even though they were run off their feet. I would recommend it and will definitely try there again
Eaten at Balti King? Write a review!
Anonymous reviews, reviews using nicknames or reviews sent from invalid email addresses will not be published.