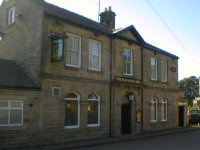 Reviews of Old Horns Inn Restaurant
Type(s) of Food Served
English / Pub Restaurant
Description
A warm welcome awaits you at the Old Horns Inn where changes have been made to match the stunning views over the Bradfield Moors and the great location next to St. Nicholas' church.
Food Service Times
Sorry, we do not have the restaurant's opening times yet.
Special Offers
There are no special offers that we are aware of.
Amenities & Facilities
Credit/debit cards accepted?



Average main course price?
Special diets catered for?
Mrs Helliwell -
Rating:
As a family we probably visit at least 1-2 times a month. Food has always been brilliant. Was so disappointed today with our visit. Food was no way near as good. Me & kids picked at our food, my partner said it was OK. Waitress asked if our meals was OK, I replied no, she said "oh sorry". Won't be visiting again.
Robert Frost -
Rating:
Visited Friday evening with family and friends. Our first visit and most certainly not the last.

The setting is delightful, food and service superb with a great selection of local brews.

Highly recommend a visit.
Lauren Walsh -
Rating:
I visited the Old Horns Inn at Bradfield on a Saturday lunchtime. The pub was fairly busy, with what looked like a wedding party, and various other tables of diners.

The pub offers table service and I ordered the burger from the specials board, which came with bacon, cheese, sweet chili sauce and chips.

The food arrived quickly enough and was hot. The firs thing that I noticed was the sheer amount of chips - I was obviously not going to leave hungry! Whilst not to everyone's taste, these were like chips that you'd get from the fish and chip shop.

To be honest the burger was a bit of a let down. The bread bun was more like the type that you'd have for a sandwich rather than a burger - a bit "fluffy". One of my pet hates is putting grated cheese on a burger - I much prefer a slice - and this pub does grated cheese. The burger itself was a bit fatty, so it may have been deep fried rather than grilled, I'm not sure.

The dish would have benefited from a bit more coleslaw in my opinion. It came in one of the little dishes that you usually get condiments like tomato ketchup in.

At £7.95 it wasn't exactly great value for money, but the restaurant itself is nice and they do a good range of real ales, so it was an enjoyable enough meal.

I'd go back but would choose something different from the menu. The gammon looked good and came with two eggs as well as pineapple, peas and chips.
Eaten at Old Horns Inn? Write a review!
Anonymous reviews, reviews using nicknames or reviews sent from invalid email addresses will not be published.