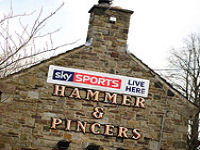 Reviews of Hammer & Pincers Restaurant
Type(s) of Food Served
Pub Restaurant
Description
One of the most recognisable stone-built pubs in Sheffield.
Food Service Times
Monday - Sunday: 11:30AM - 9PM

(The bar is open longer.)
Special Offers
There are no special offers that we are aware of.
Amenities & Facilities
Credit/debit cards accepted?
Average main course price?
Special diets catered for?
Rich -
Rating:
Perfect little pub, nice welcoming staff, great management. All my needs were seen to promptly.
Denise -
Rating:
Great knowledgeable staff, good choice of gins, beers and lager. Marie has an amazing work ethic, the woman never stops! Ben is always very welcoming and hard working. We really enjoy this pub, good atmosphere and friendly.
Joel Benson -
Rating:
Really good place. Came in with my pals and had a proper good burger, was greeted personally by the manager (I think his name was Britt?)

Parking was free. I'm not sure what the other reviews are on about, there's signs up all over and you just whack your reg in a little tablet.
Ann Ratcliffe -
Rating:
I visited your pub on 29.06.2018 for the first and last time.

It was approximately 9:30PM and my friend finished off our concert at the High Storrs School. Never having been there and having no knowledge of this car parking issue, neither was I bright enough to spot your notices, only to find I have "broken the private parking laws". The only way to do this without customers feeling they have been unfairly treated after spending money in the pub, would be to have a member of staff on the gate who could point out this anti-customer ruling prior to their entry.

However, your Euro Car Parks company can have the £50 with my blessing and you can congratulate yourselves upon loosing a bona fide customer who has never been in receipt of a parking ticket before.
Eaten at Hammer & Pincers? Write a review!
Anonymous reviews, reviews using nicknames or reviews sent from invalid email addresses will not be published.