Elmwood Farm Restaurant
Beighton Business Park
Beighton
Sheffield
S20 1DJ
Telephone: 0114 2878098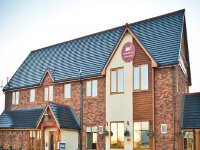 Reviews of Elmwood Farm Restaurant
Type(s) of Food Served
Pub Restaurant
Description
Here at the Elmwood Farm we like everyone to feel at home whilst enjoying their time with family & friends. Our team are friendly, approachable and are happy to help.

Our extensive menu is packed with delicious pub classics as well as a traditional carvery, served daily, which boasts a fantastic choice of fresh seasonal vegetables, our signature flavoured potatoes, and succulent roasted meat joints.
Food Service Times
Monday - Saturday: 11:30AM - 9:30PM
Sunday: 11AM - 9PM

The bar is open longer.
Special Offers
There are no special offers that we are aware of.
Amenities & Facilities
Credit/debit cards accepted?



Average main course price?
Special diets catered for?
Child facilities?
Baby changing
Play area
Janeen -
Rating:
Me and my friends go here lots. Breakfast and carvery is amazing.

Amy served us today. Always lovely and friendly to us. Nothing too much trouble for her, she's great.
Julie Carr -
Rating:
Went for a carvery Sunday 12/11/2023. Absolutely beautiful. The beef was tender, Yorkshire puddings were delicious, veg was beautiful. Staff behind the carvery counter were friendly. Very busy so had to queue for a little while but expected when that busy. Totally different to my previous visit a year ago. Will definitely be returning.
Steve & Di -
Rating:
I ordered a rib eye steak & what I got was a thin patch of leather with chips & peas. Sent it back and received a rump steak in its place. A little better but not what I ordered.

Two stars simply because the wife and grandson's meal were OK.

The Chef can either make or break a reputation.
Russell Baker -
Rating:
Lovely food and the service from Corey was very pleasant.
Eric Wood -
Rating:
Went yesterday 11/08/23. Very good meal, cooked to perfection, service was second-to-none. We were with friends and they enjoyed it.

Will be back soon for carvery and crumble. Thank you.
Kevin Briggs -
Rating:
Went to Elmwood Farm yesterday, 15th January.

Gone right downhill. All veg really hard, carrots looked like they were chopped by a spoon, beef was really chewy, the place around the carvery was very messy.

Not be going back there in a hurry.
Deborah -
Rating:
Food was lovely but some staff rude and obnoxious. Will never go again.
Tracey Wellum -
Rating:
Had a carvery me and my husband on Saturday 19/11/22 around about 2PM. Ended up leaving carvery; not very nice. Very disappointed. Will not be having one again.
Helen Geilhardt -
Rating:
Had the weekday menu - £9.99 for 3 courses. Food was lovely, just the right amount on each course and our waitress, Ella, was fantastic, nothing was too much trouble. Thank you so much, we will definitely be back.
Michael -
Rating:
Called for a breakfast buffet. Brilliant food, helpful staff.
Kay Herring -
Rating:
Went for a carvery with my dad and sister. Always been happy until today, Tuesday 10th May. Minimal meat, hard broccoli, cauliflower and carrots, Yorkshire pudding too big for a small plate and extremely crispy.

All not very happy overall. Will be keeping away.
K Landall -
Rating:
Went for breakfast buffet costing £6.99 each. Bought 4 adults and an additional adult-sized breakfast to share between 2 young children. We asked for an additional plate and was refused. After explaining that a 3-year-old wasn't going to eat a £6.99 breakfast by herself she reluctantly gave the plate, then proceeded to serve us with a bad attitude.

My husband's waffle order was missing. Half the ingredients the gent served after me had the same issues with kids meals.

Won't be returning.
Stephanie Disney -
Rating:
Another bad experience. Incompetent staff, no communication with each other. Ending up leaving again without food. Will definitely not be returning this time!
Terena Black -
Rating:
Went to Elmwood pub today, 28th May. Ordered by their app at 8:05pm. Food did not come out. They brought puddings out before food at 9pm. Told them we had not had mains. Finally mains came out, then waited another 30 minutes for pudding. A total mess this app. Only about two service staff on. We asked for a glass and no one brought one out. Disappointed. Kids got fed up of waiting for dinner but the staff were friendly.
Liane Hughes / Walsh -
Rating:
Went on Thursday 20th May. Wait was really long and as we had to order by the phone app re-Covid-19 we had no idea if they had received it, as we didn't get anything to say they had.

I asked for well done steak and got something extremely over done, even the steak knife they gave me had trouble cutting it.

My husband's order was nowhere near the picture on the app, we even thought they sent a child's portion out.

My son-in-law's burger was also so over-cooked and burnt he couldn't eat it.

My daughter had the carvery, which she said was lovely but wasn't allowed to choose as such, just point to what she wanted then return to our table, so a couple of items were missing.

Will not recommend or rush to go back, sadly, as my grandson loved playing in the kids bit.
Heather -
Rating:
Went for Sunday lunch at Elmwood Farm, Sheffield. Very disappointed. Had to wait ages for drinks. Waiter said he would be back in 2 minutes; he never returned. When drinks finally arrived, coffee was cold, cup was very dirty, had to be returned.

The only thing the staff were interested in was your bank card, which had to be swiped as soon as you walked though the door.

Service very poor, food worse, all the Sunday lunches were cold. Just glad when I left the building. That was the only good thing I can say about the place, the exit doors.

Will never waste money there again.
Jennifer Derbyshire -
Rating:
Want there last Thursday for the first time - me, my husband, and 2 friends.

Lovely place and friendly staff. Disappointed with the carvery. Plenty of veg, very nice. But if you blinked you would miss the serving of meat - very small portion. Other ones we've been to have had choice of a couple of slices of meat for same price.

Will not be going back again. Disappointed.
Karen Scarafile -
Rating:
Just ordered drinks for my family in Elmwood Farm. My granddaughter aged 10 wanted a Coke. It was served in a pint pot and cost £2.70. We were told that was the smallest they do. That is ridiculous for a child's drink. No complaints about the carvery but will consider going somewhere else where they provide reasonably priced drinks for children.
Dean Finlay -
Rating:
This was our favourite place, but went there yesterday and the steak on my mixed grill was chewy, which I could put up with, but my Wife had her usual double burger with coleslaw (forgot the name, but the dearest) and it was really burnt. I complained because she could hardly eat and had to leave it. We complained and the lady said "would you like another?" but all she could taste was burnt, so she could not enjoy it. We were going to try Damon's, as it was my birthday, and wished we had afterwards.

Don't know if it was because there was a lot of people in and they were rushing, because the last time we came with my son and he said it was the best he had, and he has worked cooking burgers before. Just
disappointed really, as we don't get out much with my disabilities.
Dilys Gibson -
Rating:
I went here for a meal and a catch up with friends. The food was OK, but there was "background" music, which made conversation difficult. We complained and they said they would turn it down. If they did it was minimal. We will not be going back.
Liz -
Rating:
Went to Swallownest Elmwood today.

Waited for around 10 minutes for a drink. Saw the manager and quite a number of staff flitting around. Asked the manager if anyone was going to be serving at the bar today. She replied that she had a low level of staff today (Valentine's Day). I said well we have been waiting a while to be served and several people got fed up of waiting and just walked out.

Eventually we were served. Went a little while later for another drink, was charged for two drinks, was only given one! Eventually saw another member of staff, who finally gave us the remainder of our drinks order.

When we went to eat, we were told we could only eat in the far end of the restaurant, where the children's screaming area is, as all other tables were reserved (we were told by another customer, they had been setting the reserved tables up for 3 hours).

We eventually got a dirty table that we cleaned ourselves and ordered our food. Thankfully there were no issues with that.

Not normally someone who writes negative reviews, but I think they truly deserve a mention.

Please go here if you wish to dehydrate and waste your life waiting for bar staff who would rather faff around, than serve the customers who pay their wages!
Julie Heap -
Rating:
Been again New Year's Day. It's now our tradition for the last 3 years and again you have not disappointed us.

You had no gammon so you did ham instead. You let us sit where we wanted and the service was lovely. My granddaughter found a ring in the toilets, hope it got to the rightful owner.

See you you again in the 2019 and you will see us next New Year's Day. Thank you all and a happy New Year. xx
Julie -
Rating:
We had a family meal out tonight. The food & service was excellent. We've eaten with you many times, the staff are always polite & friendly. Eleanor in particular is a credit to your business. Well done.
K Shelton -
Rating:
We came here today, Saturday 28th of April, for a late lunch. Adults had carvery and our 21-month-old had sausage and mash from the kids menu. Now it's 12:30am and our little boy is throwing up all over. Thanks Elmwood Farm, I'm fuming. Not good. I think I may need to report you to the authorities.
T Hancock -
Rating:
We've had ploughman's salad a few times and it has always been nice. Went in today and there was no blue cheese, although we were offered extra cheddar or ham. Sausage rolls looked and tasted old. They were greasy and dried up.

When it came it had cheese slices put together and cut into triangles for the cheddar.

Not going to bother again. Very poor. If we hadn't have been in a rush we would have complained.
Lisa -
Rating:
We had booked for 6 people the Festive Party Menu, 3-course meal for £15.99. We were promised Rat Pack music/Motown music with the meal, but this never materialised!

First course meal went well. Then came main - two of us ordered the sea bass, which was very poor in the size of it. You simply cant order fish with a carvery selection. No new potatoes or seasonal vegetables to complement. The salad that we chose looked as though it had been sat in their trays for hours.

Then came the desserts. Our order was mixed up on the desserts- which wasn't hard to fathom out.

We had chosen this establishment to take both our mums out for Christmas meal. Would I recommend? No way!
S A Hubbard -
Rating:
We come here quite regularly for breakfast when the children are off school. We have been twice during the summer break and both times have been completely satisfied with the meals and service.
J M Stretton -
Rating:
We have been in tonight with friends for carveries and the quiz. We paid for four carveries and when we got to the carvery there was a carcass from a turkey, a scrag end of beef, and a joint of gammon.

The chef was carving bits of turkey off the carcass and by the time my husband got there, there was very little left. He asked for some beef too but was given some hard bits, which I wouldn't have given my dog! My husband said to the chef that the meat was disgusting and he mumbled something back.

On getting back to our table a young waitress came to ask if our carvery was OK, to which we replied no! She asked if we would like to speak to a manager and we said yes. A woman wearing glasses came over and asked what was wrong, and my husband showed her his meat. She said someone had been looking for us because they had a fresh joint. She asked if we wanted some more meat, so my husband said yes please. She asked if everything else was OK and my husband said Yorkshire pudding was not nice. She apologised and came back with some fresh meat and mumbled something about I'll come back when you have finished eating and see about some desserts and a refund. Although she had been close by our table more than once and had looked at us she never came back to see us.

I find this really bad and can only say I will never eat here ever again.
Lewis -
Rating:
We're usually happy to travel miles past Monk's Bridge Farm to come here but the past few times have simply disappointed us. The staff are good at Elmwood Farm, apart from the inconsistent portions the carvery delivers. The food quality seems to be lacking more and more of late. Time to try out the one at Doncaster instead.
Rachel Bartlett -
Rating:
Been coming since it opened but it's getting worse there. The time we came for breakfast you were refurbishing. We were sat in a area that wasn't even finished. There was dust everywhere, loads of stuff not available. Shouldn't really be open with that amount of dust. So food came out 45 minutes later, which is a joke for breakfast. When I asked staff what was taking so long they just gave me a blank look and said "I will check", which then took another 10 minutes. Put this down to the fact that it was just the wrong time.

So we decided to try again on Thursday 3rd August. Again the same miserable staff, all too busy doing nothing. All the tables was disgusting - plates and food everywhere and yet more long waits ahead. Asked after 40 minutes to be told "we are busy". It was 10:20am and there were 8 people in! The food finally arrived and it wasn't what we ordered and then we were told "well breakfast is finished now so we can't do anything"!

This is absolutely disgusting service. Staff are terrible and have a bad attitude. Won't be returning.
Colin Deakin -
Rating:
Waited a long time for food. The scampi was burnt, the rest of the meal was tasteless, what bit I did eat.

Told the waitress and all I got was a "sorry". Will not be going again. If you want to waste your hard-earned money this is the place to go.
Sue Fox -
Rating:
Called today. Had turkey bap with roast potatoes and stuffing. Sandwich was nearly all fat, stuffing was rock hard. Very disappointing. Told our waiter who just said "I will tell them". No response.

I had taken my daughter out for a treat, we won't be going again. Anyone going beware. Looks are deceiving. The thing is you pay before you get your food, otherwise I would not have paid. Anyone else had problems?
Lynne Yearby -
Rating:
Just had a meal with my friend. Mine was OK but my friend found a hair underneath the chips! We told two separate waiting staff when they asked if we enjoyed our meal but they said sorry but no offer of any money back or a voucher! We were really upset and certainly will not go back or recommend it as a place to eat.
Bet -
Rating:
Excellent as always. Good food and good service. Very good value.
Paul Waineright -
Rating:
Only found out about this place last weekend. I've been twice now and what can I say? The food was fantastic and the desserts have to be seen to be believed. This is definitely my new restaurant to eat in.
Susie Kirby -
Rating:
Had a fantastic meal... quite busy but food was hot and excellent quality. Very reasonable prices and even though very full could not resist buying cake to take away!
Steve Ratcliffe -
Rating:
Food OK, like most pub meals. Staff very good. Clean and tidy.

But my main problem with this pub is it is for children. Parents take lots of money. There are lots of slots to fill on the machines. That's after you get over the shock of paying £1.15 for a bottle of Fruit Shoot. That's got to be a 100% mark up on any shop. So if you don't mind give it a go. I will give it a miss. Not child-friendly at that price.
Alan Sherwood -
Rating:
Only one till taking food orders so had to wait too long to order. Then had to queue up again a long time to buy drinks, only one person serving drinks. The food was OK and arrived quickly but a bit pricey for average pub food. Wouldn't recommend.
Karen Jenkinson -
Rating:
Service was good and the food lovely. Had a carvery. Well worth the money. Really busy. Would definitely go again.
Wendy Wainman -
Rating:
Had a fabulous birthday meal at Elmwood Farm. Food good, atmosphere good and staff very friendly.

See you again soon.
Eaten at Elmwood Farm? Write a review!
Anonymous reviews, reviews using nicknames or reviews sent from invalid email addresses will not be published.