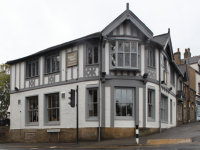 Reviews of Prince of Wales Restaurant
Type(s) of Food Served
English / Modern British / Pub Restaurant
Description
Prince of Wales restaurant is located at 95 Ecclesall Road South in Banner Cross.
Food Service Times
Monday - Thursday: 12PM - 10PM
Friday & Saturday: 12PM - 10:30PM
Sunday: 12PM - 9PM

Last seating: close of service.

(The bar is open longer.)
Special Offers
There are no special offers that we are aware of.
Amenities & Facilities
Credit/debit cards accepted?
Average main course price?
Special diets catered for?
Finita -
Rating:
Very disappointed today by our Christmas lunch. Cold soup. Our meal would have been better at a Wetherspoon. Frozen roasts, lukewarm veg. The best part of the meal was dessert. Don't waste your money.
Maggie Bramwell -
Rating:
I admit I did not make the right choice for my main meal yesterday evening. Panko chicken fine, but the linguine was awful - tasteless and overcooked. It should not have been on the plate. Surely chips or new potatoes served with a vegetable i.e. green beans would have made it a better meal.

My husband had the fillet steak, which he said was cooked to perfection.

The staff are brilliant; very polite and pleasant.
Mrs M Smith -
Rating:
Having heard good reviews I decided to take my grandson today. Starters were good. Grandson's pizza was good, but my beer battered fish was disgusting. Chips were dreadfully overdone, almost black. And the fish, a pathetic piece, was wet in the centre, and the batter no better than the local chippy!

All in all extremely poor and couldn't eat it. Admittedly they refunded the cost of the fish and chips but I was bitterly disappointed! Not cheap, either, but was happy to pay the price for a decent meal!
Mary Smith -
Rating:
Had a turkey meal there today (Boxing Day) and was so disappointed! The turkey was cold with loads of lukewarm gravy poured over it! The choice of veg, Brussels sprouts and butternut squash, was poor. Was so disappointed!

The starter soup however was lovely and the Xmas pud was nice but again only warm.

We waited almost an hour from main meal to sweet and only did it come after my grandson politely told the waitress we had been waiting an hour.

Sorry but bitterly disappointed for the money!
Katie Brookes -
Rating:
Hi all,

Not pleased with the service at this branch on Ecclesall Road, the attitude of some of the staff stinks!

The reason for this is when attending the ladies room it was very slippery and dangerous and very unhygienic.

Upon complaining the staff just had ignored me, smirked and walked off.

Very bad service!
John Bates -
Rating:
Went in just before Christmas, I took my elderly father in with me. The service overall I received was horrendous, from first walking in right 'til the end. The food was somebody else's, and eventually when ours came it was cold. The staff weren't very apologetic, just had the attitude of not having a care in the world.

I was really angry when complaining to the management, they just brushed it off because they were busy with Xmas bookings.

I will never go there again and don't recommend anyone unless you want to spoil a nice day out.
Oli -
Rating:
Food was good! Wonderful, vibrant service by Kelly!
Susan Kirk -
Rating:
Had Sunday lunch with family on January 29th.

The place was heaving, but despite that we didn't have to wait too long. The decor is really nice and the staff were good and efficient and the food was superb. The Yorkshire pudding and roast potatoes were really top class. As good as Mum used to make!

Great idea for mini dessert and coffee/tea, as it is just enough to finish with and only £4.95.

We will definitely be going back regularly.
Rachel Stainrod -
Rating:
Sorry to say but totally disappointed with the Christmas lunch I had this afternoon.

Firstly the pre-booked table was set for the wrong number and we had to wait for another table to be set. There was nothing whatsoever to suggest it was a Christmas lunch, not even a cracker to pull. It could have been a meal held on any day of the year!

One order was late, the portions for the starters and mains were poor. Not much nosh for a lot of dosh! The food was pleasant but not value for money.

The bill came with the deposit already paid included on the receipt and there was a service charge on there for about ten percent of the bill. We had to point this out and ask if the service charge was optional. Some people would probably not have noticed these and paid the price on the receipt! A little sneaky, that! The service wasn't bad but there was no real hospitality.

Such as shame, the decor out-does the dining!
Gerry Kersh -
Rating:
Our crowd (around 10 people) have been going to this pub fairly regularly for drinks on Saturdays. We will definitely not be re-visiting, as we found that a small bottle of slimline tonic is £2.40. I know prices have gone up but this taking the mickey, especially as the service is not particularly quick.
Eaten at Prince of Wales? Write a review!
Anonymous reviews, reviews using nicknames or reviews sent from invalid email addresses will not be published.