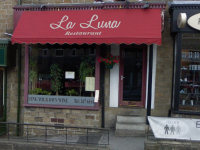 Reviews of La Luna Restaurant
Type(s) of Food Served
Italian / Mediterranean
Description
This friendly little candlelit restaurant has a bring your own policy, which does very well with romantic couples. The food is freshly prepared and cooked, which makes this restaurant highly popular. Excellent value for money!
Food Service Times
6PM - 11PM
Special Offers
Yes - Sunday - Thursday fixed price menu 2-course meal for £10.95 or add a dessert of the day for extra £2.95.
Amenities & Facilities
Credit/debit cards accepted?



Bring Your Own Drinks?
Restrictions (e.g. wine only) and a corkage fee may apply. Please enquire for details.
Average starter price?
£4.50
Average main course price?
£9.50
Average dessert price?
£3.50
Special diets catered for?
Isobel George -
Rating:
We have just had a marvellous meal for first time at La Luna, Sheffield.

The food was wonderful but our experience was made even better by Casey our waiter who waited on us, meeting our personal needs. My brother-in-law has particular difficulties with swallowing food but Casey did his utmost to help us with this so my sister and brother-in-law enjoyed their meal.

We'll definitely return when Casey is working so he is able to help us to meet the needs of our party so we can go out for a meal together. The food was delicious but Casey was wonderful giving us personal service in a busy restaurant.

Thank you so much Casey we are coming again when you are working on a Friday or Saturday.
Nathan McHale -
Rating:
Booked a table for 10 for a friend's 40th. Turned up on time but were told the table wasn't quite ready. Sent back out in the rain and returned 15 minutes later as requested, to be told they had doubled-booked.

Manager couldn't be reached on the phone. Wasted over £100 in taxi fares and god knows how much on drinks that we ended up giving away.

Absolutely disgusting service!
Donna Bennett -
Rating:
Lovely, intimate restaurant.

Bring your own wine with no corkage charge - fantastic.

Two starters, two mains (fillet steaks), two coffees - just under £50. Excellent food and well priced.

Two of the best steaks we have ever had - cooked to perfection (rare and medium)

Service very good.

A little lacking in atmosphere - but then again we arrived early in the evening for 7:15PM and left for 9PM (there was another booking for our table at 9:15PM, which we were informed about when we booked).

Fabulous place - have already recommended and will definitely eat here again.
Harry Nixon -
Rating:
Went to La Luna for the first time on Wednesday. It was me and my partner's 3-year anniversary.

Food: Excellent

We had 3 courses, digestif and coffee. The homemade desserts were to die for. Tiramisu and white chocolate and fig tart. The sauces for the starters and mains tasted homemade as well. The mixed fish dishes were great. Nice big shrimps.

Service: Better than excellent.

The one guy who served us was attentive without being invasive. He was friendly and knowledgeable about specials and the food generally.

Value for money: less than £50 for 3 courses and after dinner drinks for two. Bargain.

Well worth a visit.
David Wild -
Rating:
My wife and I paid our first visit to La Luna on Saturday night, after a friend of mine told me that it was worth a visit.

We were not disappointed, it was a really busy night so I was glad that I had booked a table. The service was really good to say how busy it was, and the food was very good, too.

We will be going back again and hoping for more of the same.
Andrew Stork -
Rating:
Some people might say that this place is a nice, cosy, rustic Italian, but not in our experience or opinion.

Firstly we had to wait 10 minutes to be seated on a busy Saturday night, however our table sat empty and clean for those 10 minutes and we stood waiting holding our bottle of wine.

We ordered calamari for a starter, but were told 10 minutes later that they had run out of this, even on a busy Saturday night (the waitress said that this wasn't their fault - whose restaurant is it?).

The female waitress recommended a duck pancake, which tasted beyond dreadful.

Our main courses came 30 minutes after a couple who came in ten minutes after us.

We asked the waitress for a fork as we weren't provided additional cutlery from the starter, which never materialised. When I explained this to the waitress she said, "try and enjoy your meal we will sort it out after".

However, when we went to pay they wanted to charge us full price until I reminded them of the ridiculously poor service we had received. Only then did they remove 25% off the final bill (had to be given as cash back).

As I said at the start, some may say this is a nice, cosy Italian restaurant, which it is, but the food and service do not match up. Needless to say, we will never return here again.
Sharon Thompson -
Rating:
Had work Xmas meal Saturday evening. The restaurant was heaving, so expected a long wait for food. This was not the case. Extremely organised and efficient, good atmosphere and the food was amazing. Every dish cooked to perfection - one of the nicest meals I have ever had!
Philip Owen -
A very simple Italian restaurant with good food and a good atmosphere. There is a wine shop across the road with a good selection of wines, so there's no worry about running out. Just don't sit by the door on a cold night.
Eaten at La Luna? Write a review!
Anonymous reviews, reviews using nicknames or reviews sent from invalid email addresses will not be published.