Zeenat Restaurant
762-764 Attercliffe Road
Attercliffe
Sheffield
S9 3RQ
Telephone: 0114 2619000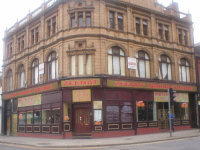 Reviews of Zeenat Restaurant
Type(s) of Food Served
English / Indian / Pakistani
Description
Have been trading over 2 decades serving the finest Asian cuisine, winners of Curry Club International awards for past 4 consecutive years (chef of the year 5* service award, Hospitality award).

Newly refurbished to a high standard, coloured mood lighting, fully licensed, fully air conditioned, can cater for up to 80 people, great offers for party bookings, buffet night every Monday £7.95ph (buffet menu changes weekly) easy to find location just off M1 J34 1 min past Sheffield arena.
Food Service Times
Sunday to Thursday 6PM - 12PM
Friday - Saturday 6PM - 2AM

Last seating: 11:30PM

Special Offers
Yes - buffet every Monday night at £7.95 per head.
Amenities & Facilities
Credit/debit cards accepted?





Bring Your Own?
Restrictions (e.g. wine only) and a corkage fee may apply. Please enquire for details.
Average starter price?
£2.50
Average main course price?
£6.50
Average dessert price?
£3.30
Special diets catered for?
Child facilities?
High chairs
Aathira Majnu -
Rating:
Pathetic attitude, long waiting time, half orders missed and does not even have the courtesy to apologise. Will never order ever again.
Sharon and Matt -
Rating:
We've tried a great number of Indian takeaways as our "once a week" treat. Nothing comes near this one. The standard is absolutely wonderful and the taste is authentic, not greasy and the particularly generous portions and excellent value for money.

Many, many thanks Zeenat - we'll recommend you to ALL our friends. We'll be coming to try your infamous "buffet night" soon.
Craig & Joanne Roberts -
Rating:
I ordered a takeaway from Zeenat and was so impressed. Best tasting curry I have ever eaten. Very quick delivery and everything was hot and fresh, with plenty to go around.

The people there are so polite, haven't seen manners like this for along time. Absolutely fantastic. A+
Jan -
Zeenat is well known for both its excellent atmosphere and food. I eat there with my partner and we have taken our kids, too, on many occasions, and they are always made to feel very welcome and made a fuss off.

I have been going there for years, as the standard of food, whether it is from the menu or the buffet is so good and the best thing is the meat is so tender!
Mark -
Rating:
Been told about this curry house but never tried it until last week. Went for a birthday party meal, I have got to say very impressed.

The restaurant was very nice, the tables were very wide with plenty of room to get our meals on, not like most restaurants where the tables are too small and you have no room to put anything on. Zeenat's tables and chairs are very classy.

I had the Friday special lamb chops and spinach and the wife had mixed kebab and lamb jalfaza. We both loved it, there was nothing left on both plats. Everybody in our party was very impressed. The wife even commented on the fresh flowers in the toilets.

Great place, great food, will definitely be going back. 5 stars.
Sara Sherratt -
It was a family birthday celebration (60th) so I wanted to book somewhere special. My Aunt is a big fan of Indian food so I booked a table at Zeenat, as it was recommended by my food fanatic friend.

She was right! The restaurant had a relaxed, friendly atmosphere and stylish decor. The waiting staff were pleasant and took time to explain the dishes, and the food was served promptly.

My lamb cutlet curry was out of this world, tender, spicy with plenty of kick. Family members were equally pleased with their dishes.

We will definitely use Zeenat again, and are planning another visit very soon!
Katie Robinson -
I would highly recommend Zeenat for anyone looking for a good curry!

I've been ordering from Zeenat for the past few years and I can honestly say I have never been disappointed. The young man who normally delivers is always friendly and always left waiting patiently as I can never find my purse.

Recently me and my partner have been going to the buffet nights on Monday, which are such good value for money and even get a lift home which saves on the taxi fare!

Keep up the good work!
Syed Shah -
One of the best atmospheres in Sheffield, the people are really down to earth, know how to make you feel like you have been to a top restaurant.

But the best thing about it all is that the price is really cheap. So you get all the good things but for less.

I'm a little biased because I know the owner, but then again if you are from Sheffield and you don't know Mojo then you have missed out. I suggest you check it out if you are not already a regular.

P.S. My regards to the chef on his chicken masala - it's awesome.
Joanna Hayes -
Fabulous restaurant! A most enjoyable experience.

I have visited this restaurant many times and each time I have thought the food absolutely delicious. The most striking thing about the food is its freshness and the flavours really come out owing to the attention to detail of the chef.

Finally the ambiance of the restaurant is such that you feel relaxed and comfortable. The proprietor is one of the most welcoming as are the rest of the staff.

I will continue to return again and again as this is far the best Indian restaurant we have in Sheffield.

Top marks Zeenat!
Tom Harrison -
Love this place, been quite a few times and the food gets better and better each time we go. I especially like the chicken chatt starter (something I order each time we go).

The service has been excellent each time we've been, and now if you phone them, they'll pick you up from wherever you are, home or pub etc... and drop you back off after your meal free of charge. I've used this service a couple of times now and never been let down, even when we were in a big group. Last time they ran 2 trips to get us all there.

Big thumbs up to Zeenat.
Jenat Shah -
Had a brilliant night out at the new look Zeenat.

Excellent service and even better food! Try the vegetable garlic chilli karahi... gorgeous!

My new favourite eatery!
Kashaf Hussain -
Had a great meal at Zeenat last weekend. The staff were excellent, finding a large party a table with short notice.

The place looks amazing. The colour scheme and the lighting really set the mood.

We had a variety of dishes, including English dishes and every one agreed the food was superb. I had mine done apna style (traditional) and could not fault it. One of the waters mentioned that they will have more apna style dishes on their new menu. Can't wait!
Caroline Taylor -
I've been to this restaurant a few times now and I've got to say it's the best Indian restaurant I've been to. The food is lovely, the service is great, and the staff are really friendly.

I've been with the girls on nights out and had a really good time and I've also been a few times with my partner and find it a really nice setting for a romantic meal. The atmosphere is great, and since they have refurbished it it's even nicer than before! The new tables are wide enough to give you plenty of room instead of feeling all huddled together, the way its all set out gives you a feeling of privacy.

I also like the way the bar area is separate and you can sit comfortably and enjoy your drink. I try and have different dishes when I go and I haven't tried anything that I haven't enjoyed and found really tasty!

The buffet on a Monday is fab, it gives you the chance to try different dishes. I really recommend you try it!
Eaten at Zeenat? Write a review!
Anonymous reviews, reviews using nicknames or reviews sent from invalid email addresses will not be published.