Indus Restaurant
688-690 Attercliffe Road
Attercliffe
Sheffield
S9 3RP
Telephone: 0114 2431690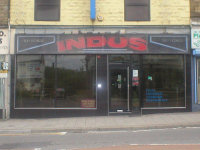 Reviews of Indus Restaurant
Type(s) of Food Served
Indian / Balti
Description
Indus restaurant is located at 688-690 Attercliffe Road in Attercliffe.
Food Service Times
Sorry, we do not have the restaurant's opening times yet.
Special Offers
There are no special offers that we are aware of.
Amenities & Facilities
Credit/debit cards accepted?
Average main course price?
Special diets catered for?
Jagdeep Singh -
Rating:
Very tasty food and friendly staff.

Lamb curry was so delicious!

Must go place for Indian food.
Gail -
Rating:
Had a fantastic meal. Thank you!
Natalie Shiply -
Rating:
I have been going to Indus for many years and it only gets better. The food is full of flavour, the atmosphere is always fun and the staff are brilliant. They have recently had a refurbishment with a new bar in place and very comfortable seats.

If you want some great food and great prices do pop down. Its not too far from the city centre and accessible via car and tram!
Kim Fearnehough -
Rating:
Thank you Indus for a fantastic buffet provided for us for my father-in-law's after-funeral meal.

The food was exceptional, perfectly cooked and perfectly spiced.

A selection of curry with bhaji, rice and samosas were very moreish and enjoyed by all.

No doubt we will be visiting your restaurant for my birthday/anniversary later this year.

Once again thank you for your service.
Vicky Knight -
Rating:
First time to the restaurant. Tuesday buffet night. When we arrived a member of staff showed us to our table, then took us over to the food to show us what was on offer. Looked very nice and clean. Poppadoms and pickle tray we're fetched straight over and starters & salad you just helped yourself. (Onion bhaji, fish, samosa tandoori chicken.)

Mains (rice, lamb dish, 2 chicken dishes, 2 vegetarian dishes) all food nice and hot. We were asked if we wanted naan bread etc...

Staff very helpful and friendly.

Looking forward to our next visit.
Jill fletcher -
Rating:
Just returned home from the Indus restaurant and have to say what a lovely evening we have had.

We weren't aware when we booked that Tuesday night is buffet night and we all decided to give it a try. We weren't disappointed. The food is really nice and the service was really good. We didn't feel rushed and the staff weren't over attentive, as we often find in Indian restaurants.

We will definitely be returning soon. The price is £9 a head. There were 4 of us and we had 2 drinks each and it came to £50, but we have a Taste card so the entire meal came to just £32. Bargain!

Well done Indus. We will be back!
Jane Freelands -
Rating:
Visited Indus in Attercliffe last night for an occasion meal with friends. It is fantastic - food is top class, cooked and prepared beautifully. Staff were wonderful. Thoroughly recommended - please visit and try for yourself.

Thank you Indus.
Eaten at Indus? Write a review!
Anonymous reviews, reviews using nicknames or reviews sent from invalid email addresses will not be published.