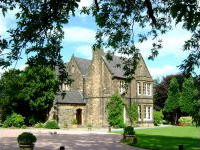 Reviews of Old Vicarage Restaurant
Type(s) of Food Served
English
Description
A Victorian country house at the end of a sweeping gravel drive is the setting for the only Michelin-starred restaurant in the Sheffield area.

This is an internationally-rated, innovative and modern restaurant run by TV chef and author Tessa Bramley. Tessa's dynamic modern style of cooking, built on local seasonal produce and impeccable technique, has earned her recognition from all the leading food guides for over 20 years. Expect a memorable dining experience.
Food Service Times
Monday - Closed
Tuesday - Friday - Lunch from 12:30PM & dinner from 6:30PM
Saturday - Dinner from 6:30PM
Sunday - Closed
Special Offers
Yes - Fixed price 2-course lunch menu for £30.
Amenities & Facilities
Credit/debit cards accepted?



Average main course price?
£40.00
Special diets catered for?
Maria De Nobrega -
Rating:
Delightful Victorian country house with excellent food.
Tim Astwood -
Rating:
We were very disappointed by the service and quality of food on our first visit to a Michelin-starred restaurant. We found the length of wait to be seated (55 minutes) and between courses (30-45 minutes) far too long. The service was poor and the waiters were very disorganised.

The food was not to the level we expected (the pasta chewy, flavours clashing and overpowering dishes). It is safe to say we will not be returning to here.
Kieran Staton -
Absolutely fantastic - I have never tasted food like it! And a stunning venue to complement the food.
C S Hobson -
My wife and I visited the Old Vicarage at Ridgeway and were delighted at our first visit to this Michelin star restaurant.

The sample taster menu comprised of 6 small courses, which were all delicious. We were guided through the extensive wine list so we could compliment our meal. The restaurant has a young manager who will one day be at a top London venue. Forget the price have a special night out.
Clive Norbury -
Dinner - 6/6/07 My initial reflections on the Old Vicarage Restaurant is that it really is a bit sad and tired and running on its previous reputation. Using young inexperienced staff is commendable, but only if you train them correctly to know what it is they are serving, how to serve wine and have their hair neat and tidy. The grounds, decor, furnishings, cutlery, crockery, linen are all way below par and the food, whilst interesting, not at all to the standard I would have expected for the money.
Eaten at Old Vicarage? Write a review!
Anonymous reviews, reviews using nicknames or reviews sent from invalid email addresses will not be published.