Fairways Inn Restaurant
9 Birley Lane
Birley Wood
Sheffield
S12 3BP
Telephone: 0114 2653692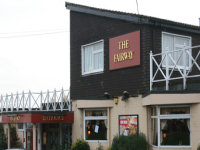 Reviews of Fairways Inn Restaurant
Type(s) of Food Served
English / Pub Restaurant
Description
The Fairways Inn looks out over Birley Wood Golf Course and is in an idyllic location for a relaxing afternoon carvery or evening meal.
Food Service Times
Sorry, we do not have the restaurant's opening times yet.
Special Offers
There are no special offers that we are aware of.
Amenities & Facilities
Credit/debit cards accepted?
Average main course price?
Special diets catered for?
Brian -
Rating:
Thanks to all at The Fairways for making our multi-family Christmas festive party so enjoyable. Great food and warm, friendly staff. Special mention to Sam for being so nice and considerate when changes had to be made before the event.

I will be back with friends next week and highly likely we will be back as a large family group soon.

Highly recommended.
Gary Hague -
Rating:
Thanks for providing a great venue for my daughter's wedding. DJ and food was brilliant. The function room bar was well-manned and staff were great. Room was private just for function. Would recommend.
Mr & Mrs Seville -
Rating:
The new gluten-free menu is the best I've seen from a chain pub menu. So much choice. Well done.
Maxine -
Rating:
Reasonably priced food and enjoyed going to this pub on many occasions in the past. However, we were told that we could use the function room recently and then on the day the staff changed their minds and we were put in the worst possible place in the pub for a large party (30 of us).

Very dismayed with the service. So be warned - if you go and if you receive bad service then complain at the time because we have complained afterwards and not even had recognition of our letter.
Jean -
Rating:
Christmas dinner - this was a glorified carvery at an over-inflated price.

The sprouts were overcooked & the darkest green I have ever seen. The meat, you could only have what they put on your plate, only one Yorkshire pud (very small frozen type), and one small sausage with no bacon on them. Some of the starters were still frozen in middle. The best bit was the trifle.

The room we were in was overcrowded.
P Johnson -
Rating:
Booked the function room for my dad's wake. Booked the room for 2PM, but when we arrived no one knew what was happening. The room wasn't ready, but they let us in anyway. There were no tea or coffee facilities, despite being ordered. They eventually brought tea and coffee in after having to ask for it. There weren't enough saucers for the cups, so we were given tea plates. Had to ask for the food to be served.

There was one waitress working in the room, who was also expected to work in the carvery as well. She worked so hard to make things better.

When I complained about the standard of service all we received was a standard email response.

Will never go to this restaurant again.
Colleen Ball -
Rating:
I love going out for a meal at Fairways. Great value for money, and carvery is amazing. We had our wedding reception here on Friday 13th May, too. All the staff are very friendly and helpful. Service is fantastic.
Philip Deffley -
Rating:
Just been for Fathers Day. The desserts were horrendous. Need I say more. I didn't have a carvery but the main meal was OK. I suppose.
Kathleen Nuttall -
Rating:
We go for a carvery every week. But on the last visit, Tuesday 19/01/2016, admittedly we were early, arrived at 4:15PM and all the food was covered as if no one had been since lunchtime. And the food was lukewarm. All the veg wasn't hot. I'm thinking if I was a food inspector they would have problems, but fortunately I'mm not one to complain, although I did tell the bar staff.
Sam -
Rating:
I go on a Sunday for a carvery. Always great food and service. Will continue to go. Never had a bad meal or service there. Worth going.
Pam Gray -
Rating:
Went for a carvery with my family and friends for my 50th and my granddaughter's birthday. Had a lovely meal, which was made even more special when our cake was fetched by Donna and Lewis, all lit up. It was lovely, they even gave us the plates and a knife.

Would just like to say thank you for being so lovely. Lewis served us at the bar with a smile and Donna ran about after us, it was a brilliant evening.
Mr & Mrs Owen -
Rating:
We have been going for carvery. Found the food good in the past. Went today, had children's enchiladas for a change. Cost £7.90 with a mound of wedges i.e. 4 and 4 tiny pieces of chicken. Put in a complaint before leaving for some fish & chips. Won't be going there no more.
Janet Shaw -
Rating:
Our party of eight adults came to your restaurant Sunday in September.

Despite being lunchtime and very busy, the queue for the carvery soon went down. Two of our party had something off the menu it took only 10 minutes to arrive. All our plates were empty, and I think that says it all.

I was warned when I booked my tables how busy it gets, but they still had our meals on time.

Only I come for lunch every Thursday once a month. Lovely food and good, attentive staff, is all you need. I look forward to my next visit.
Taylo Ringrose -
Rating:
Trying to book for father's day, what a nightmare. First told they are only taking bookings for 12PM or 5PM, both strange times. First one is practically breakfast, the other too late.

Then I decided to book for 3 people, only to be told that they won't take a booking for under 5 people.

Customer service not good, won't bother at all.
Tracey Dunworth -
Rating:
I get a bit nervous and anxious when going to new places, but I have to say that my visit here was excellent. I went for lunch with my Aunty, who visits regularly.

I felt so welcome and a very warm friendly atmosphere upon entering. This place is a good size, with added quite areas. Very clean and well-maintained. The ladies are a good size and are keep excellently clean, which is quite a rare find these days.

I had a vegetarian meal, which was made to order and didn't wait long before a kind young man, who had offered me a complimentary drink whist waiting for my order, came again to tell me as soon as it was made. I then added the vegetables, which was a very good generous portion, along with gravy and sat to have my meal. It was served hot and could tell it was all fresh. I totally enjoyed it.

I will definitely be visiting again and would highly recommend it.
Paul Rogerson -
Rating:
I have used this restaurant for several years and it is good, decent, cheap pub food. The service is good, food is good and have enjoyed many meals over the years.

As a family we have also used the function room, which is reasonably priced, and suitable for birthdays, christenings & wakes. We have had special birthdays and 2 christenings and they have prepared well and provided a good venue.

Final comment, you can't please everyone - but this is a good local, family, child-friendly British Pub. My score 5/5.
Helen Walker -
Rating:
Just want to warn that I know we have come to not expect a lot from carvery chain pubs! But expect even less from this place since the previous manager left (cleaned it up and sorted it out). Now it is beyond poor standard again. Young staff whom are inexperienced, bar staff whom would suffer pain to smile. Cold food and inadequate portions (obviously trying to stretch the food prepped).

Its only plus was a young waitress whose name I think was Helena or Eleanor, through every request and complaint this young lady smiled and was pleasant. Her total effort all evening embarrassed the rest of the staff, she was very embarrassed when I asked for her name but in the society of today praise where praise is due. Pull your socks up!
Eaten at Fairways Inn? Write a review!
Anonymous reviews, reviews using nicknames or reviews sent from invalid email addresses will not be published.