Grayson's Restaurant
10 Hutcliffe Wood Road
Beauchief
Sheffield
S8 0EX
Telephone: 0114 2361254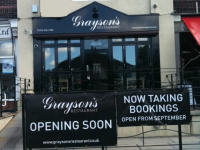 Reviews of Grayson's Restaurant
Type(s) of Food Served
English / Modern British
Description
Grayson's restaurant is located at 10 Hutcliffe Wood Road in Beauchief.
Food Service Times
Tuesday - Saturday 5PM - 9:30PM
Sunday: 11:30AM - 3:30PM
Special Offers
There are no special offers that we are aware of.
Amenities & Facilities
Credit/debit cards accepted?
Average main course price?
Special diets catered for?
John Dunkley -
Rating:
The service was attentive and the food tasty. Portions are manageable and I left feeling comfortable.

My wife's steak was really tasty and my Barnsley chop was good, too. Vegetables were well-done, too.

The salted chocolate and olive oil sweet is to die for! (But looks a bit lost on the huge plate).

With a couple of drinks and coffee we only paid £55, which was good value for the quality offered.
Dora Shinn -
Rating:
The food was good but a very disappointing evening.

At 8:30PM on a Friday night two of the main courses were 'off' the menu and a third dish was missing half of the listed ingredients.

When it came to cheese and biscuits there were NO biscuits available and the cheese came with a hunk of bread instead. Somebody could have been sent to the local supermarket surely for a few crackers of some sort!

We were not offered coffee, and the waitress and perhaps one of the chefs set about tidying up and at one point another of the kitchen personnel walked through the restaurant with a mop and bucket.

We were totally ignored apart from a few glances in our direction which made me feel we were supposed to leave. This was just after 10:30PM.

I emailed my concerns and did not receive even the courtesy of a reply. Says it all!
Eaten at Grayson's? Write a review!
Anonymous reviews, reviews using nicknames or reviews sent from invalid email addresses will not be published.