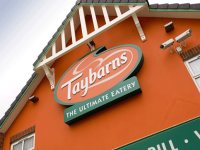 Reviews of Taybarns Restaurant
Type(s) of Food Served
American / Chinese / English / Indian / Italian
Description
All you can eat buffet style restaurant serving a wide variety of foods.
Food Service Times
11:30AM - 9PM
Alan Alster - 11th May 2015
Rating:
Great value for money, kids love it, extensive menu.
Stuart Laidlaw - 27th February 2015
Rating:
Now been four times and have sampled most of the food on offer.

Good value for the price.

Clean and airy seating area.

Staff polite and helpful.

Always worth a visit.
David Dale - 29th December 2013
Rating:
Since opening I've been a number occasions, each time with friends or family and there's never been any problems.

Food and variety is fabulous and unlimited drinks is a bonus, but in my opinion the downside is not being able to switch from hot to cold without extra cost.
Dennis Stansall - 21st May 2012
Rating:
We came for a meal for my birthday. I brought my wife and granddaughter, who is only 2-and-a-half years old.

It cost us £3.99 for her and all she would eat was a bit of soup and a bit of ice cream. I don't think that was worth £3.99 do you? We told them that she would not eat anything but he said would still have to pay £3.99.

I think it was shocking so we will not be coming again.
Laura - 7th February 2011
Rating:
It was delightful food and the service was outstanding. I highly recommend this restaurant to everyone.
Eaten at Taybarns? Share your experiences!