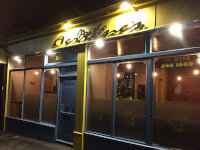 Reviews of Angelo Cerrone's Restaurant
Type(s) of Food Served
Italian
Description
Angelo Cerrone's is located on High Street at the heart of Ecclesfield. We are a small family-run business serving Italian cuisine. All dishes are cooked to order, so we can cater for most dietary needs.
Food Service Times
Monday: 6:30PM - 9:15PM
Tuesday & Wednesday: 6PM - 9:15PM
Thursday: 6:30PM - 9:15PM
Friday: 6:45PM - 9:15PM
Saturday: 6PM - 9:15PM
Sunday: 4:30PM - 9:15PM
Credit / Debit Cards Accepted:



Fully Licensed?
Yes, the restaurant is fully licensed.
May Diners Bring Their Own Drinks?
No, customers may not bring their own drinks.
Must Diners Book In Advance?
No, advance booking is not required.
Average Meal Prices
Starter - £5.00
Main - £14.00

Vegetarian Meals Served?
Yes, vegetarian meals are available.
Function Room For Hire?
No, a function room is not available and private parties cannot be catered for.
Car Park?
No, a private car park is not available.