Old Red Lion Restaurant
210 Main Street
Grenoside
Sheffield
S35 8PR
Telephone: 0114 2468307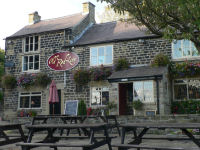 Old Red Lion Restaurant Reviews
Andrea Murray - 4th October 2015
Rating:
My Husband and I have eaten at the top Red Lion quite a few times now. The service is always impeccable and to a very high standard. The food is very tasty (from a Sunday lunch to whatever else is on the menu). In particular, there is a young waiter/bartender who is an absolute credit to the pub. His name is Aydan and nothing is too much trouble for him to assist you.

All in all, dining there is a very pleasant experience and we would recommend the top Red to anyone who likes good food, a cosy ambiance, and excellent service.
Matt Adamson - 5th September 2015
Rating:
My girlfriend and I have eaten here several times, always found the food to be good and reasonably priced. There can be a bit of a wait for food but this is usually because it's busy.
Jeanette Bourne - 25th February 2012
Rating:
Recently rented a cottage in Grenoside. Visited the Old Red Lion every day we were there, either for just a drink after a long walk in the local countryside or popped back for a meal.

Why did we keep going back? The service. Each afternoon we were warmly welcomed and our dog was given treats. There appeared to be different staff on each day, made no difference, everyone was friendly.

Obviously the food was also worth going back for, too. A smaller menu than I would have expected. However, this may be why the meals were presented and cooked well.

The first meal I had of homemade beef burger was quite filling for me, so the following meal I had the starter of pasta stuffed with goat's cheese and a side salad, thinking this would be a smaller portion for me. Gosh if that was a normal starter portion it was a meal in itself.

Good pub food, presented to restaurant standard. Excellent service.
John Marsh - 17th February 2011
Rating:
Four of us went to the Old Red Lion (Grenoside) on Friday 11th February after hearing the food was good. Have to say we were not disappointed.

The menu has a good range through sandwiches and lite bites, to grills and specials. Our party had two starters: garlic mushrooms on toast and a goat cheese tart. Our mains included two haddock, one lamb rump and one venison. Two desserts followed and all the food was excellently cooked and well presented.

With a few drinks and bottle of wine our bill came to £92.A little pricey by pub standards but treat it more like a restaurant for food quality. Would we go again? Definitely.