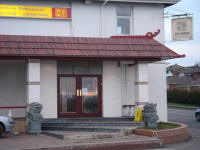 Reviews of Ka China Restaurant
Type(s) of Food Served
Cantonese / Chinese
Description
Ka-China is situated on School Road, Wales, which was the old Waleswood Hotel. A radical refurbishment took place both inside and outside of Ka-China, including the creation of a grand entrance at the front of the building, complete with Chinese stone lions.

Inside, the restaurant comprises of three separate air-conditioned rooms, licensed for 120 seated diners. The restaurant is stylish and modern, with contemporary high-back chairs and atmospheric lighting. There is also a cosy bar area with comfortable cream leather sofas for you to relax and peruse the menu.
Food Service Times
Monday - Saturday: 5PM - 11:30PM
Sunday: 5PM - 11PM
Special Offers
There are no special offers that we are aware of.
Amenities & Facilities
Credit/debit cards accepted?
Average main course price?
Special diets catered for?
Sarah -
Rating:
After its refurbishment, I would highly recommend this restaurant for a sit down meal in this area.
Alan -
Rating:
Went last weekend, can only say the food was superb.

Had ribs for starter, and the beef black bean for main.

Others in the party had banquet and were equally impressed.
T.G. -
Rating:
If I could go to minus numbers I would. Ordered by phone for home delivery, only to get one wrong meal. Rang to tell them and got told I was wrong. The meal they did get right was dry and not very nice, either, so will definitely not be using these again.
Helen Johnson -
Rating:
One of my family's favourite restaurants, brilliant food, we always order the scallops and asparagus dish, which is fragrant and delicious. The waiter's recommendation have always been excellent, too.

Tables of all sizes are available and we have always been able to get a table even on busy nights. We often go to celebrate birthdays and exam results.

Prices are about average for a Chinese takeaway. Set menus are available for a reasonable price.

The staff could not be more helpful, once a waiter spilled a tray of drinks and replaced them all and gave us a free (and quite large) whiskey to apologise.

Comfortable atmosphere, air conditioned but not too cold. Comfortable modern decor and a nice atmosphere, the restaurant is popular with families. There is a seating area near the door and bar which is handy if you are meeting people there.

We have never been disappointed and Ka China remains a firm favourite.
Eaten at Ka China? Write a review!
Anonymous reviews, reviews using nicknames or reviews sent from invalid email addresses will not be published.