Brook at Troway Restaurant
Snowdon Lane
Troway
Sheffield
S21 5RU
Telephone: 01246 791111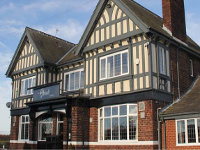 Reviews of Brook at Troway Restaurant
Type(s) of Food Served
English / Modern British / Pub Restaurant
Description
Brook at Troway restaurant is located at Snowdon Lane in Troway.
Food Service Times
Sunday - Thursday: 11:30AM - 4PM & 5:30PM - 11PM
Friday & Saturday: 11:30AM - 12AM
Special Offers
There are no special offers that we are aware of.
Amenities & Facilities
Credit/debit cards accepted?



Average main course price?
Special diets catered for?
Dawn & Andy -
Rating:
Found out today it's closing the 3rd of June. Massive shame, food always good and the staff are so attentive. Really feel sorry for the staff. Wish them all the best of luck.
Sue -
Rating:
Really nice restaurant. Food was good and amazing value.
Anne Shaw -
Rating:
Top end. Good food, good service. Damion is a delight, reminds me of Fred from first dates.
Ann Bagshaw -
Rating:
Visited The Brook Sunday 21st January 2018.

A table for four. Three ordered the crayfish and prawn starter at £7.95 per person. The crayfish starter was a disgrace, in the little glass dish with the tiniest portion of crab and two prawns. Never had such a poor starter. I told the waitress but never heard anything else. The two person's three meats was poor, cold vegetables and meat was tough.

All round very poor, will not return.
Wendy -
Rating:
Called here today for the first time since the building changed from "The Inn at Troway" to "The Brook"

What a difference! It was a horrible cold day and sleeting outside. We were not disappointed as we entered the lovely warm building with a nice welcome from Anna, one of the owners, who showed us to our table in the conservatory.

Two of us chose the pan-fried sea bass, whilst my husband had the gammon and pineapple, all served with seasonal vegetables, all cooked and served to perfection.

Undoubtedly the best place around for 20 miles! We hope to return very soon.

This was an early birthday treat so thank you very much to all the staff.
Helen Gilling -
Rating:
Lovely surroundings, attentive staff, and fantastic food. A lovely evening out.
Claire -
Rating:
Decided to try a few weeks ago on a Thursday night just after Christmas. Wow! The food was lovely and service was good. Had tried the Troway a few times before but always found it very disappointing food and service. Will definitely try again with friends!
Paul -
Rating:
Called in, as was passing by and live locally. Was massively disappointed with the food. Had better burger and chips at McDonald's, and for a fraction of the cost. Would not recommend.
Eaten at Brook at Troway? Write a review!
Anonymous reviews, reviews using nicknames or reviews sent from invalid email addresses will not be published.