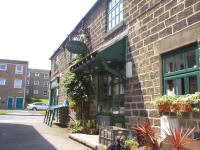 Reviews of Julio's Restaurant
Type(s) of Food Served
Italian / Mexican / Spanish
Description
Set in the delightful village of Oughtibridge, Julio's is a multi-culture restaurant, owned and run by Ignacio Rodriguez. The delightfully-decorated upstairs restaurant offers a full menu featuring authentic Mexican, Spanish, Italian and English dishes.
Food Service Times
Tuesday - Saturday: 6PM - 11:30PM
Sunday: 6PM - 11PM
Special Offers
There are no special offers that we are aware of.
Amenities & Facilities
Credit/debit cards accepted?



Average main course price?
Special diets catered for?
Julie Bailey -
Rating:
Fantastic meal. Last night food was excellent as always. Service under pressure was excellent, too. Well done to all the staff.

Sharon Saywell -
Rating:
Excellent food, great service, very welcoming and friendly. First visit to Julio's but will definitely come back, there's loads more on the menu that I want to try.
Kevin Hague -
Rating:
Worst place I have eaten in. Ordered chicken with gambas prawns in creamy sauce. Chicken was like boot leather and shrimps not gambas. Prawns were like bullets. When I complained I was totally gobbled off by uncaring staff. Never again.

Only have one star because I had to in order to get the review posted, otherwise would not have given any.
Sharon Campbell -
Rating:
We decided to go to this restaurant as a family and were really surprised by the warm and welcoming atmosphere. The food was delicious and all freshly cooked and the service was excellent. I would have no hesitation in going again and recommend it to anyone.
Valerie -
Food is great, cosy place, and not to forget - cute waiters!
Anne Robertson -
It was with curiosity that I entered Julio's, having left its predecessor vowing never to go back. It is with the opposite sentiment that I left on this visit.

While the menu is not as extensive as its city-centre counter-parts, it still offers something for everyone. I started with bruschetta, which, while not the most complex of dishes, had a lovely balance of flavours and wasn't overladen with basil as is sometimes the case. The king prawns main dish was a wonder to behold, the prawns being at least 4" long when whole. They tasted as though recently caught (I know this isn't the case) and the garlic sauce complemented rather than overwhelmed them.

The wine list is reasonably priced with a good variety.

The service is exemplary (although I have heard it described by others as mediocre) and friendly without being too familiar. The owner was attentive (his previous experience includes the Flying Pizza and K Pasa in the city centre) and has good plans for the downstairs area of the restaurant.

A very pleasant dining experience. It is essential to book at weekends, as word has travelled rapidly!
Eaten at Julio's? Write a review!
Anonymous reviews, reviews using nicknames or reviews sent from invalid email addresses will not be published.