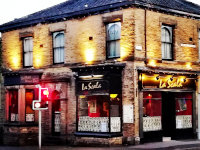 Reviews of La Scala Restaurant
Type(s) of Food Served
Italian
Description
La Scala restaurant is themed on a theatre in Milan called La Scala. The restaurant is on two floors; the first floor is a wine bar and the second floor is the restaurant.

Takeaway service is available during the restaurant service hours, collection or delivery. Please enquire for availability on Saturdays due to high demand.

Gluten-free pasta is available.
Food Service Times
Monday - Saturday: 5:30PM - 10PM
Sunday - closed

Last seating: 10PM
Special Offers
Yes - Monday to Thursday, adult's 2-course meal for £13.50; children's 2-course meal & soft drink for £7.50.

Amenities & Facilities
Credit/debit cards accepted?



Average starter price?
£5.50
Average main course price?
£13.50
Average dessert price?
£5.25
Special diets catered for?
Nut-free
Gluten-free
Vegan
Child facilities?
Children's menu
Michael -
Rating:
We ate at La Scala for the second time last night and we weren't disappointed.

We were greeted at the door and taken downstairs to a cosy wine bar where we had a glass of Merlot and chose our food off the menu. We went back upstairs, sat at our table and had the most beautiful food.

If you haven't been here yet you must go, you wont be disappointed, with the food and the friendly atmosphere.
Mike & Jen -
Rating:
Had a brilliant evening at La Scala last Saturday. There were 20 of us celebrating a birthday and can recommend for this.

Both food and service were excellent.
Alan Eades -
Rating:
Just fab.

We have dined many times at La Scala, both solo and with friends. We have never had anything but great food, excellent wine, and very good service.

It's a credit to the management that this restaurant gives consistent top quality food and service.

A great reliable and relaxing place, just try it!

Thanks to all for good times.
Gill and Dave -
Rating:
First time at La Scala but it won't be the last. It was everything that I had hoped for.

Food came hot and well-presented, and the service was first-class. The staff were great, polite and helpful. Thanks everyone.
Kim Bolsover -
Rating:
La Scala never fails to deliver but, tonight, they were utterly brilliant.

If someone had shouted, "Fire!" after the exquisite starter of garlic tomato pizza bread, I would have gone to my maker a happy woman! But it got even better. My chicken alla Romana was the best I've ever had. Thanks to Raz and all the team. We'll be back!
Ian Sills -
Rating:
I recently took a party of 20 to La Scala for a meal. Some tried the special £12.50 menu while others ate off the normal menu. All the food was excellent. Very tasty and packed with ingredients. Everyone agreed that it was some of the best food they had had recently and most will be returning soon.

Brilliant night, excellent value and good service.
June & Richard -
Rating:
This restaurant has a very relaxed atmosphere. The owner has always made himself discreetly helpful and this has always added to the enjoyment of the evening. He is keen to secure feedback on the service, food and atmosphere.

Living just up the road it is the sort of place that can tempt you back for their delicious veal and crepe selections as well as a good selection of starters and deserts.

We have enjoyed every visit to our local charming Italian restaurant.
Mac -
Rating:
Place nice, staff friendly, food not good for the price. Will not be visiting here again.

Personally feel robbed.
David & Amy -
We have been going to this restaurant approximately every month for the last four years and in all that time have never had a bad meal.

Amy is a "fish-etarian" so usually the choice of food for her is limited. Even though it is predominantly meat dishes, there are still a good amount of main courses and many starters to choose from for her.

Our love for food and wine is about the only thing we have in common with each other so throughout the four years we have made it our "hobby" to go to many different restaurants and pretend we are restaurant critics. Sad eh? :)

We take into consideration all the different factors that make a good dining experience.

A) Food quality
B) Service
C) Ambiance
D) Wine
E) Cost

After eating at the vast majority of all the restaurants in Sheffield we come back here time and time again, on the above points.

A) Food quality, very good, can sometimes vary slightly but overall consistently well above average. Our top dishes are the mushrooms in cream sauce for starters, steak and risotto balls for main. We have no complaints with the entire menu though.

B) Excellent, the owner shows an interest in the guests and the waiters/waitresses seem very professional, unlike some of the expensive restaurants on Ecclesall Road which employ students.

C) Very nice, not at all pretentious but still maintaining an element of class. Decor is of a theatre setting and has an olde-worlde Italian feel, perfect for groups and romantic meals for two.

D) A large choice of wine but as we are not quite as fussy about wine we always go for the house red which is £10 for a 1 litre bottle. Spot on.

E) Taking all the above into consideration we feel the price reflects very good value, even with three starters, a steak main and a litre bottle of wine the bill rarely exceeds £50.

We will continue to visit this hidden gem of a restaurant forever.
Matt Newsome -
This has to be one the least pretentious places to eat in Sheffield, authentically decorated with a pleasant atmosphere the friendly staff make you feel welcome yet leave you to your own devices. The food is typical Italian, pastas, breads and fantastic steaks. I have been here 5 or 6 times and never been disappointed.
Karen Vardey -
Appalling; wouldn't recommend anyone to ever eat there. The fresh tuna was tinned and the waiter didn't deny it, the veggie main course contained fish, but the waiter said it was a mushroom, since when have mushrooms ever tasted of fish? The mixed seafood risotto contained prawns, and the rice was hard.

We received no apology from the waiter or the manager, and thoroughly disappointed in the service and food.
Eaten at La Scala? Write a review!
Anonymous reviews, reviews using nicknames or reviews sent from invalid email addresses will not be published.