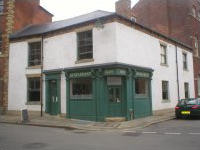 Reviews of Milestone Restaurant
Type(s) of Food Served
English
Description
The Milestone prides itself on a chic gastropub atmosphere in the bar, with a fine dining ambience in the restaurant. Dedicated to carefully sourcing and championing local produce, all our meat is from local farms and is free range, including our own Milestone exclusive rare breed pigs!
Food Service Times
11AM - 11:30PM Monday - Saturday
11AM - 10:30PM Sunday

Last seating: 9:45PM
Special Offers
Yes - two courses & glass of wine or real ale for £12. Available every day from 5PM - 7PM. 2-for-1 cocktails all day Thursday.
Amenities & Facilities
Credit/debit cards accepted?



Average starter price?
£5.00
Average main course price?
£10.00
Average dessert price?
£5.00
Special diets catered for?
Kate Grantham -
Rating:
Not the best meal I've ever had, nor the worst. My seasonal salad was a handful of limp salad leaves from a warm bag, you can tell a lot from a restaurant's side salad! It will be a long time before we go again and read some better reviews!
Robert Poole -
Rating:
I was one of a table of five and almost everything about the meal and drinks was unacceptable.

1. While waiting for the other guests, I ordered a pint of Kelham Island IPA. At first it tasted OK but I soon realised that it was sour tasting and unpleasant. Since the beer is brewed a few hundred metres away, it is hard to explain this, except for poor cellaring. I pointed this out to a waiter.

2. My mackerel starter was slimy and the flesh was sparse. It was not enjoyable.

3. Far worse was the sirloin steak, which I ordered medium-rare. It was tough as old boots and I sent it back. Ten minutes or so later, after others had finished, my replacement came. It was just as bad and I gave up.

4. Finally the wine. Among the reds, I thought I had ordered the Terre Di Sandro IGT, Bocelli, (2013) at a mid-price. I must have mis-read across from the list of wines to the prices on the right because when the bill came the price was a ludicrous £93. The average UK retail price is £37 (wine-searcher). It would be normal I think for the waiter to advise or double-check such an order since it was three times the price of most wines there. The wine list is poorly laid out in small print with the prices well separated from the wine description. To make matters worse, the wine was hopelessly young and immature. Bocelli is a great producer but this example should have been kept for another 10 years.

The evening was a huge disappointment and an embarrassment for our guests and I will not be visiting again.
Toni -
Rating:
Very average Sunday lunch, thank goodness it was a voucher, as I would not be happy. Disappointing & tasteless. If you are a big eater or arrive feeling hungry this will definitely not fill you.

Mushy veg, two tiny roast potatoes, tough beef, but the Yorkshire pudding was nice.

Put it this way, we won't be returning. Far too much competition out there.
Alex Goddard -
Rating:
Went for a meal July 2018. The food was good - very enjoyable. Ordered off the early bird. The service was absolutely fantastic. Really great. Can't fault them. Thank you for a great evening.
Shelly -
Rating:
The manager is an ignorant, disrespectful excuse of a manager who is running a restaurant still alive because it's Michelin approved, who tells people when they ring to enquire about something "oh just f**k off" and puts the phone down thinking the person cannot hear on the other side.
Helen -
Rating:
Disappointed, was distinctly average. No care was given to the service. Very underwhelming and there is really no reason visit.
Robert Verard -
Rating:
To be honest, we were expecting something far better. Staff were few and far between. The food was very poor. It was over-priced and tasteless. How it is so busy baffles me. Perhaps it is the Gordon Ramsey connection? So pretentious. Would not recommend.
Lee Ashton -
Rating:
So disappointed. We booked via the Groupon deal for Sunday lunch, and as we sat down the next table had called the waitress over and was complaining their meals were cold!

The starter was lovely, no fault at all. Then came our Sunday lunch. We both had pork shoulder. The whole meal was cold, served on un-warmed plates, the roast potatoes cold, uncooked, and hard. The meat was chewy and stringy, and even the side of veg was cold.

Dessert was minute yet tasty.

This place is living on its reputation, and that is going down the pan. For a place that is celebrated in Sheffield it needs to improve the quality of food it serves. So, so disappointed.

The table behind arrived at the same time and they had to call for their starter 45 minutes after sitting!
Susan -
Rating:
Have eaten here quite a few times and found it almost always a wonderful experience. Like a previous reviewer, I've paid more for Michelin-starred food of lesser quality, both in the UK and France. The Milestone's Early Bird menu is an unmissable chance to sample quality dishes at a bargain price. Some are more successful than others, but that may be a personal response: I, for example, don't enjoy chili in any form but otherwise enjoy their seasoning and dressings.

If you just want huge quantities of bog standard pub/bistro food you could buy in the supermarket or any burger bar you'll be disappointed.

However, if you enjoy modern and interesting food, usually perfectly balanced and cooked, you'll really enjoy The Milestone.
Linda Sayer -
Rating:
I notice that the above reviews are dated 2009-2012. The food and service was excellent then, but we visited on 15th August 2016 and the whole experience was very disappointing. Service was very slow. We didn't get our starters or main courses at the same time. I ordered a medley of vegetables, as I wasn't keen on the veggie choice of risotto. I was given some spring greens, carrots and two rubbery Yorkshire puddings, for which I was charged £15.00. The whole experience was very disappointing.
Anna -
Rating:
Cannot for the life of me understand these reviews. I have dined at the Milestone of four occasions, once during the day and the rest on an evening. Each time we have enjoyed some of the freshest, tastiest food we have ever eaten. I would even go so far as to say the food here is on a par with some Michelin-starred restaurants we've eaten at (and considerably better value for money). Service is relaxed and unobtrusive and the atmosphere is great.

Please don't be put off by the previous reviews, I can't recommend the Milestone enough!
Helen Baker -
Rating:
My husband booked this restaurant for my birthday, we arrived early but were surprised to be able to eat off the early bird menu.

I had the salmon starter and the truffle nut roast as my main. The salmon itself was divine, but the dressing was so sharp it overtook the taste of the fish.

Then it all went downhill. The description of my main course was far more tasty than the actual dish. Roasted baby beets turned out to be very large, hard, quartered carrots, the type that lose the flavour due to size. The nut roast was sticky in the mouth, it was supposed to be truffle, so I expected it to be light. With several very bland whole almonds making up the bulk of it. The beetroot puree the dish needed to keep it from being too dry was merely a smear on the plate, as was the truffle cream. All in all a nice dish but nothing special.

Very glad we never paid £15 for it as a main dish. That really would of been disappointing. However, we did receive a complimentary dessert - chocolate tort, orange jelly, ice cream and a popping candy type of orange Turkish delight. Great but nothing extraordinary.

I think Gordon Ramsay need to revisit the restaurant to make sure they put their chef's hat back on their head, as they tend to be cooking on reputation rather than taste factor.
Chris Hanson -
This place is a real gem. We took our parents last night for a Mother's Day meal, as we'd heard good reviews from friends about it. We were also impressed with the price they were charging, even in comparison with what some of the really awful places were charging, and the amazing smells you get from the upstairs open-plan kitchen.

For starter I had beetroot salad with fennel, home made cottage cheese and walnuts. The contrast in flavour and texture of all the ingredients was excellent, along with it being something 99 percent of places wouldn't have on a standard Mother's Day menu. My wife had the pork terrine. This was both flavoursome and pleasing to the eye and came with some fresh bread and a few mixed leaves.

For mains I went for the roast pork and my wife for the bream with cockles and samphire. The pork was really well-cooked and came with excellent crackling and apple sauce. One small complaint is that the vegetables could have been a little hotter, but that really would be me nitpicking. All the elements of the dinner were done well. The gravy was good and not like wallpaper paste like so many places serve gravy. You could tell it had been made in the tray the meat had been cooked in. The Yorkshire pudding was great along with the roast potatoes, cauliflower cheese, red cabbage, etc...

My wife's bream was well-cooked with nice crisp skin, a smooth flavoursome creamy sauce and well-cooked clams and samphire.

For dessert I went for the custard tart with rhubarb. This was the low point of the meal for me. The custard tart filling was excellent, topped with loads of grated nutmeg and a really rich custard. The pastry was too thick and over cooked (highlighted when I sent a piece flying across the restaurant floor when trying to cut it in half). The rhubarb component was just a thin line of really nice sauce. I was expecting pieces of rhubarb or even just a little bit more of the sauce to be honest.

All in all though, the pluses by far outweigh the minuses. The range of drinks at the bar is excellent, the service is great (this included a call the day before to confirm booking), the atmosphere in the restaurant is really good and for £15.95 for a 3 course meal on Mothers Day I don't think many places could beat it for value. We will definitely be returning to try the restaurant menu, as it is one of the better meals we've had in Sheffield.
Karen -
Went to this restaurant last night, we knew it was going to be expensive, £26.95 for 2 courses but we thought it would be worth it.

How wrong we were, starter of smoked salmon with orange, well, it was a couple of slices of smoked salmon with what looked liked some purple stuff painted on the side, so thin you couldn't even use it as a dip, then a tiny piece of monk fish wrapped in a piece of bacon, with a carrot and a potato. There were side dishes of peas and curly kale they also gave us some bread.

Although nicely presented, not at all worth £26.95.

We went as a group of 12 for Christmas, we were upstairs, there were no Christmas decorations, no crackers, nothing at all to suggest it was a Christmas meal.

The staff were pleasant.

On top of the bill there was a £47 tip (this was optional).

Good place to go if on a diet and have more money than sense.
Helen St Claire -
I have eaten at this establishment recently, as I live locally and really wanted to have a local eatery that I would feel welcome in. Unfortunately this place is not it. For a start, although I live locally I found it hard to relax in this place as it was filled with drunk, loud people who had obviously been out in the city centre.

Secondly the menu, unlike the prices stated on this website are very expensive. Around £9.00 for a starter and around £18.00 for a sub-standard main course. The drinks are extortionate also. The cocktails are around £3.00 more expensive than any other Sheffield establishment and I think I got slightly ripped off with the wine. I ordered a glass of house white and when I had to pay I saw that I had been given a expensive glass of vino.

Unfriendly to locals, caters for towny types and very expensive I'm afraid I would not recommend to anyone.
Eaten at Milestone? Write a review!
Anonymous reviews, reviews using nicknames or reviews sent from invalid email addresses will not be published.