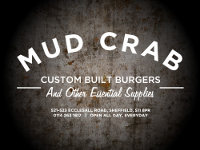 Reviews of Mud Crab Diner Restaurant
Type(s) of Food Served
American
Description
We're the best friends you always wanted. We're givers of nourishment in food and drink form.
Food Service Times
10AM - 11PM
Special Offers
There are no special offers that we are aware of.
Amenities & Facilities
Credit/debit cards accepted?



Average starter price?
£5.00
Average main course price?
£13.00
Average dessert price?
£5.50
Special diets catered for?
H Newall -
Rating:
Visited end of December 2016 and enjoyed our meal. Booked again end of January 2017 for a birthday meal. The menu has been cut back quite a lot. Very disappointed, doubt we will go again.
Oli -
Rating:
Expensive. For what it is, its menu prices are difficult to justify. Large size portions, although the taste and texture of the fries in my view makes that a mixed blessing. This was my second visit and I doubt I'll be motivated to make a third.
Kate -
Rating:
Worse place I have ever been to. Ordered spare ribs and when they came out all I could smell was wet dog, only to find out that they had been marinated in fish oil. Who does that, it's just wrong? Even the waitress didn't know why it was done like this.
Katie Gascoyne -
Rating:
Arriving around 7PM on a Friday evening we were told that there would be a 35-minute wait, but we were welcome to order a drink and wait at the bar and we would be called when a table became free.

There is an interesting range of drinks, from Continental lager on tap, to bottled beer, and cocktails. My boyfriend thought the prices a bit steep (£4.50 for a 335ml bottle of beer) but found a 500ml Black Sheep for £4 in the end. I though the bar prices were fairly standard for Ecclesall Road.

We were seated at a large bench-like table with four seats and were a little worried that we might be joined by another couple at some point, considering how busy the restaurant was. We needn't have worried, all the tables seat at least four diners so if you go as a couple you're likely to get a large table to yourselves.

We had the paprika fried calamari to start. After the bar prices we didn't expect much for £6 but were very pleasantly surprised. A large plate of succulent squid in a fiery red sauce that was possibly the best we've had in Sheffield.

We both had burgers for the main course. The 2nd Best Bacon Cheeseburger and Original Dirty Burger were good value at £11 and £13, respectively. Both came with a plate full of fries, not the tiny metal basket that has become so popular at the moment. Possibly the tastiest burgers we've had a in a long time and well worth the price. Slightly on the rich side, though.

Service was fast and friendly. Great food and reasonably priced (the food anyway). We would definitely go again.
Sue Vincent -
Rating:
In the past have had a nice time and food, but don't like the lack of booking policy! Lost my custom.
Gerry Kersh -
Rating:
Took the grandkids to the Mud Crab Diner on Ecclesall Road last night and was extremely disappointed in the service, prices and quality.

We had a nachos starter, which was fine although expensive. We then waited at least forty minutes for main courses. We mentioned this to the waiter (who annoyed me greatly by calling us "guys") and he said we were unfortunate because we ordered just after a large party had ordered. This was not true, as there were at most a dozen people in the place when we walked in.

However, when the burgers eventually came, we all decided that the buns were overheated and dry, the patties were tasteless and over cooked. The patties were thin ones like you get in McDonald's. There were three or four patties in the bun but they were dry. There were cocktail gherkins instead instead of pickles and the mayonnaise was diluted. The waiter was unapologetic. I could go on.

I will not recommend this place or go there again.
Lucy -
Rating:
Best service I have had in a long time at places paying double. Had the fried chicken starter with BBQ sauce. Slightly tough but very tasty.

I had the chilli beef brisket main, while my husband had the six napkin burger (which is huge)! The burger was rather expensive at £16, but it is massive. Couldn't fault the beef brisket, melted in the mouth. Dessert was freshly made doughnuts and homemade Oreos with peanut butter milk. Both were fresh and exquisite.

Cocktails were good, although the passion fruit daiquiri was a little too tangy, but that was possibly my own taste. Jalapeno Margarita is a must.

Would definitely go again.
Eaten at Mud Crab Diner? Write a review!
Anonymous reviews, reviews using nicknames or reviews sent from invalid email addresses will not be published.