Hong Kong Wok Restaurant
200-204 London Road
Heeley
Sheffield
S2 4LW
Telephone: 0114 2588694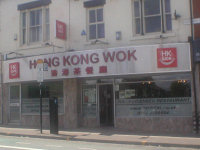 Reviews of Hong Kong Wok Restaurant
Type(s) of Food Served
Cantonese / Chinese / Mandarin
Description
Hong Kong Wok is a new delicious, affordable yet contemporary restaurant serving high quality Chinese cuisine.

HK WOK brings the best from the Hong Kong cosmopolitan city island to the tables of Sheffield. HK WOK is a new Chinese restaurant opening on London Road, the centre of Sheffield's hub of foreign cuisine. This friendly restaurant will be light on the wallets and heavy on quality. HK WOK differentiates from other competitors by focusing on serving top quality food made by the top chefs of Hong Kong and providing only the best service to make you feel at home.
Food Service Times
12PM - 10PM

Last seating: kitchen closes at 10PM.
Special Offers
There are no special offers that we are aware of.
Amenities & Facilities
Credit/debit cards accepted?



Bring Your Own?
Restrictions (e.g. wine only) and a corkage fee may apply. Please enquire for details.
Average starter price?
£5.00
Average main course price?
£6.00
Special diets catered for?
Child facilities?
High chairs
Linda Westerman -
Rating:
I tried the Hong Kong Wok for the first time tonight. I found that the food was lovely and the portions were large so we had a doggy bag to go home with mmm. The staff were very welcoming and helpful.

The food was served pretty quick therefore it was hot, just how I like it, and it was reasonably priced. I was very impressed with the excellent service.

I will be returning and I would definitely recommend.
Lorna Kinsey -
Rating:
Excellent food with a variety of choice, value for money. Great customer service and very family friendly, would definitely recommend the Hong Kong Wok. There is no car park but plenty of street parking in the area.
Toni Guest -
Rating:
Best Chinese restaurant going. We're there nearly every week - we cant keep away!

The food is amazing, you get absolutely loads and its very good priced. Customer service is excellent - always smiling and chatting to us and the children. Very clean and modern restaurant.

Cant rate any higher - its 5 *****.
Katie Lee -
Rating:
Cannot stress how good this place is! After going once we (both friends and family) go here as a treat after a hard week's work on weekends, or as a extra treat weekdays, too, for a nice lunch!

I have issues with eating out as I have an eating disorder and this place helped me eat out again. I have been going with my family at least three times a month since it opened. I've taken my friends to visit and non of them have complained or left unsatisfied! The food is good value for money and can be enjoyed in a modern Hong Kong-themed restaurant. The staff are really friendly and helpful.

Free ice cream or traditional Chinese dessert, too! Cannot get better than this!

Must try it!
Kerry Thomas -
Hong Kong Wok had a nice atmosphere, very casual. The food was great, served in a good amount of time.

I had a seafood linguine, and was amazed at the size of the seafood itself. We were a very large group, and the staff were efficient enough to realise the table we were on would be a little uncomfortable for us all the sit on, so made up a table along the middle of the room.

We had a great night and will be going again.
Laura -
We booked a table in advance as there were 10 of us and everybody enjoyed their night!

The food is delicious and affordable. The waitresses were very helpful and the atmosphere is vibrant and friendly.

I would recommend the crispy duck, it's beautiful mmm... my mouth is watering now.
Eaten at Hong Kong Wok? Write a review!
Anonymous reviews, reviews using nicknames or reviews sent from invalid email addresses will not be published.