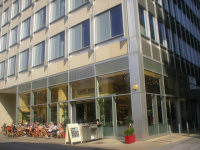 Reviews of Cafe Rouge Restaurant
Type(s) of Food Served
European / French
Description
With a combination of delicious food, great wines and a real ambience, Cafe Rouge embodies the style and je ne sais quoi of French dining.

Our menu covers a range of French classics from croques and baguettes, ideal for a quick and easy snack, to more substantial fare such as steak frites and boeuf bourguignon. Likewise, our wines are predominately French, many made by lesser known producers, and provide the perfect accompaniment to the food on offer.
Food Service Times
Monday - Saturday: 9AM - 11PM
Sunday: 10AM - 10:30PM
Special Offers
There are no special offers that we are aware of.
Amenities & Facilities
Credit/debit cards accepted?
Average main course price?
Special diets catered for?
Child facilities?
Children's menu
Sheffield Restaurant Guide -
Rating:
Cafe Rouge is situated amongst a number of very on-trend restaurants in the up-and-coming area of St. Paul's, city centre. Cafe Rouge also has a perfect seating area next to the Peace Gardens. Perfect for sitting out on a nice evening, after work, enjoying the last bit of sunshine with a glass (or bottle) of wine or an ice cold beer - with waitress service. And this I do frequently with my partner, friends and work colleagues.

A couple of weeks ago, myself and partner and a mutual friend decided to do just this. We sat outside the restaurant in the glorious Friday night sunshine and enjoyed a few drinks. We then decided that we were hungry and the waitress moved all of our drinks into the restaurant area. The restaurant reminds me of a little French bistro; inviting, colourful and a very easy atmosphere. Perfect for dining.

We couldn't decide on what to eat and so the waiter suggested a number of starters for us. Being the adventurous types we are, we ordered a number of them and decided to split them. At this point I will just say that this menu is perfect for vegetarians (as my partner is a veggie), with providing slight French twists and flavours on the normal "garlic mushroom" starters.

The portion sizes were actually perfect; they would also be great to have as "tapas-style" dishes if you and a friend(s) fancied doing this rather than having a large meal. The prices were averagely priced; starters ranging from £3 to £6. I would highly recommend the Fougasse à l'Ail which is a garlic & sea salt traditional sharing bread from Provence with warm dipping garlic butter.

For mains, I had the Moules Marinières which is Cafe Rouge's classic mussels in a velvety, white wine, garlic & cream sauce which were served with frites. I would have to say that the portion was very generous and I thoroughly enjoyed them. I would recommend that if you enjoy sea food that this dish should be at the top of your list to try.

My partner had the Tarte Provencale which is goat's cheese, confit cherry tomato, black olive & red onion tart baked in Provence herb pastry, which is served with salade maison. Again, this was also very much enjoyed by my partner.

My friend opted for the Croquettes, which is Scottish salmon fish cakes, rolled in oats with ailoli and served with frites. I tried the fish cakes and once again, very delicious.

When I thought that I could fit no more food in, my friend suggested dessert and I have to say that I am exceptionally pleased that I did not object. Like the starters, we decided that we would opt to share the desserts and so we ordered Cafe Rouge's Trio of Desserts which comprised of trio of mini chocolate fondant, tarte au citron & tarte tatin. After the previous two courses, this dessert is perfect to share between two to three people.

Overall, the food was exceptional, the service was excellent and the dining experience was perfectly enjoyable.

If you are thinking of a place to eat in town, or even a drink in a nice outside area then Cafe Rouge should be at the top of your list of places to go.

Cafe Rouge are also about to undergo a new look refurbishment; a stunning new bistro that is light and airy and unmistakably French. Personally, I love the restaurant as it is but I am most certainly intrigued as to how the Cafe Rouge chain can improve on an already winning formula. Needless to say that I will be visiting again after the refurbishment!
Eaten at Cafe Rouge? Write a review!
Anonymous reviews, reviews using nicknames or reviews sent from invalid email addresses will not be published.