Cafe Guru Restaurant
17 Westfield Terrace
City Centre
Sheffield
S1 4GH
Telephone: 0114 2765556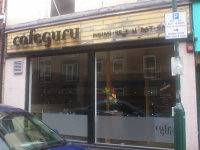 Reviews of Cafe Guru Restaurant
Type(s) of Food Served
Indian
Description
Contemporary Indian dining, offering both traditional and contemporary Indian cuisine.
Food Service Times
Monday - Saturday 6PM - 11PM

Sunday 6PM - 10PM

Last seating: Monday - Saturday 11PM, Sunday 10PM.
Special Offers
There are no special offers that we are aware of.
Amenities & Facilities
Credit/debit cards accepted?



Average starter price?
£4.00
Average main course price?
£7.90
Average dessert price?
£3.50
Special diets catered for?
Keef Wright -
Rating:
Booked a table for 5 for fathers day. Turned up just before 7PM. Advertised to open at 6PM but the place was shut.

Reading some of the other reviews I'm glad it was. We went to Nirmals. Glad we did, and so should you.
Keith Lilley -
Rating:
I have been to Cafe Guru about 5 times in the last 3 years. It was great - great food, attentive service and a great experience all round.

Oh how things have changed. Service the worst in the city! The waitress didn't even know if she could take our coats! Gin and tonic arrived with the tonic only and it took over 10 minutes to get the gin! The tonic was charged at £3.40 for a small mixer!

Food was poor and arrived in batches. None of the food was piping hot, just tepid. Coffee was served in a variety of cups (some chipped) and no saucers. They used plates sugar also on a plate! "Alf's greasy spoon" would have been better.

To cap it all when ordering the wine the waitress nipped out to the spar to fetch the bottle and then charged a £10 mark up (twice)! Oh and card machine was not working.

I reckon they are going under, and disappointingly what was great isn't even mediocre. You don't need to avoid it, it will be gone soon so don't be surprised if you book it's not there!
Jessica -
I made a reservation around a month in advance for 12 people on a Saturday night.

When we arrived the staff denied any knowledge of my reservation. They were rude, didn't apologise for their mistake and wouldn't allow us to have a drink at the bar area so we could wait until the rest of our party had arrived. AVOID.
Claire -
This is definitely the best curry house in the city of Sheffield. I see myself as a bit of a curry connoisseur and not being originally from Sheffield - I've struggled to find somewhere that meets my high curry standards!

This place does the best tasting, most flavoursome curries around and the double-bonus is that the surroundings are modern, sleek and comfortable. The staff are friendly and the service is attentive but not too over the top.

I went recently and had a King Prawn Turka (delicious), pilau rice and I shared a garlic naan (amazing!) All highly recommended. If you want a decent curry (not a Vindaloo after 8 pints) then Cafe Guru is the place to go!
Tim Hamer -
The first time we have visited this contemporary Indian restaurant and definitely the last.

Service was attentive at first then average as the evening progressed. Our starters of chicken spring rolls and shami kebab were tasteless, the spring rolls being very hard and almost impossible to cut without it flying comically off the plate, the shami kebab very dry, crumbly and with a useless garnish of continental leaf.

My main course of pistachio masala was again tasteless and unappetisingly orange in colour, my partner ' s main course was quite good with good spice flavours and fresh coriander. Our garlic naan bread was more like a very thin and crispy pizza base with garlic butter, not like the authentic naan we get from our local take away, the Tandoori Hut.

In short, if contemporary means no tandoor and garnishing dishes with swirly carrot and pointless leaves you can keep it, give me traditional anytime.
Eaten at Cafe Guru? Write a review!
Anonymous reviews, reviews using nicknames or reviews sent from invalid email addresses will not be published.