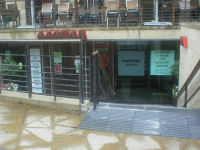 Reviews of Aagrah Restaurant
Type(s) of Food Served
Balti / Indian / Tandoori
Description
Aagrah Sheffield is the tenth branch of the award-winning group. The restaurant, located in the multi-million pound development complex Leopold Square, offers a contemporary and vibrant dining experience.

We serve a wide variety of award winning dishes, all overseen by manager Wasim Aslam, the international Indian Chef of the Year 2005.

We look forward to seeing you soon!
Food Service Times
Monday: Thursday 5:30PM - 11:30PM

Friday: Saturday 5:30PM - 12:00AM

Sunday: 4:30PM - 10:30PM

Lunches: Thursday to Saturday 12PM onwards

Last seating: 11:30PM
Special Offers
There are no special offers that we are aware of.
Amenities & Facilities
Credit/debit cards accepted?



Average starter price?
£2.80
Average main course price?
£6.70
Average dessert price?
£3.25
Special diets catered for?
Child facilities?
High chairs
Kath -
Rating:
Went from work with 8 others. Meal and service was absolutely fantastic. Not one complaint about the whole meal. Service was exceptional and food amazing. Attentive staff and all so friendly.
Nikki -
Rating:
Worst Peshwari naan bread ever. The dough was not cooked and the raisins were sprinkled on the top as if they had forgotten to add them to the mixture. When I told the waiter the naan wasn't cooked he laughed and said "oh, sorry".

Poor service over all. Get them in get them out style restaurant. Not for me.
Ade -
Rating:
Ate here last night despite negative reviews online. Staff really friendly, food great, smart clean restaurant and good value.

Can only judge based on my one experience but a good value mid-price restaurant. If anything staff were over-attentive, but won't moan about too much service.

Beware over-critical online reviews!
Jo -
Rating:
Went last night to celebrate my brother's birthday. There were four of us. Arrived and first impression was it seemed quite nice, very large restaurant, but didn't seem that busy for a Saturday night.

We were shown to our table. From start to finish I just felt rushed constantly. "Are you ready to order?" No not yet! Two seconds later, "are you ready to order?" No not yet!

We ordered poppadoms and dips. They came and were far too hot and spicy. Same with everyone's starter, it was just too spicy.

Still eating the starter and I was still eating and the waiter picked up the starter plate (which still had food on) "is everyone finished?" He had it in his hand already.

The mains came straight away. They were just average, nothing special. The pilau rice was very dry and stuck together; the naan bread was hard and crispy in the middle.

They fetched the bill. We paid. On the way out we passed about six staff and not one of them said thank you, goodnight, or said bye.

Disappointing meal, none of us will go back. One of the worst Indians we have all had.
Mica -
Rating:
I'm surprised at the reviews, as I have been to Aagrah twice and both times I loved the service.

The first time I went with my husband. We ordered only 1 curry and 1 naan and were not treated any differently to others who ordered a large amount of food, and we were left in peace to enjoy our humble "date night" meal. The waiters were very polite when we asked them for something and there was a nice atmosphere.

I went today for a last-minute meal with a friend of mine and her little daughter. Her daughter had fallen asleep while she was carrying her.

The waiters welcomed us in and were very polite, they asked straight away if my friend's little girl was asleep and immediately cleared a table for us, which had a cushioned bench so she could sleep on it.

The pickle tray was already out when we got to the table but not the poppadoms, which is great, as they didn't just "assume" we wanted them and we didn't end up with a nasty surprise when our bill came (we went ahead and ordered the poppadoms willingly).

We were spoilt for choice on the menu and when we asked the waiter to recommend a dish for us he was very helpful!

The Aloo (potato) Paratha we ordered was absolutely delicious. The Karachi gosht (boneless lamb) was full of flavour and so was the boneless chicken curry.

The waiters were extremely polite and I think one of the chefs came out himself to present the food! We asked for some yoghurt and they gave us a massive bowl (and we ate all of it).

We had such a great time and we were able to laugh and catch up whilst enjoying a delicious meal.

The only minor things I will mention is that we asked for mildly spiced food but it came quite spicy, which isn't a problem for us, as we can handle it, but for others it may be an issue.

Also there were no napkins/tissues on the table for us but they brought hot towels at the end for us to clean our hands. These were minor things and we had a very pleasant time.
Mohmmed Asif -
Rating:
Very well recommended to all. 12 people booked. Food was spot on. Staff gave very good service. Definitely will recommend to anyone. Thanks again. Will be coming again. Thanks A++++++.
Howard Sanderson -
Rating:
As a party of four we ate downstairs at Aagrah in Leopold Square.

The meal was unexceptional and the waiters friendly. The bill was £78, so one of us paid by credit card while the others passed him £20 notes. I noticed that the senior staff member who was managing the credit card machine had picked up a £20 note and crumpled it up into his hand so that it could not be seen.

I pointed out that we had paid the bill by credit card and we got the note back, but if I had not been watching he would have walked off with an undeserved "tip" that we did not intend.

Buyer beware!
John Colls -
Rating:
Staff very arrogant when we complained about the food. It was very salty and the vindaloo was so mild is tasted like a korma.

Nice surroundings but I will not be going back there again, ever.
Mehh -
Rating:
Went to Aagrah for my birthday. The atmosphere is quite relaxing to be fair, the location was perfect, the waiters were okay.

However, the food isn't as good as people have made it out to be. Oh and they really know how to give you a birthday surprise. They added a little twist onto my chocolate desert... a live caterpillar. And what did we get in return as an apology? Nothing.

Won't ever be visiting again. Ruined my birthday meal.
Teresa -
Rating:
Found the staff unpalatable. Aggression was used when we made a complaint regarding the chicken dish. Or was it chicken? I have never seen tandoori chicken shredded before or cut into perfect squares.

Our waiter was rude and asked us if we thought they served donkey, or cat. Whatever it was, it was not the dish that it was supposed to be.

Will never return to be abused by staff and intimated.
S Basheer -
Rating:
Have been here quite a few times now, both in a large group (20-30) and as a couple.

The food is usually quite tasty. Unfortunately this is the only redeeming factor.

The service is at times frankly aggressive ('DRINK?!' vs 'What drink can I get you?'), and at other times you can be waiting nearly half an hour before someone notices you need something. Its usually very busy (and noisy), which I'm sure compounds it.

If you just need a bite to eat before moving on, this place would do the trick. If you're after somewhere more friendly, for a date or catching up with friends, I'd give this restaurant a miss.
Alison -
Rating:
Given I'd heard so many good things about this restaurant, my recent visit was extremely disappointing.

Service was rushed - they were clearing plates almost before we had finished eating! My onion bhaji starter was so heavily spiced with chilli pepper that it was impossible to taste the main course - and I've never seen bhajis that look like doughnuts before!

The place was packed, so it must have some impressed customers, however this meant it was impossible to hold a conversation as you had to shout to be heard.

My first impression was not favourable and we will not be returning - there are many better Indian restaurants in Sheffield so I suggest trying an alternative.
Annie -
Rating:
Amazing food and service, I have eaten at many Indians and this is by far the best I have had.

Lovely surroundings and attentive staff, I have been many times already and will without a doubt go back in the future. I have recommended to many of my friends, who share my enthusiasm for this lovely restaurant.

I would also recommend the raspberry mojito!

Definitely worth a visit!
Nicola -
Rating:
I don't know what everyone on here is going on about, I've been twice recently and both times the food has been outstanding.

The poppadoms and pickle tray are nice, they bring them out very quickly for you and are happy to refill them.

Both times I've been I've had fish dishes and they were beautiful. The Machli Achar is one of the best curries I have ever had. The second time I had the goan king prawn, which again was really good and quite spicy. My only gripe with that one was that there weren't really any vegetables in it. They'll also bag up anything you don't eat to take home.

All the food here is fairly spicy, even the mild stuff but that's what you get in authentic Indian restaurants so if you don't like spicy food you should probably go somewhere else. You can ask them to cook pretty much whatever you want so if you are worried just ask them and I'm sure they'll accommodate you.

Both times the service has been great and both times I have been with a big group. Very friendly waiters and some good banter!

I'll definitely be going back.
Bob Jackson -
Rating:
Sunday night's buffet was very poor. I have been many times but will be going elsewhere in future.
John Sheepy -
Rating:
Visited on 02/06/2011

As regulars at other Aagrah restaurants I am pleased to report that Sheffield lives up to the high standards.

An excellent meal so close to the City Hall

Good, caring service was linked to good value - I can highly recommend.
Adam Hodson -
Rating:
Me and my fiancee recently visited Aagrah thinking (after reading reviews on here) that we were in for a horrible meal (we looked at the reviews after we had booked it!). However, it was fantastic!

We were welcomed and taken to a table straight away and had our drinks and poppadoms ordered within 2 minutes of sitting down, even though it was obviously busy. There was an enormous range of food to choose from and we were spoilt for choice, which is rare for vegetarians! The food was delicious and had very generous portions. The waiters were always at hand to check if we wanted more drinks when we were empty and felt very looked after.

Overall a very good Indian restaurant and would definitely go there again.
Tina -
Rating:
Recently visited for a friend's birthday and although we booked in advance, we were made to wait a good half hour. The front staff were arrogant.

When we were finally seated, we ordered straight away. However, the food didn't reach us until an hour later! It was very noisy so we had to shout amongst ourselves.

The place and the food is over rated. Definitely not worth the price. I would rather go elsewhere.
Lyn Cairns -
Rating:
We booked a table 2 weeks in advance and were told upon arrival that the waiting time would be over 1 hour! The staff were not apologetic and we were not offered free drinks.

The place was chaos, with quite a lot of other people waiting excessive periods of time for their tables. It was clear that they had overbooked, and were trying to squeeze in as many diners as possible... greedy! We ended up walking out after waiting for 45mins.

I think this restaurant is over rated and will not be returning to any of the Aagrah chain of restaurants.
Ashutosh Kale -
I would not recommend this restaurant to anyone. The food was ordinary and overpriced. But worst of all, the attitude of the staff there was unpalatable.

I had reserved a table but was made to wait in the waiting area. When I enquired about it, instead of apologising I was rudely told by a staff member "Don't show us attitude. We are busy and people here reserve tables weeks in advance". Such arrogance!
Trudi Gehring -
I couldn't disagree more with the other reviews I have just read.

On Thursday I went to Aagrah with my dad for an impromptu dinner. We were immediately seated, served quickly and charmingly by a knowledgeable waiter.

The poppadoms were nothing special but arrived very quickly.

To start I had lamb chops which were very strongly spiced but done so with real finesse, the flavours developed and the lamb was not overpowered. Dad really enjoyed his soup, too.

For main I had ordered a sea bass fillet from the seafood special list and to my delight it was actually 2 whole fillets - delicious and light, as it was served with grilled vegetables and salad as well as rice. It's so unusual to go out for Indian food and to not me over-faced by the rich and heavy meal you get. My father had a lamb and Okra bhuna, which he polished off with relish.

With 2 bottles of King Cobra the bill was around £40. We will definitely be going back again.
Jayne Turner -
Disappointing for a centrally located Indian restaurant. We ordered 6 different dishes and they all tasted the same - with so much chilli pepper that instead of variation in the spices, as the menu promised, all we could taste was the peppery heat.

Decor good, service OK, but very noisy. We won't be going back.
Gary Waller -
Really, really bad - again! Just don't bother!

Why oh why did I go back here?

Yet another evening of awful service. I'd like to comment on the food, but mine did not arrive. I'd like to say that this is unusual, but I think it's happened to one of us every time we have ended up here, (it's a mainstay for work do's), I cannot remember a time that the food has actually turned up correct.

Last time I was here (last week), at least food turned up. OK, so it wasn't the food we ordered, even though the waiter tried his best to lie to us (although a little wasted after already telling us that two of the dishes were different... one of which was supposed to be lamb, that turned up chicken... have you ever tasted lamb that looked and tasted like chicken?).

This place is awful. Spend your money elsewhere.
John Wells -
We booked a table on a Saturday night, but were kept waiting over 40 minutes to be seated. Our food was rushed over within 3 minutes of being sat, whilst many in our group were still eating starters. It was quite clear the food had not been freshly prepared.

The service was poor. The waiters were impatient, and seemed to be congregating around the bar near where we were sat.

Food was extremely average, and not what one would expect from a city centre restaurant, nor for the price!

Save yourself the effort, and go somewhere locally!
Jason Hurt -
Very poor service. We waited for over an hour for a table that was booked last night and had to leave with no food.
Eaten at Aagrah? Write a review!
Anonymous reviews, reviews using nicknames or reviews sent from invalid email addresses will not be published.