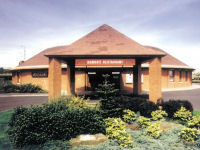 Reviews of Damon's Restaurant
Type(s) of Food Served
American
Description
Damon's restaurant is located at 2 Sevenairs Road in Beighton.
Food Service Times
Sorry, we do not have the restaurant's opening times yet.
Special Offers
There are no special offers that we are aware of.
Amenities & Facilities
Credit/debit cards accepted?



Average main course price?
Special diets catered for?
N Cairns -
Unbelievably poor quality and high prices. £10 for ribs with no meat on, veggie burger was cold and processed rubbish, baked potatoes were cold and not fresh tasting. Salad is bit of limp lettuce and 2 pieces of tomato. Noisy and rushed - though service is efficient. For £10 per head you can do SO MUCH better in Sheffield.
Eaten at Damon's? Write a review!
Anonymous reviews, reviews using nicknames or reviews sent from invalid email addresses will not be published.