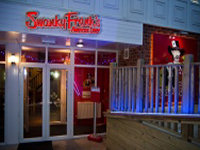 Reviews of Swanky Frank's Restaurant
Type(s) of Food Served
American
Description
Sample our homemade burgers, made with locally-sourced 100% prime beef. Our extensive menu offers a whole lot more, including a variety of steak, ribs, chicken, fish and vegetarian combinations, together with authentic Italian pizzas and an excellent children's menu.
Food Service Times
Monday - Thursday: 5PM - 9:30PM
Friday: 5PM - 10:30PM
Saturday: 12PM - 10:30PM
Sunday: 12PM - 9PM

Last seating: close of service
Special Offers
Yes - American dessert & coffee for £3.95
Amenities & Facilities
Credit/debit cards accepted?



Average starter price?
£4.75
Average main course price?
£7.95
Average dessert price?
£4.25
Special diets catered for?
We are accommodating for all allergy suffers and can change the dishes accordingly to most dietary requirements.
Child facilities?
High chairs
Baby changing
Amanda Jennings -
Rating:
Have been a couple of times with my husband & 3 kids. All of us really enjoyed the atmosphere, and the food was excellent. We all had a great choice & left feeling very happy & full!
Martin Guest -
Rating:
Lovely, well-appointed restaurant.

Excellent food.

Excellent staff.

Excellent service.

Will definitely go back to Frank's, and soon rather than later.

Thanks everyone at Frank's.
Billy -
Rating:
Expected it to better food, we were disappointed. The burgers were nothing to talk about to be honest, they just tasted like the ones you buy from somewhere like Tesco.

Wouldn't recommend or go again.
Katie Gascoyne -
Rating:
I ate at Swanky Frank's last Saturday with my boyfriend.

We were seated downstairs and shown a menu before being taken to our table upstairs. There was a bit of confusion about whether our drinks order had been taken, but this was cleared up quickly. We both had the house wine (a glass of white and one of red) and were both impressed.

We had seen a specials board simply by chance on another table and had to ask our waitress to bring it over, as she didn't mention any specials when she gave us our menus.

Our starter of calamari (off the specials board) arrived fairly quickly and was delicious. We both agreed that it was the best that we had eaten in a long time, and there was plenty to share between us. It was coated in a spicy batter, which was different and really tasty. The only let-down was that it was very greasy.

Our main courses took a little while to arrive, which was just right for us, after having a starter. We both had burgers and enjoy them. The meat was good and didn't seem like the deep-fried variety that you are sometimes served. The cheeses on both were tasty and plentiful, as were the fillings or tomato, lettuce and red onion. We were both impressed by the coleslaw, which was obviously home-made and full of flavour.

Our only complaint about the main course was the saltiness. We both had to remove some of the bacon from our burgers because the taste of salt was overpowering. Likewise, we both left some chips because they were overly salted. We did agree that we'd eat here again but choose a burger without bacon and ask for the chips without salt.

At this point we would have given Swanky Frank's 4 stars our of 5.

However, after we finished our main courses the service really let the meal down. We finished eating and still hadn't had a waitress come to our table a full 20 minutes later. The restaurant wasn't particularly busy and we could see at least 4 waitresses working, but they were either chatting to each other or fussing over particular tables (for no apparent reason).

We eventually pushed our near-empty plates right to the edge of the table and after about another 5 minutes they were cleared and we were asked if we wanted dessert or coffee. We asked for the bill, and this came relatively quickly. There was another overly-long wait to be presented with the card machine.

Overall we would go back, as the food was good and we enjoyed the evening. We would just be mindful that the staff, although very polite and friendly, need a bit of prompting for certain things.
Winnifred -
Rating:
Very disappointing service. Was not busy and still waited 1 hourr 30 minutes for main meal. More seasoning in burgers needed. Sorry will not be back, and something needs to be done about air-conditioning.
Bradley Charlesworth -
Rating:
My oldest son recently celebrated his eighteenth, and we wanted to go somewhere special, but which would cater to the whole family. We suggested one of the more traditional venues but in the end he did a bit of research and came up with this place. It really was just what we wanted. At Swanky Frank's the food is high quality and imaginative, but the atmosphere is relaxed and there is the burger and steak option, which kept his younger brother and sister happy.

I won't go through the detail of what we ate but it was all good. The concept is mainly meat-based, and essentially fairly simple but prepared to a high quality with nice individual touches. I was attracted to the wide selection of home made burgers and so opted for the very original "Italiano burger", topped with buffalo mozzarella, juicy sliced tomatoes and basil served with fresh coleslaw and a baked potato. This attention to detail made it agreeable for my wife and I, but without being too fussy for the kids.

Desserts were good too - cheescake was baked, dense and rich - not a drop of gelatine in sight!

We found service to be efficient, attentive and pleasant.

Dinner for 5 with three courses and a few (but not many) drinks came to around £80 - very good value, especially for the quality.

Whatever I may think the main judge has to be my son; it was his evening and he loved it.
John Grehan -
Rating:
Enjoyed a family meal at Swanky Franks, to celebrate my birthday.

The food and service were great. Great choice and good portions. Very friendly... would recommend it to everyone.
Caroline Thorpe -
Rating:
An excellent pace to eat. We took our 3 children and the staff were brilliant with them, they even suggested bringing the children's main courses with our starters so that they didn't get restless.

Great food, great atmosphere and great music. Also like the fact that you can either book or just turn up and their options for each.

Will definitely go back.
Tonia Bagnoli -
Rating:
Tried Swanky Franks a few times now and love it! Me and my friends have had some lovely nights out there! The burgers are unbelievable - so juicy and fresh!

The menu has great variety and so far we have not been disappointed with anything we have ordered! I would definitely recommend the chicken wings to start with!

Overall a lovely restaurant in Woodseats, great value and also very good if you have children!
Eaten at Swanky Frank's? Write a review!